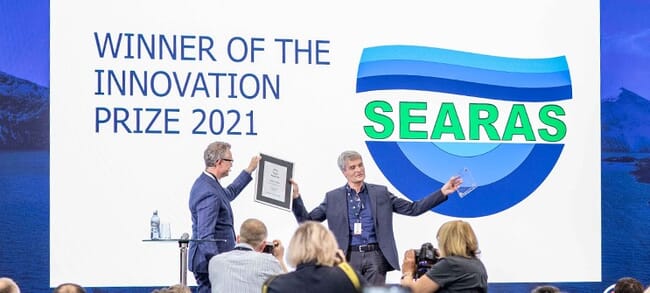 The Bergen-based firm won the award for its Aquasense device, which is used to measure water quality parameters, in particular hydrogen sulphide values ​​(H2S), in RAS facilities and wellboats.
H2S has a can lead to fish damage and mortalities, but SeaRAS technology can detect H2S levels as low as 0.05 µg / litre, while an alarm can be set if the H2S level exceeds the limit ​​set by the authorities.
The NOK 100,000 prize was presented this morning by Norway's Fisheries Minister, Odd Emil Ingebrigtsen, at the opening of this year's Aqua Nor trade show in Trondheim yesterday.
The two other companies which were shortlisted for the Innovation Award were Portugal's NORAS Global – which has developed a remotely-controlled lifebuoy for lifesaving in the case of person overboard incidents – and VAKI, for a system, which monitors, controls and automates stocking densities in aquaculture installations, in order to enhance fish welfare during grading, vaccination and counting.