Hull Fisheries Conference Casts Net Wide on Innovation
UK - More than 80 delegates from seven countries attended North Sea Fish Innovation from Catch to Plate at Hull University Business School on 17 September.
The culmination of a two and a half-year EU-funded research project, involving the University and partners from four European countries, the event considered the challenges and opportunities facing the North Sea fisheries in the 21st century.
Specialist guest speakers from the UK, the Netherlands and Belgium addressed a broad range of issues – from branding to sustainability and supply chains – with the aim of building a more economically viable fishing industry.
In a busy morning session, keynote presentations looked at how consumers could be persuaded to buy more fish and the challenges in helping traditional fishing communities to work more closely with the other links in the supply chain.
Notable 'good news' stories were also highlighted, including how small fishing ports in Belgium and the Netherlands are re-branding themselves as 'fish tourism' destinations and Grimsby's success in reinventing itself as a centre for fish processing in the UK.
Delegates, including fishermen, fish processors, buyers and academics, then had the opportunity to compare notes and question speakers during a networking lunch before being given an insight into several aspects of the North Sea Fish project's work.
The packed afternoon agenda included an introduction to a new comprehensive tool for measuring and displaying sustainability of seafood catches, developed by the Belgian Fisheries and Agriculture Authority, ILVO. Nicholas Riley of the University's School of Engineering also explained how technological innovation, correctly applied, could improve traceability and help to build consumer confidence in the fisheries supply chain.
Roos Galjaard, project manager for the Interreg IVB North Sea Region, which funded the research and the conference, reflected on a highly successful event.
"This has been one of the best conferences I've been involved in," she said. "The speakers have looked at the complex issues facing the North Sea fishing industry from many different angles and given us all considerable food for thought.
"I'm particularly happy that we managed to attract delegates from such a diversity of backgrounds. A project like this can be very inward looking, so it was very pleasing to see so many stakeholders from the supply chain engaging with it: fishermen, processors, consumers and everything in between. The more mixed your audience is, the more likely you are to spread the word and share the lessons of the work done in such a project."
Event organiser, Pam Jackson, research and enterprise manager at Hull University Business School, added: "I'm delighted with both the success of the conference and the project that preceded it. The audience really engaged with the complex issues they were presented with, asking challenging and intelligent questions.
"At the University of Hull, we have excellent connections with the fisheries industry both in the Humber region and beyond and we have been able to use that to assemble a world-class line-up of speakers and stakeholders for the event.
"Our research has made a significant contribution to the success of the North Sea Fish project, applying technological and logistical expertise to this very complex supply chain."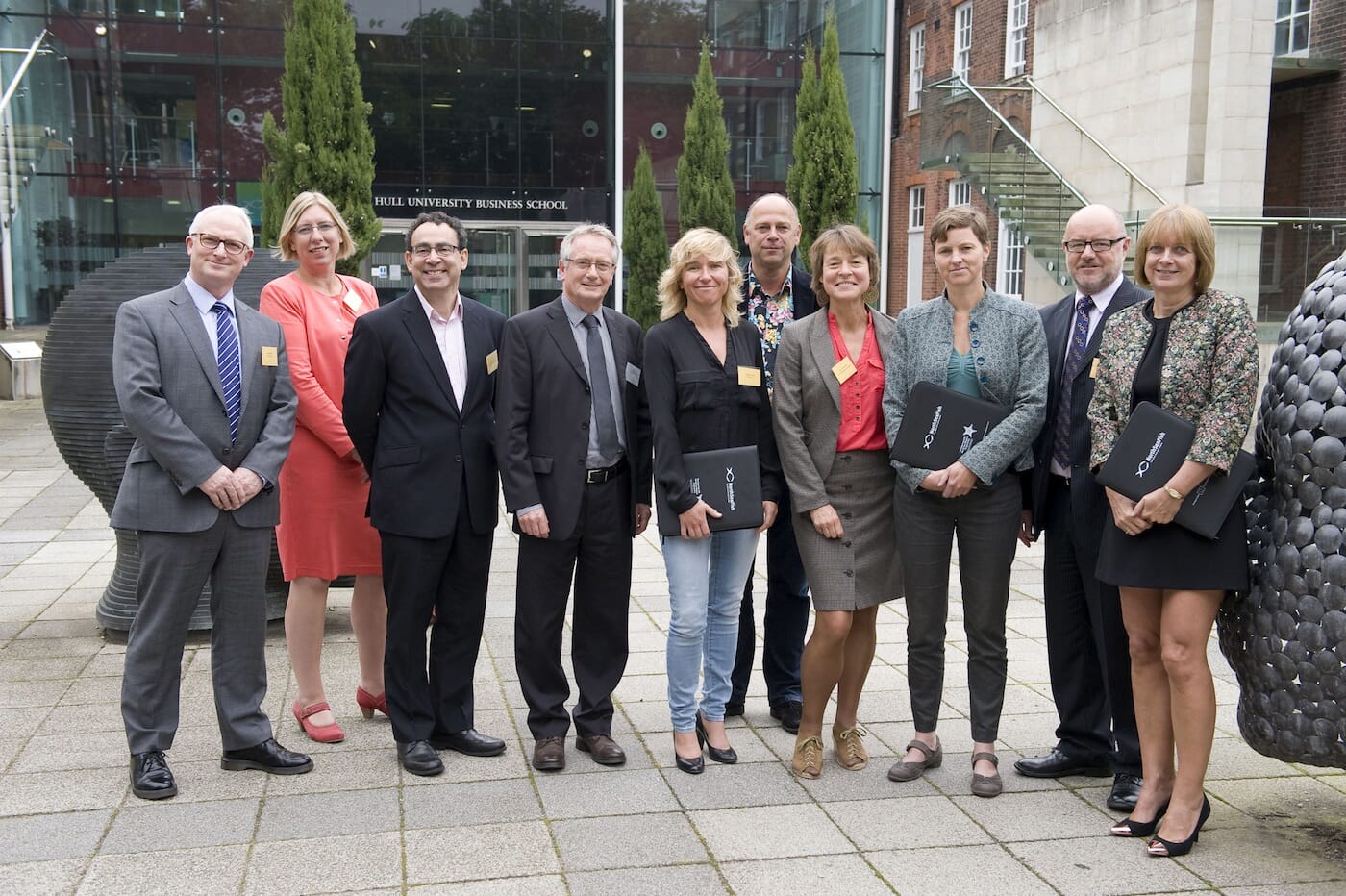 Mike Mitchell, Young's Seafood Ltd; Mariette de Visser, Alderman of the Municipality of De Marne; Jonathan Banks, Jonathan Banks Associates Ltd; Nick Riley, University of Hull; Stephanie Maes, Ostend Fisheries Local Action Group; Gerard van Keken, independent researcher; Olga van der Valk, LEI Wageningen University; Roos Galjaard, North Sea Fish Project; Simon Dwyer, Seafox, and Pam Jackson, University of Hull. Picture: Sean Spencer/Hull News.