There's nothing more frustrating – either for a fish pathologist or for their customer – than when we receive a diagnostic sample for analysis only to find it's too badly degenerated to be able to make an accurate diagnosis. If we have to ask for another sample, the time lost might have serious consequences for effective health intervention – it's crucial to deal with any potential health challenges swiftly and decisively.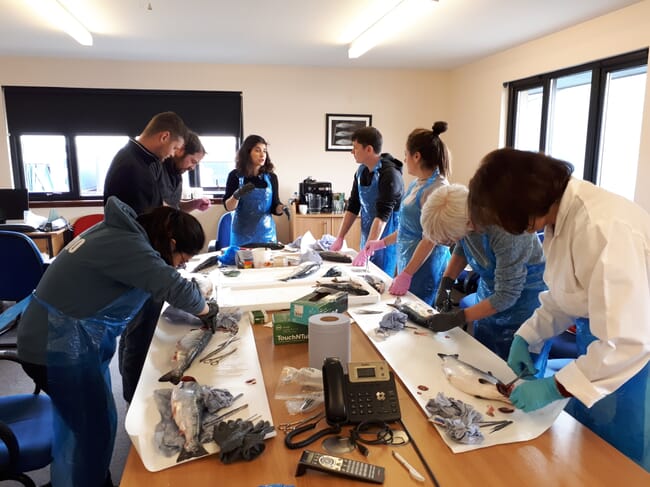 Although many of the producers we receive samples from are capable of taking a range of diagnostic samples on site, thanks to better in-company training and improved facilities at their disposal – many feed barges and shore bases now have their own labs on board – some samples are spoiled by the time they reach us. This can cause diagnostic delays or missed diagnoses that can put the entire farm stocks at risk. We often can't tell that a sample is poor quality until after it has been processed and analysed, which means our clients have to pay for the analysis but we cannot provide an answer to the diagnostic question they were asking.
In an effort to reduce the number of compromised samples that we receive, Fish Vet Group decided to launch a new, complimentary half-day "Smart Sampling" course for our clients, in order to ensure that our clients are choosing the right fish to sample and that samples reach us in the best possible condition.
The kind of information covered includes: how to choose which diagnostic tests are most appropriate; how many fish you should sample in order to give a representative sample; how to choose individual fish for sampling; best-practice methods of taking the samples; and appropriate handling/storage conditions to ensure samples reach us in the best possible condition. Diagnostic techniques we cover include PCR (DNA analysis to detect the presence of pathogens), histopathology, bacteriology and blood samples. Even people who've been taking samples for years have found it useful.
As Angela Marwick from Highland Salmon has told us: "We all strive for good health and welfare of our fish stock, and the Smart Sampling session provided by the Fish Vet Group course, which was well delivered and very informative, demonstrated just how a good sampling technique is an integral part of that aim. The opportunity to see around the facilities was a particular highlight of the course as this gave an insight as to what is involved in processing the samples and gave an understanding as to why good sampling techniques are so important in being able to achieve the best possible diagnosis of the sample given. The literature received is a superb reference document and will help ensure that best practice of the sampling techniques is undertaken and maintained."
Having launched the Smart Sampling course in February 2019, we have delivered it to about 80 people across Scotland so far, in preparation for the summer, when some of the fish-health challenges are more frequently experienced. We hope to run a second round of courses in the winter following some excellent feedback.
Other courses
In the meantime we're offering plenty of other training options, the longest-running of which is our RSPCA-recognised "Fish Welfare" course. We run a number of these in the UK each year – mainly for salmon and trout producers, but also for people working with supermarkets, regulators, NGOs and other organisations involved in the aquaculture industry in the UK and further afield. As the importance of fish welfare is being more widely recognised globally in recent years, we have also made several trips to countries as far afield as Thailand, Vietnam and the US to deliver fish and shrimp welfare training to producers and processors out there.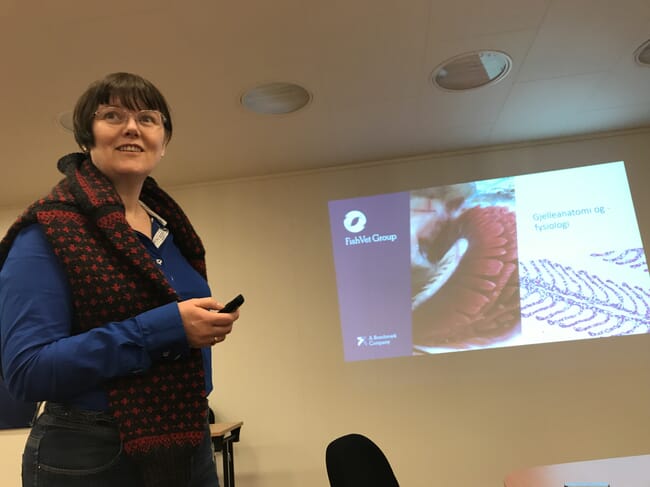 They're usually one-day courses, covering all aspects of fish welfare and, despite taking place in a classroom, we try to make them as interactive as possible. We include plenty of real-life case studies and realistic farm scenarios to help illustrate fish health and welfare incidents that may arise, and we discuss how best to deal with them in a way that's most compatible with fish welfare.
One aspect of the course that many attendees find particularly interesting is the impact that stress can have on end-product quality. We try to tailor our courses for the audience and if we are running the course for people primarily working in harvest stations or processing facilities, we will expand further upon the relationship between fish welfare and flesh quality.
The feedback we've had has been very positive. As a representative of Aquascot – one of Scotland's biggest seafood suppliers – has commented: "It was a unanimous vote; the FVG Fish Welfare course was very worthwhile and a great success. Everybody took something major from it and it is something that we will be keen to continue with in the future."
We've now launched a digital, online version of the course which has generated worldwide interest, reinforcing the increasing interest and concern for fish welfare from farmers, producers, suppliers into the industry and members of the public. It also caters for people who may struggle to make it off the farm site and into the classroom.
In recent years we have also launched a "Cleanerfish Health & Welfare" course, which has been growing in popularity in line with the massive increase in the use of cleaner fish and the increased recognition of the value of optimising the wellbeing of these species – not only from an ethical perspective, but also to make them more effective in their role as biological parasite controllers in marine net pens.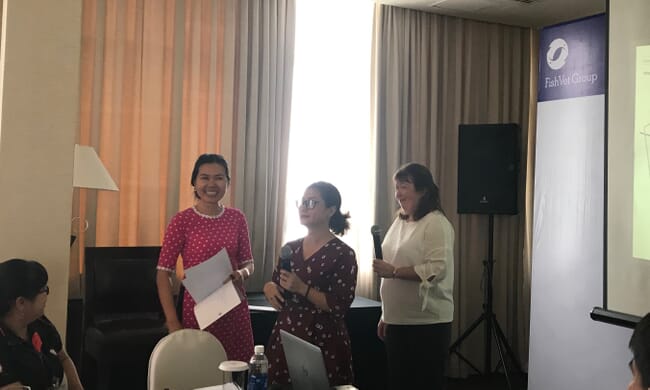 While the knowledge around what constitutes best practice with cleaner fish is still evolving, we're trying to keep our courses up to speed with the latest developments in caring for cleaner fish as well as including material on recognising known disease challenges and minimising disease outbreaks. We also include a practical session on post-mortem assessment and sample collection from cleaner fish – as this is very different to assessing or collecting samples from a salmon or trout, and many farmers don't feel confident in carrying out these tasks on wrasse or lumpfish.
We're also continuing to offer sea lice monitoring, practical plankton monitoring and gill-health training courses aimed at farm staff and fish-health teams. These are areas where in some respects Scotland has more first-hand knowledge than Norway – largely because historically some challenges such as AGD have been more of an issue here – and we've run several rounds of these courses in Norway and Ireland as well as at home here in Scotland. We're looking forward to delivering another round of these later in the year – anyone interested should drop us a line.