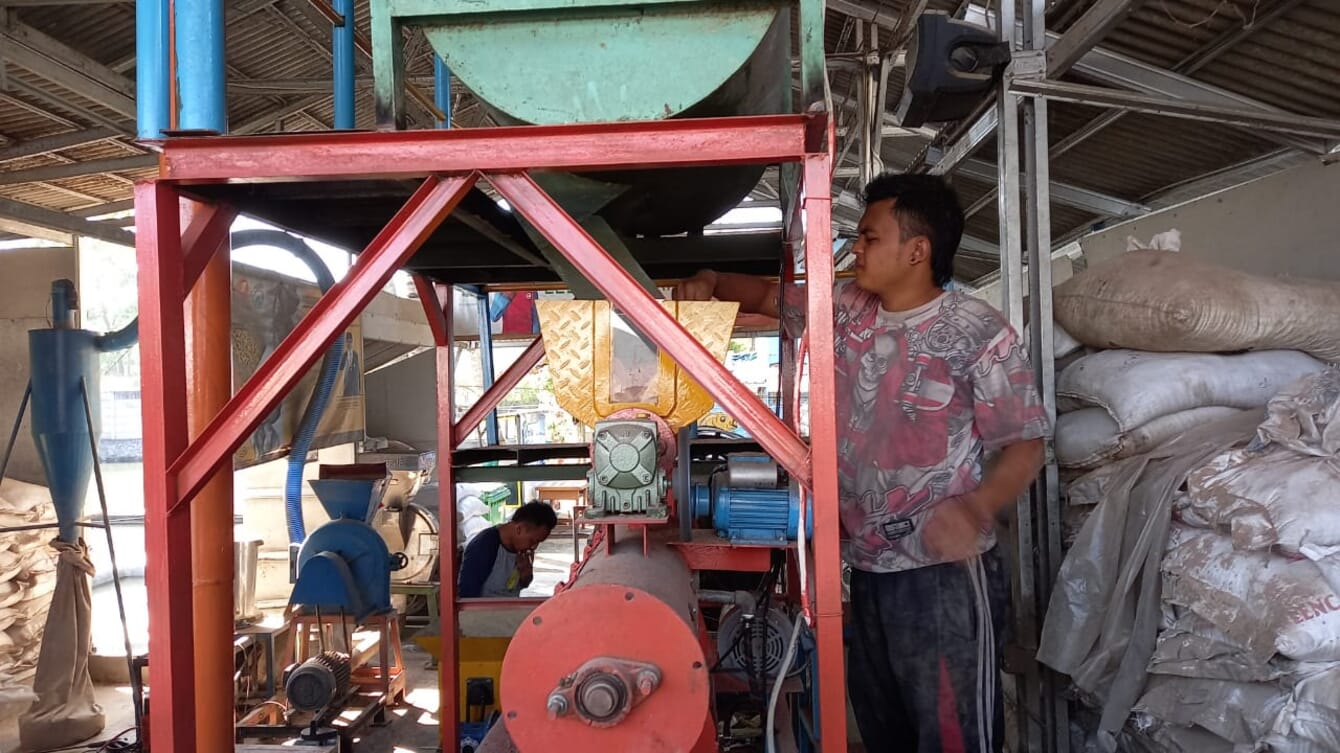 With commercial feed constituting a substantial cost component, freshwater fish farmers, in particular - whose margins are already slim - are taking matters into their own hands to reduce expenses. Despite concerns regarding the quality of homemade feed compared to factory-produced alternatives, these farmers are capitalising on readily available alternative raw materials, forging a path towards cost efficiency and environmental consciousness.

For the past 15 years, Syafruddin Darmawan, a pangasius farmer from Kampar-Riau, has been producing his own feed. In his vicinity, a multitude of alternative raw materials, including rice bran, fish meal, corn, tofu dregs, and palm kernel cake, provide the necessary ingredients for feed formulation. Adhering to the Indonesian National Standard (SNI) and drawing on expert recommendations, Darmawan utilises Excel spreadsheets to create sinking and floating feeds suitable for various freshwater fish species.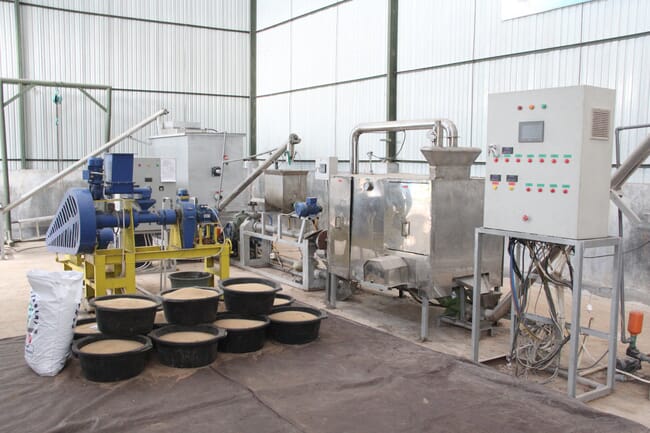 Although homemade feed may be slightly lower quality than commercial counterparts, Darmawan attests to the significant cost advantage, with production expenses ranging from IDR6,000 to 7,000 (€0.36-0.42) per kilogram, in stark contrast to the market price of IDR11,000 (€0.66) per kilogram. The minor trade-offs, such as a slightly prolonged cultivation period and a marginally reduced feed conversion rate, are deemed acceptable within the farming community.
Darmawan's enterprise, Mutiara Feed Kampar, boasts a daily production capacity of 1-3 tonnes, with half allocated to his own farm and the remainder supplied to fellow fish farmers. Notably, his feed production adheres to legal requirements and is registered with the Ministry of Marine Affairs and Fisheries (MMAF), guaranteeing regulatory compliance and adherence to quality standards.
Yosep Purnama, a fish farmer from Garut-West Java, is equally committed to independent feed production. Through the Leles Lestari Foundation, Purnama has implemented an integrated upstream-downstream ecosystem to optimise fish and feed production sustainability. Collaborating with local partners, he harnesses a diverse range of by-products from various industries, including fish meal, rice bran, tofu dregs, coconut shavings, pineapple peels and coffee pulp, which are subsequently processed into flour. Purnama also leverages fermented maggot meal derived from his black soldier fly farming, thereby reducing reliance on fish meal as a protein source. By utilising local raw materials and by-products, these farmers not only uphold sustainability principles but also minimise carbon footprints and actively contribute to a circular economy.
Official support
The self-made feed movement initially emerged among catfish farmers in South Sumatra, Jambi, Riau and South Kalimantan. Recognising its potential, the MMAF, through its Directorate General of Aquaculture (DJPB), has launched the independent feed movement (Gerakan pakan mandiri/Gerpari) programme. This initiative aims to empower fish farmers, reduce costs by 30 percent, promote local ingredient utilisation, and establish a nationwide network of self-sufficient farmers.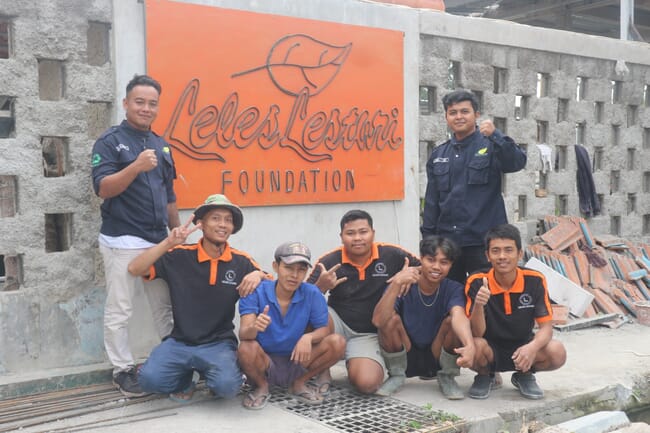 Though precise production figures remain unavailable, it is estimated that independent feed production by farmers, including those supported by the MMAF, currently amounts to approximately 250,000 tonnes annually, satisfying around 10 percent of the national fish feed demand. MMAF envisions that independent feed production could eventually meet 30 percent of the total demand. To achieve this, the programme encompasses government assistance, development of local raw materials and formulation of cost-effective feed.
Komarudin emphasises that the independent feed programme has been developed using various strategies, including government assistance, the establishment of local raw material sources, the creation of low-cost feed formulations, technical support and training, as well as certification services for adhering to good feed manufacturing practices (CPPIB) and feed product registration. One form of government aid that has gained popularity is the mini-scale feed-making machine package, which comprises units for grinding raw materials and forming feed pellets.
Furthermore, ongoing efforts are focused on simplifying feed circulation requirements while upholding quality standards based on Indonesian National Standards (SNI). Future feed distribution requirements are expected to prioritise principles of food safety, environmental sustainability, and animal welfare.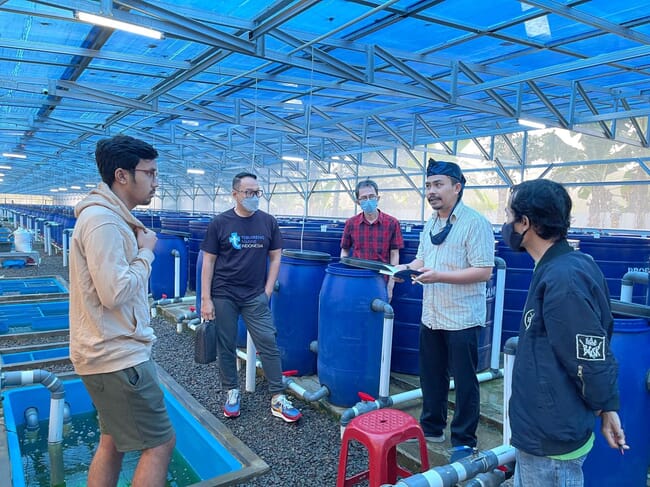 The challenges of homemade feed
Despite the potential benefits of homemade feed production in reducing costs for farmers, there are several challenges to overcome. The first challenge lies in the quality of human resources, as not all farmers possess sufficient knowledge in formulating high-quality feed.
Darmawan explains that farmers engaged in self-made feed production need to enhance their understanding of ingredients, ideal feed formulation, and the processing technologies used for raw materials. They also need to grasp the importance of essential microelements required by fish, such as vitamins and minerals, and learn how to optimise their usage. Additionally, there is a need to revitalise infrastructure and facilities for self-made feed production in order to further support its development.
The second challenge is related to the unstable quality and quantity of raw materials, which is further exacerbated by macro-economic conditions leading to fluctuating prices. Industrialisation of raw materials is necessary to ensure consistent quality and quantity. Darmawan emphasises that technological engineering in the processing of local raw materials is required to enhance their quality.
From the government's perspective, Ujang Komarudin stresses the importance of institutional strengthening to ensure that feed adheres to good manufacturing practices. To this end, the Ministry of Maritime Affairs and Fisheries (MMAF) has developed the Good Feed Manufacturing Practices (CPPIB) and has requested farmers to register their feed if they intend to commercialise it.
Komarudin hopes that the self-made feed programme will have a positive impact on increasing production and improving farmers' profitability. Additionally, establishing synergy among stakeholders involved in self-made feed production is crucial for the exchange of information, knowledge, and expertise, ultimately leading to the production of more efficient, competitive, widespread, and easily accessible self-made feed.
Conclusion
In conclusion, the adoption of self-made feed by fish farmers in Indonesia provides a viable solution for reducing production costs and increasing profit margins. The utilisation of alternative raw materials and farmers' ingenuity in formulating their own feed have significantly contributed to this movement. While challenges remain, such as the need to improve farmers' understanding of feed formulation and raw material processing technologies, efforts are underway to address these issues through institutional strengthening and the development of good feed manufacturing practices.