Nothing about us, without us! This is the motto of the Wayana people. Deep in the forests of the Amazon live the last 850 members of the Wayana tribe in Suriname. They are settled in three remote villages which are a two- to three-day boat ride from the capital, Paramaribo.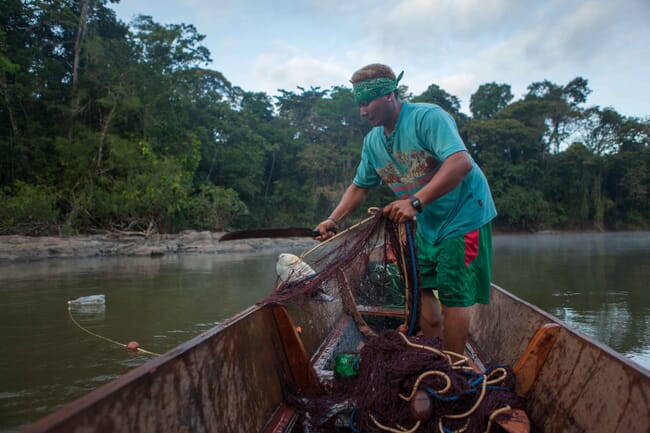 The life of the Wayana is still deeply intertwined with nature. Their main source of livelihood comes from a traditional small-scale approach to farming, and for their daily animal protein intake they fish the many rivers that cross these forests. Wayana people are fervent fish eaters and have intimate knowledge of the fish living in the rivers. Their favorite fish is the tambaqui, or black pacu, a vegetarian relative of the piranhas. Due to overfishing numbers of this fish (and others) have dwindled severely.
Moreover, eating fish from the rivers poses a serious health risk. The fish contain high levels of mercury from illegal gold mines that are operating in the river that runs along the villages. The homeland of the Wayana is widely known for its gold deposits and gold prospectors have been active in the area for over 100 years. The Wayana themselves are not involved in gold mining and most of the miners originate from the capital city of Paramaribo and Brazil.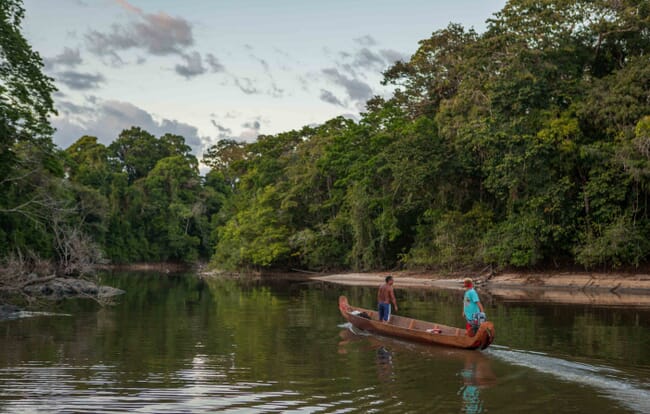 The large volumes of mercury dumped by the mines are converted by bacteria into the even more poisonous methylmercury, which then slowly makes its way up the food chain – from filter feeders, like shrimps and mussels, to fish. They eventually accumulate in carnivorous fish and in people that eat them. Research shows that gold mining in this small South American country grew by 893 percent between 2000 and 2014[1]and that over 50 percent of investigated indigenous communities in Suriname are exceeding WHO safety thresholds in mercury levels in their blood samples[2], with children especially at risk of developing irreversible brain damage.
As such, the Wayana, through the Mulokot Foundation, are standing up to assist their communities in improving their understanding of the current situation and in developing an alternative, unpolluted and healthy source of animal protein that is so desperately needed.
They strongly believe that sustainable small-scale fish farming is the key solution to this problem. The tambaqui is easy to farm and is already produced by a commercial hatchery in the capital. The community is planning to farm tambaqui in a cooperative fashion, and solely using sustainable protocols that will ensure environmental integrity and social responsibility for all community members.
The project will focus on training selected youth who are currently lacking in job prospects and give them the skills to farm and market tambaqui. To improve local understanding of the dangers of mercury contamination – and to improve the ability of the community to recognise symptoms and take appropriate action to minimise further damage to their community – the project will also implement a mercury-awareness programme for all community members. You can read the full project summary here.
Once the project has proved it can be a success in this community, it will have enormous potential as a blueprint for sustainable development and livelihood provision across different indigenous communities in the Amazon region.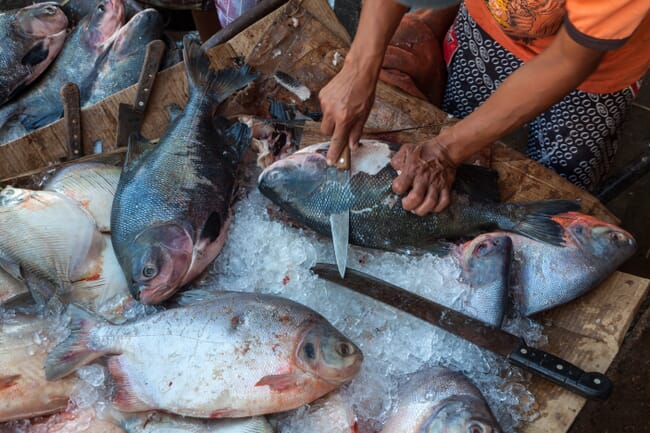 For this project, The Mulokot Foundation receives technical support and expertise from ProBios and Fins and Leaves. ProBios is an environmental NGO founded by Erlan Sleur in 2009 and based in Suriname. The main goal of his organisation is to increase public awareness about the destruction of Suriname's forests and biodiversity. Fins and Leaves is a Dutch non-profit organisation that strives to contribute to safeguarding the world's remaining biodiversity hotspots and support the people who depend on them for their survival, through projects that focus on conservation, improving livelihoods and education in areas rich in rainforests, mangroves or coral reefs.

[1] Mongabay (2015). Gold mining explodes in Suriname, puts forests and people at risk.
[2] Peplow and Augustine (2012). Community-Led Assessment of Risk from Exposure to Mercury by Native Amerindian Wayana in Southeast Suriname. Journal of Environmental and Public Health.
Further information
Kyra Hoevenaars works as an aquaculture consultant and is the co-founder of Fins and Leaves. If you would like to follow the activities of the Mukolot Foundation or want to provide them with your support please contact her at info@finsandleaves.org.