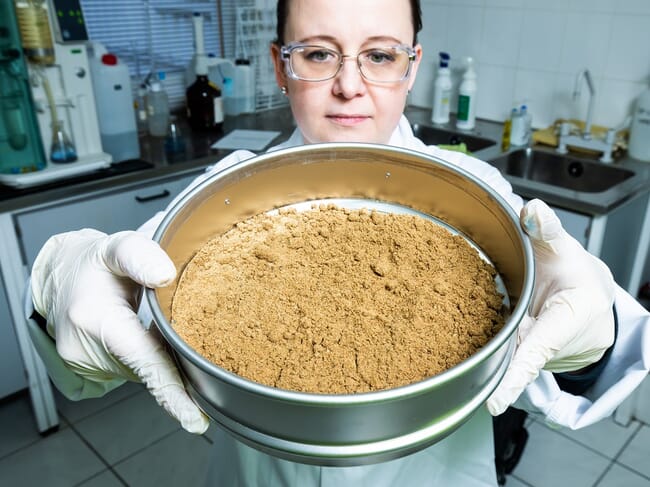 The 2023-2024 Coller FAIRR Protein Producer Index has just been published and highlights positive change among the sixty protein producers that have been assessed against the ESG risks. Fifty five percent are presented by the index as having embraced the ESG approach – in 2022, the same proportion was labelled as high risk.
These developments underline the positive contribution to protein production made in a responsible manner by the aquaculture sector. The report states: "Aquaculture companies continued to outperform land-based protein producers on all risk factors. They recorded a 9 percent increase in average score, with every risk factor seeing a rise in performance". The farming side is the tip of the iceberg when it comes to protein production. Let's not forget what we know is a blind spot – not being linked to business-to-consumer communications – but is equally important: the role played by the feed sector in producing nutritious proteins.

In her Nuffield report, based on visits to a number of countries and interviews with key stakeholders involved in the feed production value chain, Aisla Jones suggested that limitations to working more on feed sustainability was largely due to a lack of information and data regarding feed production and sustainability challenges.
Global aquaculture production was at 63 million metric tonnes in 2020 (40 million tonnes in 2010). To sustain this production, 52 million tonnes of feed was used in 2020. Marine ingredients, mostly fishmeal and fish oil, have been playing a critical role in supporting the growth of protein production – alongside many other nutritional benefits – for the benefit of a growing human population.
Poultry and pig feed producers used to be the biggest users of fishmeal. Today, three quarters of fishmeal and fish oil produced globally are used in aquaculture as aquafeed. Fishmeal use by aquaculture was at 4.1 million tonnes in 2020: inclusion in aquaculture feeds is at 8 percent on average.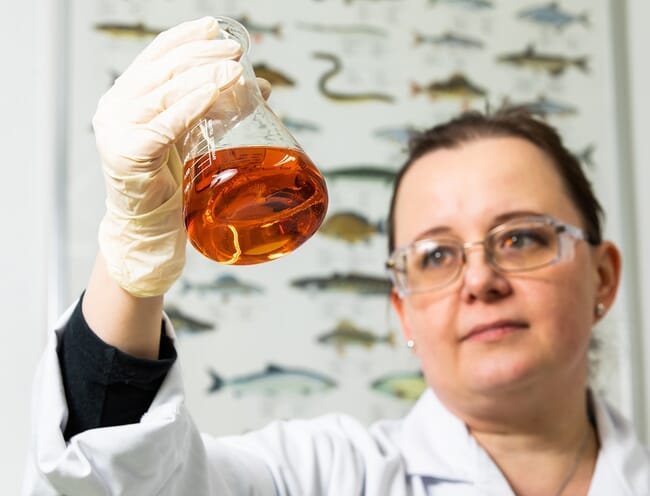 The importance of repurposing animal waste is highlighted in the Coller FAIRR Protein Producer Index with a focus on integrated multi-trophic aquaculture and alternative feeds. Diversification of feed ingredients has proved to be the way forward, both because of the volumes of feed ingredients needed to feed the world, and to mitigate risks. Did you know that one third of fishmeal and fish oil produced globally comes from by-products: 29 percent of the fishmeal and 51 percent of the fish oil?
The growth in the utilisation of by-products allows the industry to use what was previously waste and develop it into another valuable raw material from which fishmeal and fish oil may be produced. Furthermore, aquaculture is now a major player in the provision of marine ingredient raw materials, with by-products from farmed salmon, tilapia and pangasius sectors being significant contributors. We're talking about 678,000 tonnes of fishmeal being produced in 2021 that came from aquaculture by-products.
Fishmeal and fish oil are therefore a great success story when it comes to circularity – they pioneered this approach many decades ago and continue to progress. Aquaculture's circularity story underpins fishmeal and fish oil's low carbon footprint compared to that of other feed ingredients. With most life cycle assessment analysis in the feed sector now based on economic allocation, the primary catch of fish for human consumption means that most of the economic allocation is taken by that portion. Therefore, the lower value by-products used in fishmeal and fish oil production get attributed an even lower allocation of the environmental footprint.
Traceability is a critical component of the circularity discussion. It is our shared responsibility to advance this, as an assurance against adulteration of food, intra species feeding and contamination of feed. It is also a growing demand by consumers, who are rightly keen to understand where their food comes from and how it has been sourced and produced. With the highest level of certified sourcing and production, fishmeal and fish oil are well placed to help meet the protein challenge ahead of us.