Speaking in the offshore aquaculture session at Aquaculture 2019, Cruver – head of R&D at the family firm – explained how the company has managed to blaze a trail by being the first aquaculture producer operating in US federal waters.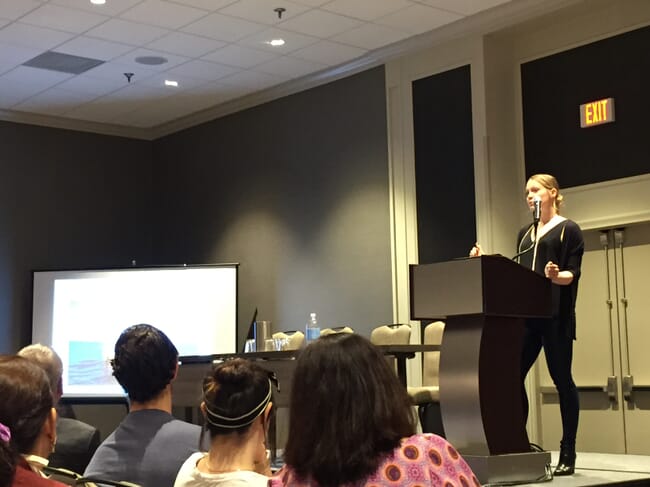 Catalina Sea Ranch, the first and still the only federally regulated offshore aquaculture producer in the US, currently produces 2 million pounds of mussels a year.
Established in 2012 by Lindsay's father, having obtained a permit to produce off the coast of California, the farm – which is situated six miles offshore – covers 100 acres. Using longline technology adopted from New Zealand, the mussels are grown 20-50 feet below the surface and are processed in the port of Los Angeles.
"There's currently plenty of room for us to expand both on land and offshore and we're currently applying to expand by another 2,900 acres – this will allow for 1,000 acres of mussels, 1,000 acres of seaweed and 1,000 acres of cage culture" (of native species including oysters and scallops), she revealed.
This foray into integrated multi-trophic aquaculture (IMTA) currently involves 100 acres of mussels, purple-hinged rock scallops, triploid Pacific oysters and giant kelp.
"We are now selling our mussels to the local southern Californian market and things are going really well. We want to help NOAA achieve its goal of expanding aquaculture output by 50 percent by the year 2020," she explained.
"This is a really exciting area to work in and I'm loving being involved but it has not always been easy," she added.
Challenges have included finding funding.
"Who wants to invest in a mussel farm?" she asked. "Well, not that many people, because mussels are seen mostly as bait rather than food and don't really have the cache that oysters do. A lot of people don't eat mussels in the United States."
Cruver pointed to recent research that shows that US citizens only eat 0.15lb of mussels per capita per year – compared to 5lb per capita in Europe and 33lb per capita in New Zealand.
"We started with mussels because they're easy to grow and they're profitable, but back in 2012 raising money for a mussel farm was nearly impossible," Cruver explained.
"However, there is a rising trend in recent years for impact investment and these investors are very excited abut not only investing in sustainable, but also regenerative, crops," she added.
She went on to say that, as the first offshore producer, the company "took a lot of arrows" – both in terms of navigating the legislation and in terms of meeting opposition from other marine stakeholders, such as the state's $20 million squid fishery and $1 billion recreational fishery.
However, Cruver explained that these have been overcome by the fact that the site does not cover the squid fishing grounds and by demonstrating that the structure of the farm is actually enhancing the recreational fishery.
"There was really nothing out there when we started on the San Pedro shelf, it's all sandy bottom and pelagic fish coming through, but now we have a permanent structure out there with mussels growing we're finding some fish are becoming permanent residents so Catalina Sea Ranch is now the hottest new fishing spot in southern California and we get a lot of support from the recreational fishery," Cruver explained.
Having overcome these challenges, she is optimistic about the future of the farm and of the US offshore aquaculture sector in general.

"Offshore aquaculture is the best way to help to meet the country's $15 billion seafood deficit," she concluded.