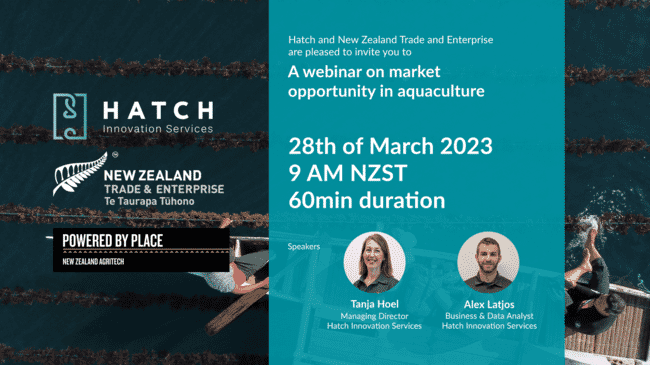 The webinars are a great opportunity to gain valuable insights into one of the fastest growing protein production sectors in the world. Participants will be able to keep on top of the latest innovations in the global aquaculture industry, while creating real opportunities in overseas markets.

At the programme's online launch event on 22 March, Tanja Hoel, director of Hatch Innovation Services, delivered an inspiring message on the transformative potential of aquaculture to tackle the world's most pressing food challenges. She highlighted the urgent need to improve food security without increasing agricultural land area or greenhouse gas emissions. She explained how The Global innovation launchpad for New Zealand aquaculture provided a unique opportunity to support innovative New Zealand businesses with scalable, sustainable aquaculture technologies that have the potential to boost global food security and make a real difference.

Following the successful launch event, the first webinar, scheduled for 28 March, at 9 AM NZST, will cover the market opportunities in aquaculture. The speakers, Tanja Hoel and Alex Latjos (business and data analyst at Hatch Innovation Services), will provide an overview of the global aquaculture market, including its consumer trends, production regions, major seafood farmed species, and driving forces behind its growth.
The second webinar, taking place on 5 April, at 9 AM NZST, will explore the innovation and market trends for a sustainable aquaculture industry. Gonçalo Santos (head of projects at Hatch Innovation Services) will delve into the aquaculture value chain of major markets and discuss the technology status and market opportunities for new solutions in the industry. The session will also provide a deeper dive into two of the biggest aquaculture tech markets: salmon and shrimp.
The final webinar in the series, scheduled for 13 April, at 9 AM NZST, will focus on investment opportunities in aquaculture. Carsten Krome, managing partner and co-founder of Hatch Blue, will provide an overview of how venture capital investing works in the industry and discuss when and how - as well as the do's and don'ts of - raising money. This session will also provide examples of successful and unsuccessful venture capital investments in aquaculture.
Interested individuals can learn more about the programme and sign up for the webinars here.