Professor Selina Stead, who has held a number of high-profile positions during her esteemed career, will become head of Stirling's Institute of Aquaculture (IoA) on March 1.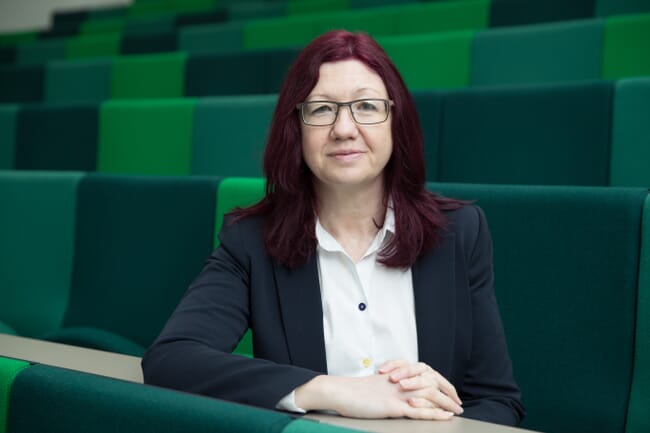 She takes over leadership of the world-leading research centre at an exciting time – with ministers recently announcing £17 million, under the City Region Deal for Stirling and Clackmannanshire, for a new aquaculture facility at Stirling, and the IoA preparing to celebrate its 40th anniversary next year.
Professor Stead said: "Joining the University of Stirling as head of the Institute of Aquaculture is a once in a lifetime opportunity that will allow me to work with staff, students and alumni, the wider university community, industry and government representatives to further enhance the centre's outstanding reputation as a global leader in aquaculture.
"Universities are funded to support the community and we need to focus on what we, as a university, can do to support aquaculture at local, national, regional and international levels. The funding through the City Region Deal provides the perfect opportunity for Stirling to continue its work in this area.
"I look forward to working with colleagues across the University to mark the Institute's landmark anniversary next year – and help ensure that it continues to go from strength to strength over the next 40 years."
Professor Stead, whose research specialises in international sustainable development of seas and oceans, joins Stirling from Newcastle University where she is dean, public orator and Professor of Marine Governance and Environmental Science. She remains active in field-based academic work in East Africa and the Indian Ocean, publishing widely on marine ecosystems and human interactions.
She is currently the UK government's chief scientific advisor to the Marine Management Organisation, and was chair of the Scottish Government's Marine Science Advisory Board from 2013 to 2017.
A former president of the European Aquaculture Society, Professor Stead received the organisation's Distinguished Services Award in 2016 for her notable contributions to fisheries, aquaculture, marine protected areas, integrated coastal management, and marine governance.
Among her many other external positions, she was a Centre for Environment, Fisheries and Aquaculture Science Board Member (2013-2017); North Eastern Inshore Fisheries Conservation Authority committee member (2005-2017); and a Founder Member of the International Council for Exploration of the Sea's Socio-Economic Aquaculture Working Group (2012 – present).
Professor Stead has previously held two positions at the University of Aberdeen – as Director of Marine Resource Management (1999– 2004) and Director of Aquaculture and Manager of Finfish Hatchery (1996 – 1999) – and carried out her postdoctoral research with Marine Scotland.
Professor Maggie Cusack, Dean of the Faculty of Natural Sciences, said: "We are delighted to welcome Professor Stead to her new position at the University of Stirling, as Head of the Institute of Aquaculture. Professor Stead is a highly respected marine biologist, who has held a number of distinguished roles throughout her career, including her current position as the UK Government's Chief Scientific Advisor for the Marine Management Organisation.
"As we approach this important milestone for the Institute of Aquaculture, I look forward to working with Professor Stead to build upon the Institute's world-leading reputation and ensure it continues to prosper over the next 40 years."
Under the £90.2 million City Region Deal, funded by the UK and Scottish Governments, the University will receive £17 million for a new aquaculture facility, with a further £22 million to be invested in the University-led International Environment Centre.
The new aquaculture innovation hub will operate four aquatic research facilities. Unique in the UK, the hub will provide the full range of marine environmental conditions, and create research and development opportunities to grow the export of Scottish aquaculture skills and products.
The International Environment Centre, involving a number of partners including Forth Valley College, will draw together academic expertise from across Scotland, the UK and the world. It will connect environmental research with business opportunities and training and will take full advantage of the natural environment and heritage of the region.