Geneticist plans tilapia feed efficiency gains
A project which aims to selectively breed feed-efficient lines of tilapia in order to improve the economic viability of aquaculture in areas where feed is expensive and scarce has recently been launched.

Led by Dr Hugues de Verdal, from CIRAD, the other main project partner is SYSAAF (the French Poultry and Aquaculture Breeders Association), while it is being financed by the European Fund for Maritime and Fish Affairs (FEAMP).

"As we all know, feed represents 50-70 percent of fish production costs, and around 55-85 percent of the environmental impact of fish production. As a result, in order to improve the sustainability of tilapia production it's essential to improve feed efficiency – the ratio between the feed given to the fish and their weight gain," de Verdal explains.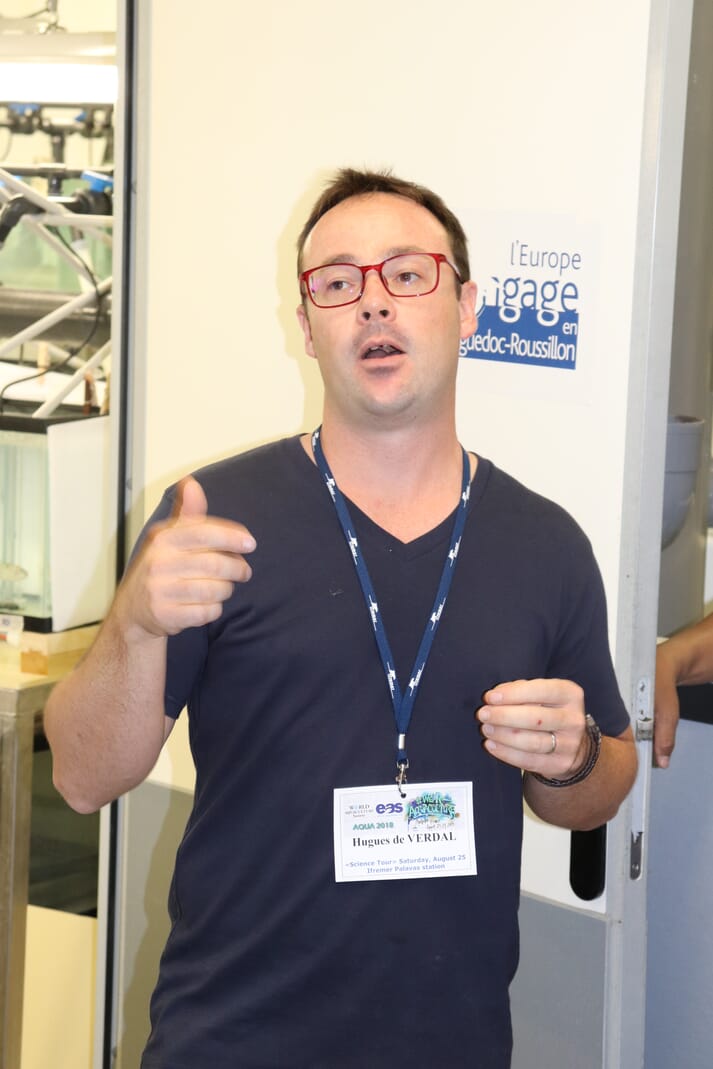 "Different ways can be studied to improve feed efficiency: rearing practices, nutrition and genetics. The first two have already been widely studied but there is now a prime opportunity to improve feed efficiency by genetic means. However, the main constraint facing genetic breeding programmes is that it is essential to measure the phenotype of each individual fish: it's very complicated to measure feed intake of each fish reared in a group, but Nile tilapia are social and need to be housed in groups," he adds.
In order to overcome this problem, de Verdal has come up with a novel – and painstaking – means of measuring the intake of each fish within the group.
"I have developed a new methodology to measure individual feed intake of fish reared in small groups in aquariums – we give the fish individual tags to make them easy to identify, film each time they are fed, then review the footage to count the number of pellets eaten by each fish," he explains.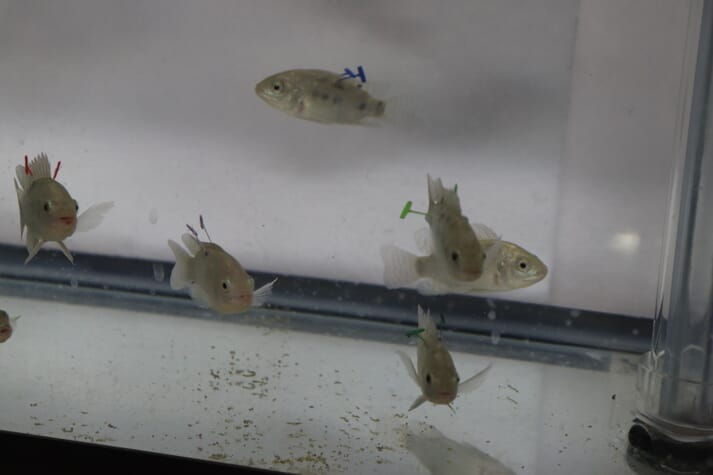 Now that he's developed a successful method, de Verdal, who is based at the CIRAD-Ifremer Palavas-les-Flots facility, near Montpellier, now needs to develop a genetic breeding programme to establish the impact of the selection on feed efficiency traits.
"We now need to select the best and worst fish according to their individual feed efficiency, then the best males and females will be crossed to develop the efficient line and the worst males and females will be crossed to develop the non-efficient line, in order to assess how much we can improve feed efficiency through genetics," says de Verdal.
He has high hopes for the extant that the breeding programme can improve feed efficiency.
"We think that the improvement [per generation] is likely to be considerable and that there will be a strong demand for farmers to rear a strain improved for feed efficiency," he reflects.
Field trials
La Réunion, an island which lies to the east of Madagascar, has been earmarked as the place to first establish this new strain of tilapia.
"As the island needs to import all its feed, production costs there are currently very high," explains de Verdal, "so the demand for a feed-efficient strain is particularly strong. We are therefore developing an audit to understand the tilapia value chain on the island and then propose to develop, with the production sector, a new strain selected for feed efficiency."
However, as he points out, the project has much wider implications and could have a positive effect on tilapia farmers globally.
"Globally, the questions raised during the project are whether we can improve feed efficiency in Nile tilapia using a genetic breeding programme, and what the impact of this could be in terms of the sustainability of the sector," he reflects.