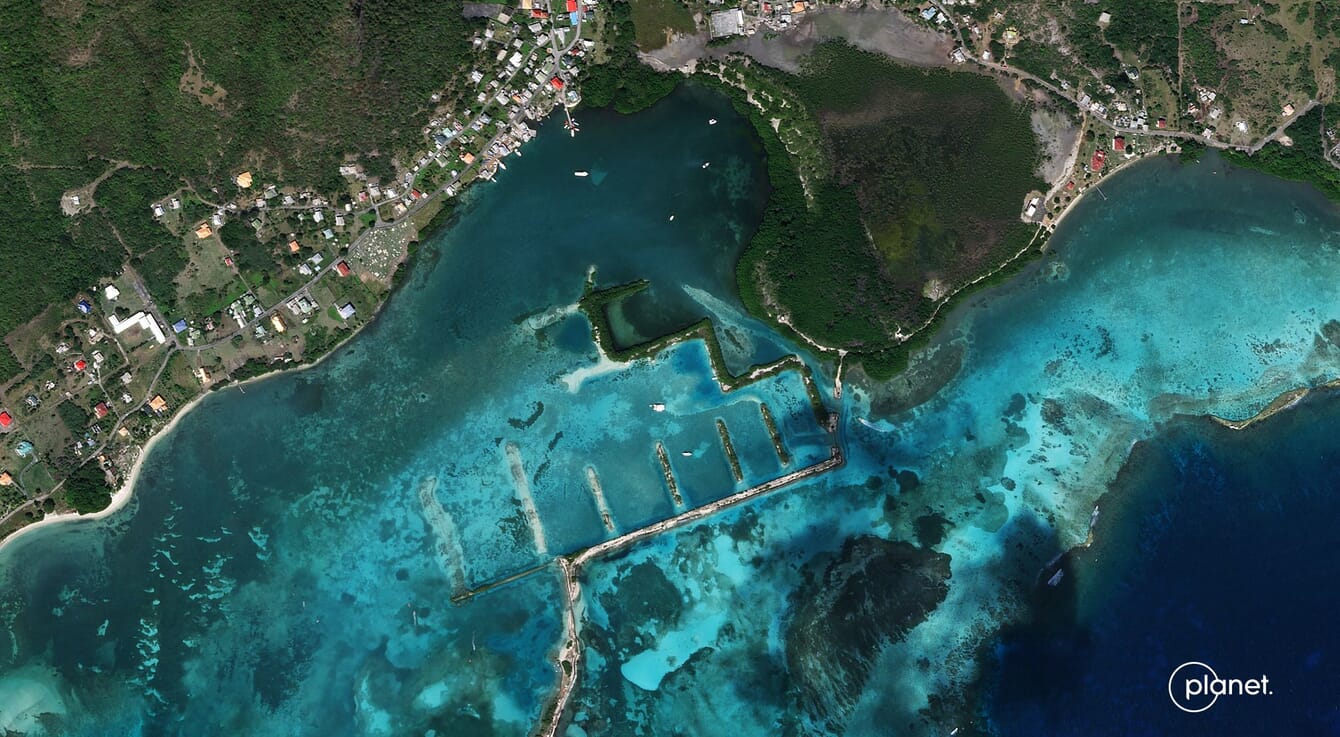 The Blue Carbon Explorer is a digital tool – developed by global environmental organisation The Nature Conservancy (TNC) – that aims to map mangrove and seagrass blue carbon around the world using satellite data provided by Planet, a provider of global daily Earth data. The tool also enables governments and coastal managers to make data-informed decisions on the protection and restoration of coastal ecosystems.
Blue carbon refers to carbon stored in marine environments like seagrasses, mangroves and salt marshes. Notably, blue carbon ecosystems can store up to 5 times as much carbon as upland forests. The world's mangroves alone sequester more than 31 million tons of carbon in their soils and biomass each year. Both TNC and Planet believe that the protection and restoration of these environments is critical for supporting biodiversity, combating climate change and helping communities to thrive. New tools to map, monitor, and quantify these ecosystems are key for their conservation.
As Lindsey Smart, climate and ocean scientist at TNC, said in a press release: "These ecosystems really are a great ocean-climate link, and part of our strategy is to unlock this blue carbon potential for climate mitigation."
The Blue Carbon Explorer is a Google Earth Engine app developed by TNC that leverages field-collected data from drone and satellite imagery – including Planet's SkySat and PlanetScope imagery – to help identify key areas for restoration and protection. The tool helps to visualise if these ecosystems are degraded or healthy, enabling analysts to determine the best management decisions to aid in their conservation and restoration.
"Thousands of PlanetScope scenes were used to derive the high-resolution mangrove and seagrass extent layers that the Blue Carbon Explorer relies on to perform analyses of temporal changes in habitat health and extract data on canopy height," added Valerie Pietsch McNulty, conservation scientist for TNC's Caribbean Division. "Planet's data has been a game-changer for decision-making due to its high resolution because restoration sites can be very small, so having this level of granularity in the spatial data allows us to really target specific areas, within expansive mangrove patches."
This collaborative work has already started to reveal insights into changing coastal habitats throughout the Caribbean, Indonesia, and Papua New Guinea. For governments, the maps have revealed previously unknown regions of mangrove and seagrass habitats, helping them better account for their natural resources and potential blue carbon stocks. Leveraging Planet data and new techniques in artificial intelligence, as well as lessons learned from the Blue Carbon Explorer, these insights can be used to better understand coastal habitats around the world.
"Mapping coastal blue carbon is a critical step in securing these vital carbon stocks – and the immense social, ecological, climatological and economic value they represent," continued Planet's chief impact officer Andrew Zolli. "By combining TNC's expertise with Planet's breakthrough Earth observation capabilities, the Blue Carbon Explorer makes these benefits visible and accessible to a wide variety of stakeholders. It's a vital tool for advancing a scientifically rigorous, just, and inclusive transition to a more climate-stabilised future."
"By evaluating these important coastal ecosystems with satellite data, we can zero in on the areas where the resilience of a coastal community can be improved and the benefits of coastal protection and enhanced livelihoods and human well-being are aligned," concluded Steve Schill, lead scientist for the Caribbean at TNC.