The funding has been awarded by the international Feed the Future Innovation Lab for Fish and includes a project looking into broodstock selection in Bangladesh, an investigation into the post-harvest chain in Nigeria and the use of single-celled protein in aquafeeds in Zambia.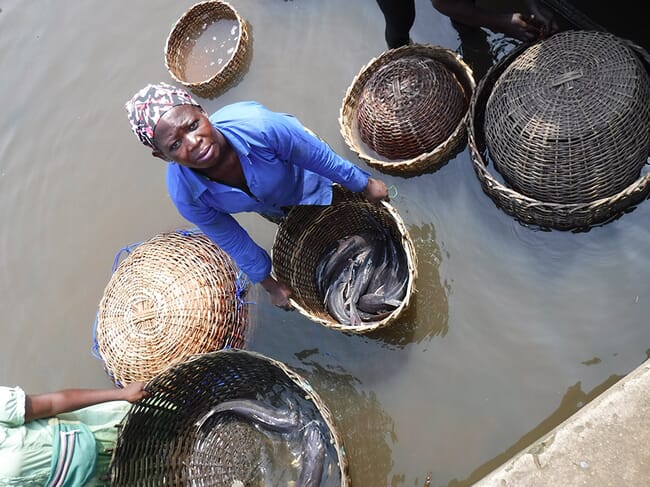 Funded by the United States Agency for International Development (USAID) and led by Mississippi State University, the Fish Innovation Lab supports sustainable and resilient aquaculture and fisheries systems by initiating and supporting research to enhance food safety and nutrition, improve fish production systems, and increase trade and domestic market opportunities to ultimately improve the nutrition and livelihoods of households and small-scale producers in developing countries. The lab will fund approximately $7.5 million in research grants through 2023 to researchers working with small-scale producers in Feed the Future focus countries.
Known as Quick Starts, these early projects span one year and will provide valuable information to guide lab efforts over the next five years. Leveraging existing knowledge and expertise at Mississippi State, all Quick Starts include at least one MSU researcher.
Additional details about the projects are provided below:
Bangladesh
Using DNA sequencing to inform broodstock selection programs, thereby improving aquaculture production and livelihoods of farming communities using sustainable approaches. Partners: Bangladesh Agricultural University, Bangladesh Fisheries Research Institute, WorldFish.

Nigeria
Analysis of the aquaculture post-harvest chain to better understand the fate of harvested fish from production to consumption. Partners: Washington University in St Louis, WorldFish.
Zambia
Investigating the effect of partially or totally replacing fishmeal by single-cell protein ingredients in a tilapia commercial feed. Partners: Aller Aqua Zambia, Meridian Biotech, Natural Resources Development College, Texas A&M University, WorldFish.
Other projects
One of the other projects that have received funding is looking to increase quality/quantity of fish benefitting nutrition and food security, especially for women and children in the critical first 1,000 days of life in Zambia.
The other is looking to develop an inventory and market analysis of coastal marine fish for food that maintain ecosystem functioning and address micronutrient deficiencies in vulnerable groups in Kenya.
"The Fish Innovation Lab is an integral part of USAID's goal to advance aquaculture and fisheries in Feed the Future countries, and these Quick Start projects are a key to our success because they will give us early results on which to build our larger research agenda," said Mark Lawrence, director of the lab and professor at Mississippi State University.
Results of these studies are expected later this year and will be shared at the global platform meeting the lab will host for stakeholders this summer.