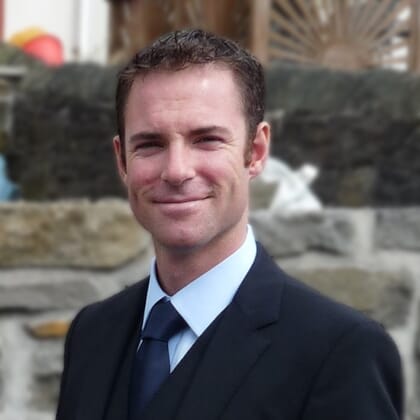 What drew you to the aquaculture sector?
It was working with Dr Robin Shields in 2003 that introduced me to aquaculture and starting my PhD under him at the Centre for Sustainable Aquaculture Research (CSAR) in 2005 that cemented my interest. This work, sponsored by Skretting and focusing on novel proteins, started me working with recirculating aquaculture systems (RAS) and seeking to advance the sustainability of the industry through improving the sustainability of feeds, which I continue now with Pontus Research.
Can you give a brief description of the company?
Pontus Research is a contract research organisation, providing R&D support to companies around the world who are developing feeds and feed ingredients and additives for aquaculture. We utilise research-scale RAS to run high quality trials with a wide range of species under a variety of conditions, from coldwater to warmwater, and from fresh to full strength seawater.
Why did you decide to launch it?
Having worked in Madagascar and the Mediterranean, it was time in late 2013 to return to Wales after starting a family. Aquaculture in South Wales is in its infancy and so the prospect of finding a position was non-existent – starting my own business was the only way I could pursue my career while living in the place I wanted to be. I started by operating as a consultant (as Pontus Aqua) from the attic of our terraced house through 2013, but having worked in research before, I felt it was a part of the sector I could certainly contribute to, and Pontus Research was born in November 2014.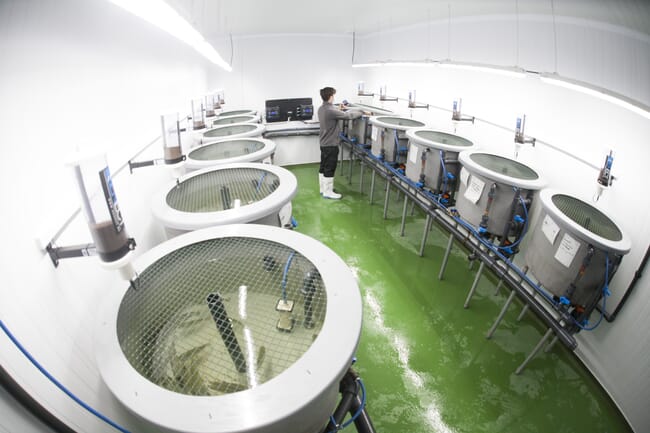 How has the process of building a company been and how have you managed to fund the development phase to date?
It's been challenging at times, but rewarding to see the company grow and see people develop their skills and competencies as they grow with us. Initial setup funds were from family, and up to 2020 we grew via small-scale debt funding. For our major expansion in 2020 I raised £1.2 million from private equity investments, grant funding from the European Maritime and Fisheries Fund and private and public debt funders including the Development Bank of Wales. These have allowed us to add significant new trials capacity and capabilities, including a research-scale feed mill, which is being commissioned and brought online through 2021.
What does a typical day consist of for you?
My job has changed since 2015, when we started trials and I was running a business of two to three people, finding clients and doing some of the technical work on the trials, to now being a full-time business manager. I will still involve myself with searching for new clients, I feed into discussions around trials designs when needed and review some of the data as necessary. But my day-to-day work is now focused on the work required to run a growing business – ensuring we have the staff we need when we need them, guiding business development, budgeting and managing cashflows, seeking out new and exciting opportunities, developing our reputation in the industry, planning and attending trade shows. I have a great team now of 11 staff, with two additional positions open at the moment, who can handle many things independently. The last 18 months have obviously been very different as I've been working from home. Thankfully, I am now back in the office and enjoying the fruits of the 2020 expansion.
Do you think there's scope to grow the aquaculture industry in Wales and - if so - which elements of it do you think have the most potential?
There is a huge scope for growth a development of the industry in Wales and I have been working to find a way of realising this potential through my work inside and outside the company over the past eight years. As a business, we work with the local schools and colleges to raise awareness of what aquaculture means to people and explain that is a real route for people to take into the world of work – one they may not have thought about before. I think is particularly important living and working as I do in a former coal mining area which has historically seen huge societal upheavals and challenges – I owe it to the community in which we are based to use our position for some wider good. Developing the people is critical to developing and industry and creating a future workforce from the people that already call Wales home is the best way of doing that.
I believe that the experience we can offer, specifically on RAS, giving people and understanding of what needs to be monitored and controlled, feeds directly into what Wales could be good at, namely land-based farming. We have high energy costs and coastal farming will always be an issue, but with a strong post-industrial heritage, ample water supplies, and excellent links to some of the big population centres, various parts of Wales are ideally suited to RAS farming.
Indeed, in KD Aquafarms we have a new RAS operator based on a Welsh hill farm and Pontus has had conversations with many groups looking at Wales for their next RAS operation. The hurdles are finding the right co-location partners for heat, power and/or waste utilisation, planning constraints and getting policymakers on board. All of these we are working on with the new AIW group.
What is Aquaculture Industry Wales doing to help promote your business and the sector in general?
AIW was set up by a few like-minded Welsh aquaculture professionals from across the sector to further the agenda of aquaculture development in Wales. This has come after many years of missed opportunities, underinvestment and stagnation, or even contraction, of production in Wales. The members aren't necessarily expecting direct benefits to our businesses, but they understand that a healthy and growing industry in Wales will have a knock-on benefit for everyone in the sector. Initially, the work of the AIW will seek to raise awareness of aquaculture as a sector distinct from fisheries in the minds of policymakers and to make everyone aware that aquaculture in Wales isn't only about production – there are many parts of the value chain that other businesses, such as Pontus, occupy.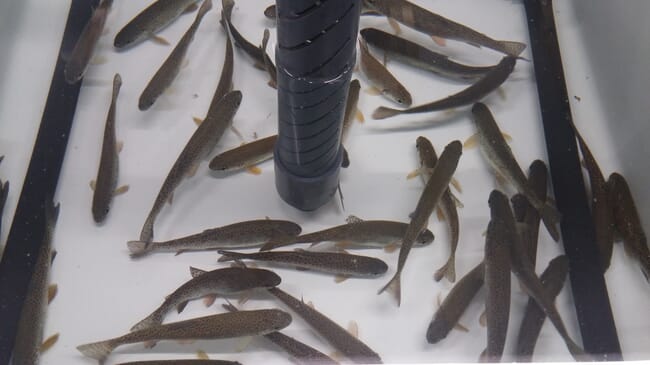 Where would you like Pontus to be in 10 years' time?
We will use the next few years to cement our place amongst the world's leading private research centres. With our recent expansion and addition of a research-scale feed mill, we hope to be able to grow our customer base in the R&D work while also developing the research feeds to a point where we can offer these to other researchers. Alongside this, we are developing an Asian footprint with the imminent opening of our Singapore base. We hope to be able to grow this to become the go-to provider in Asia.
How's your plan to expand into Singapore coming along?
This is more than a plan, it's happening! We are starting trials there in September and that will become an important part of the business. This business will initially be located at the Marine Aquaculture Centre, on St John's Island, and will allow us to prove trialling on regional species, such as barramundi, grouper, shrimp and snapper. This facility will use the same rigorous method and operating procedures that we run in the UK and so will offer the usual level of quality and attentiveness that our clients have come to expect.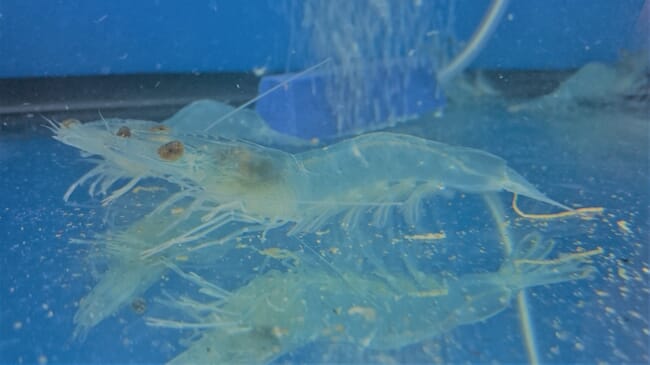 What's your ultimate ambition in the aquaculture sector?
Sustainability in producing high quality, healthy protein. This is a multifaceted ambition and covers energy and resource use, feeds, welfare and water quality, among other things. We need to develop in such a way that low water use land-based systems, running from renewable energy sources, become affordable, allowing fish and shellfish to be produced close to markets reducing food miles and increasing freshness at the point of sale. Research and development into feeds and feed ingredients must continue, reducing reliance on resource-hungry ingredients, and looking more towards circularity in the process. Algae products, insects, microbial proteins, novel plant products will all play an important part in the future of sustainable aquaculture production. New species and new production technologies need to continue to be developed alongside our traditional methods and products. It will be an exciting decade for aquaculture development and sustainability and we hope to be an important part of that.
Do you have any tips for others looking to break into the aquaculture sector?
They must have a clear idea of what they want to achieve and a plan of how to achieve it. I had started making plans for my business around a year before I founded it. I spent that first year sourcing funds, developing a customer base, sourcing staff, creating logos, designing the website, finding somewhere to operate from, and partners to help me deliver my vision.
I was very fortunate to appoint as the first member of the team Ivan Tankovski, now our director of research, a former colleague who already knew me, the way I worked and what I wanted to achieve. I already knew Ivan to be hard-working and trustworthy and without him, it would have been a much more challenging journey as every new member of staff brings with them an element of the unknown. I am going through this whole process again in Singapore, bringing in the first three members of staff, securing facilities, suppliers and clients, but with first-hand experience of starting and running an aquaculture-focused business. It is a challenge, but the ultimate aim is that it's a challenge that's worth it.
*Pontus Research is part of Hatch's investment portfolio, but The Fish Site retains editorial independence.