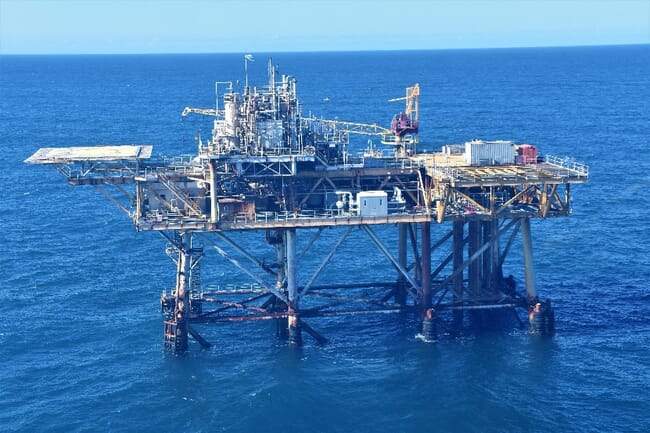 US regulations are already in place to allow US Gulf of Mexico platforms to be used for purposes other than oil and gas production. Right of Use and Easement (RUE) permits for alternative uses of offshore platforms have been granted in the past and these regulations would also allow for aquaculture and other marine-related activities. Leasing of Gulf of Mexico areas for wind power is expected to begin in late 2022.
At the peak of the oil boom the Gulf of Mexico was home to over 4,000 offshore oil platforms; however, this number has fallen to around 1,600 and continues to drop. While this is bad news for many in the once booming oil and gas sector and for recreational fishermen, it does – according to the two former oilmen – offer an opportunity to repurpose these structures.

"Our objective is to find as many uses as possible because we will need an income stream to maintain and operate the platforms. There's enough space on these installations for several projects and the more operations we can have the better off we will be," explains Puckett, one of the founders of Blue Silo Aquaculture LLC.
Aquaculture is one of the sectors they see as having the most promise for extending the useful shelf life of the platforms.
"Aquaculture shows promise. The water quality is good, oxygen levels are good and disease transmission is low. However, travel expenses to and from the platforms are high, the weather can be challenging, with hurricanes not infrequent and living arrangements are more challenging," he adds.
Offshore experience
Puckett and Satterlee are speaking from experience. Not only did they both have careers as engineers for Shell before retiring, but Puckett also managed an aquaculture pilot project established by the oil giant in the 1990s.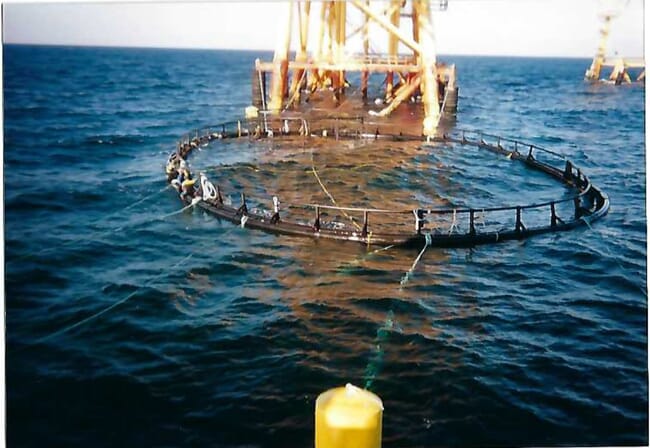 "I was Shell's project manager for a three-year aquaculture project started by an intrapreneurial offshoot of Shell. We were growing red drum [Sciaenops ocellatus] in traditional floating net pen cages off a three-platform complex in 160 ft of water in the Gulf of Mexico," explains Puckett.
While the red drum showed impressive growth rates, Puckett concedes that the pilot project met with a number of challenges. The two cage manufacturer's designs that were used (one 42 meters in diameter and the other 36 meters in diameter) did not hold up to the rigors of open ocean waves and storms. The anchoring system moved on one of the cages requiring diver intervention.
After two tropical storms, the smaller cage was destroyed. There was another instance where it was necessary to transition the larger of the two cages and the available boat that was used was not large or powerful enough, resulting in a damaged float ring and stock release. At this point, Shell management lost interest and the project was terminated. However, nearly 30 years later, he's convinced that contemporary pen designs and technology make it much more likely to succeed.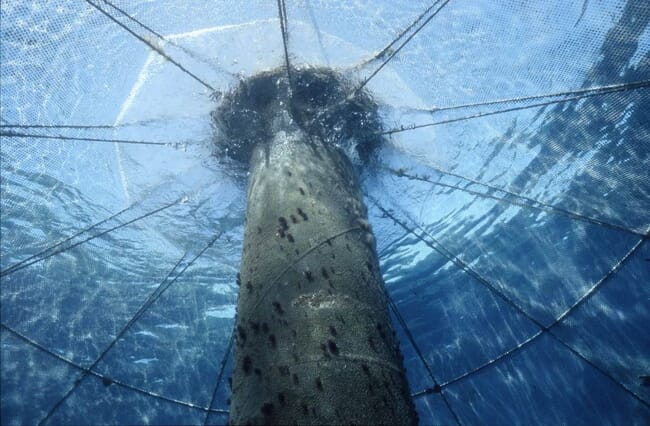 "We're initially planning on installing a grid of 12 of Innovasea's SeaStation pens and we are considering adding another 12 at another platform site," says Satterlee.
The SeaStation design, which has been deployed in over 35 locations worldwide, incorporates several features which will prove to be crucial for Blue Silo's open ocean installation, according to Satterlee.
These include the ability to be raised above the waterline in calm weather, exposing the netting to naturally defoul in the sunshine and then be submerged to a depth where they will avoid the full impact of any hurricanes or storm events that happen to pass.
"Innovasea also has expertise, materials, equipment and relationships to provide nearly all of the support aspects of the operation. Video monitoring, feeding systems, various marine and atmospheric monitoring devices, design and technical support, IT integration capabilities and much more," notes Satterlee.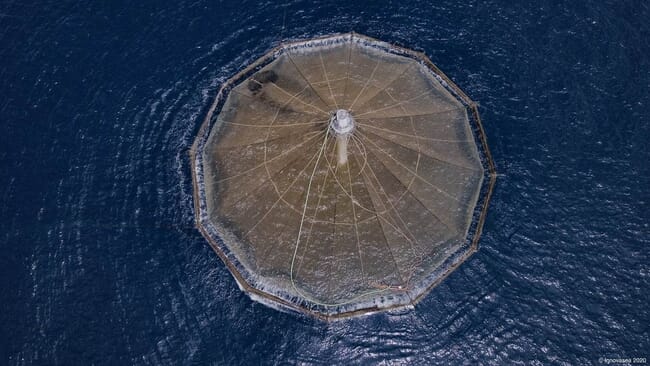 As well as choosing the right equipment, they are also determined to select the right species for the location.
"We're looking into multi-trophic production, with a mixture of finfish, seaweed and oysters, and the University of Miami will be researching species selection," notes Puckett.
In this scenario, the mooring grid for the SeaStation pens could also host the downlines for oysters and algae. Of course, the platform structure could also serve as host for the downlines.
A two-pronged approach
The commercial aquaculture side of the business will be run by Blue Silo, while all of the management of the platform, including leasing our platform space to other marine or platform related businesses and research, will be undertaken by the Gulf Offshore Research Institute (GORI), which was founded by Satterlee and GORI's board president, Rob Fondren.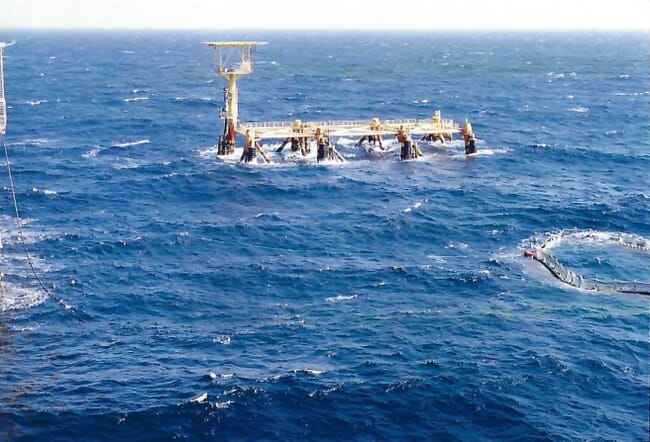 GORI was recently awarded a $100,000 grant from the Gulf States Marine Fisheries Commission and the National Oceanic and Atmospheric Administration and Satterlee intends to use the grant to instigate the preliminary design of the net pen system and a more in-depth financial analysis of the overall project, both of which will be performed by Innovasea. The grant will also fund a species selection study by the Rosenstiel School of Marina and Atmospheric Science at the University of Miami and research into the various permits that will be required to proceed with the project. The research team will work closely with NOAA to conduct stakeholder outreach.
Regulatory hurdles
Permitting is, of course, one of the biggest hurdles facing the project, as Blue Silo is aiming to establish its initial aquaculture site in federal waters at Station Padre, a former oil platform 25 miles east of Padre Island, in Texas.
Only one ill-fated mussel farm – the now defunct Catalina Sea Ranch, which operated off the coast of southern California from 2014-2020 – has ever been awarded a permit in federal waters to date. Despite this, the duo are optimistic about the possibility of securing one of the country's first federal finfish production permits.
"Previous attempts [to farm in federal waters] have met a lot of resistance, as certain factions don't want offshore aquaculture. But we don't think there will be too much opposition in the area we've chosen. And the grant will allow us to bring in Dennis Peters, a permitting expert, to help," explains Satterlee.
They also feel that the timing is right from a regulatory perspective.
"A lot of people think that the AQUAA Act [which will streamline the permitting process in designated offshore aquaculture opportunity areas] will get passed in 2022. This will enable NOAA – which is already very energised about the possibilities of offshore aquaculture – to issue permits," reflects Satterlee.
Funding
The $100,000 grant is the second grant from GSMFC that GORI has received to date, but Puckett and Satterlee will be looking to raise more when their research has come to an end.
"We're having informal meetings with investors at the moment. We're not yet talking hard and fast numbers but there's a lot of money from ESG [environmental, social and governance] investors sitting on the side lines looking for sustainable projects to invest in," says Puckett.
"Once we've completed our studies into species selection and drawn up a business plan, we don't want to drag our feet and we'll firm up the details after the study phase," he adds.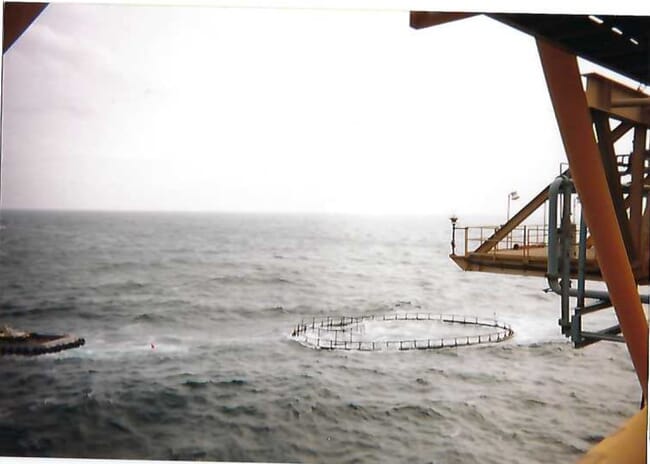 "The time is ripe for offshore aquaculture in the US. The US imports 85 percent of its seafood consumption from China and other countries where the standards are non-existent or unknown. Why not grow this seafood in the clean waters of the Gulf of Mexico and make this a domestic business? We can also preserve the natural habitat of the platforms at the same time," Satterlee concludes.
You can find Kent Satterlee and Ivan Puckett on LinkedIn.