The global aquaculture industry has suffered greatly from the Covid-19 pandemic, but it has also shown its capacity to adapt. It will always find ways to cope with new and constantly evolving constraints, and its potential to provide increased livelihood opportunities is not at risk. In fact, aquaculture is widely regarded as one of the most important weapons against world hunger and malnutrition.
To achieve its potential, aquaculture will need to provide both a wide range of high-value products for international markets and a copious supply of low-cost fish for domestic consumption in the Global South. The rapid growth of this sector continues to generate new challenges. Diseases are still a main issue, because they may generate extensive losses and result in a lack of investor confidence.
Pathogens in commercial aquaculture have made it necessary for farmers to use veterinary medicines to treat disease outbreaks. But there's an increasing global perception that antimicrobial agents have been imprudently used in the industry.

Authorities should obviously promote the sustainability of aquaculture production and protect public health. In parallel, ensuring the judicious use of medicines remains the responsibility all animal producers, including fish farmers.
Favouring preventative measures and vaccine use to reduce exposure to pathogens is an important goal in animal health science. Concerns about antibiotic and antimicrobial resistance are well-known and widely documented. The main worry for animal health is treatment failure, whereas the possible presence of residues in food products is an alarming issue for humans. The development of antimicrobial resistance in bacteria that are associated with human disease is also worrying. This phenomenon can occur naturally, as microorganisms adapt to their environment; but this is compounded when inappropriate and excessive dosages of antibiotics are prescribed.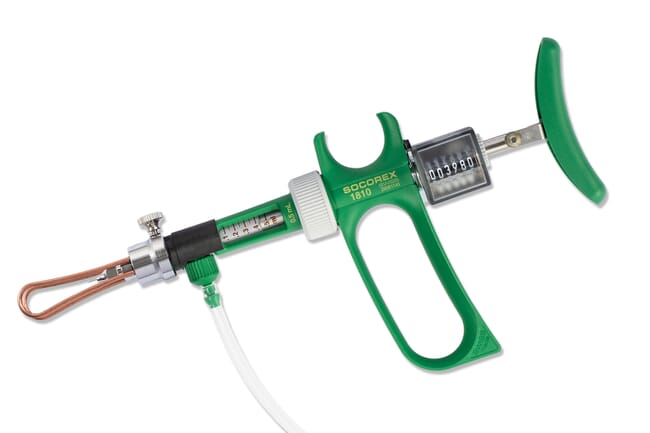 In fish farming, several strategies can be adopted to reduce antimicrobial resistance. These include the use of clean facilities, the use of immunostimulants to enhance innate immunity, the inclusion of probiotics in feeds and – of course – vaccination. Of these, vaccines are the most important weapon against fish infections, being the last barrier pathogens will encounter before causing a disease outbreak.
The emergence of vaccines has greatly reduced the dependence on antimicrobial agents. Vaccination benefits us all – as it protects animal health and welfare, the livelihoods of those who work with livestock, as well as food security. The development of some aquaculture sectors, such as the salmon industry in Norway (where, by 1994, fish farmers across the country had switched from antibiotics to vaccination), has shown the great potential vaccines have to reduce reliance on veterinary medicines.
Recent trials have been performed to test protection against Vibriosis anguillarum, involving various European sea bass groups, even under adverse temperature conditions. They demonstrated that the unvaccinated fish groups recorded a mortality rate of 95 percent, while all fish that had been properly vaccinated by intraperitoneal injection 42 days earlier survived.
Those experiences confirm that vaccination is not only essential to drastically reduce antimicrobial resistance, but is also the best method to increase survival rates and profitability. Among the vaccination methods that are available, vaccination by manual injection (intraperitoneal or intramuscular), has proven preferable, where species allow.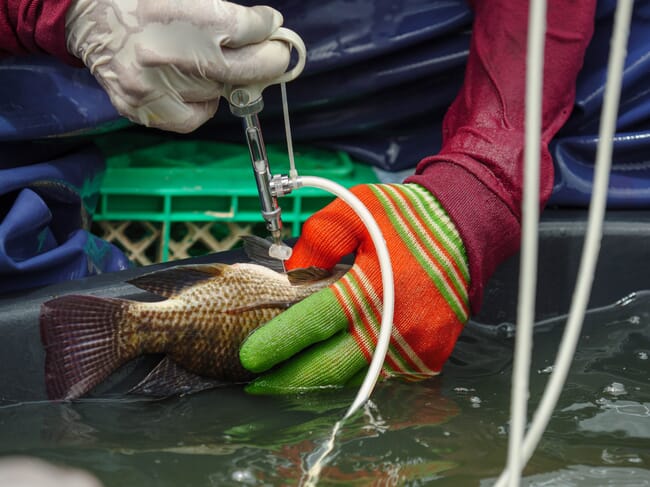 In fact, injection of vaccines is highly efficient at generating both humoral (antibody) and cellular cytotoxic responses. Immersion vaccination's major disadvantages include the large volumes of vaccine required and the lower protection in immunity level and duration. The protection generated by oral vaccination is generally weak and of short duration. It also requires all individuals to be fed. Vaccination by automatic injection requires highly sophisticated and expensive machines. Nevertheless, other factors – including size of fish and type of pathogen – should be considered when choosing the best application method.
Fish have a functional immune system similar to that of mammals, with both innate and adaptive elements. Their major differences with other vertebrates is that their metabolism and immune response is temperature dependent. Therefore, temperature is another important aspect of the vaccination strategy.
In the case of vaccinations delivered by manual injection, fish are transported in pipes from the rearing tanks to an anaesthetic bath, once tranquilised they are then injected by skilled vaccination teams.
The dosage of vaccine may vary (in most cases 0.05 - 0.2 ml for specimens weighing 15 - 80 grams); it is important to follow the proper posology, as recommended by the manufacturer or ichthyologists involved. Obviously, the syringe capacity must be calibrated for the administered injectable volume.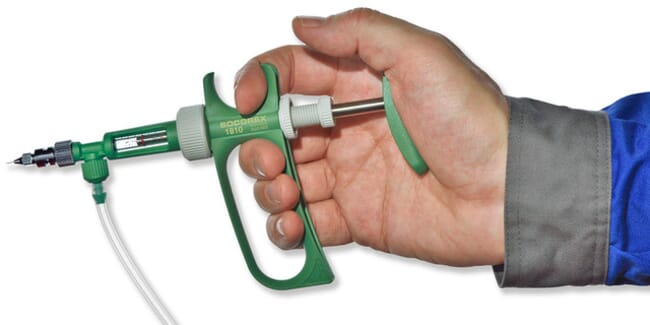 The Socorex ultra 1810 micro-range tube feeding syringe line delivers highly precise doses, setting new standards in micro-volume injections and breaking down volume barriers. The self-refilling automatic injectors are suitable for use with most vaccines and medications, in volume ranges between 0.02 ml and 0.5 ml.
When choosing the proper instrument, it is important to identify the suitable volume/plunger stroke combination, in order to optimise operator working conditions. The volume is easily set and locked by means of a micrometric screw for a safe, high dose-to-dose reproducibility, even with very small volumes. Intended for long lasting use, the Socorex ultra series offers syringes that are extremely robust, yet lightweight. Unlike the plastic semi-consumable instruments found in the market, their ergonomy, user-friendly handle and smooth plunger movement ensure fatigue-free operation at rates of up to 1,000 injections per hour.
Correct needle size must be considered, with 23-25-gauge models being most commonly used for injecting fish, while the standard length tends to range from 3mm to 5mm, given that 1mm should be enough to penetrate the stomach wall. Adopting the proper handling position is crucial, as wrong shot sites or needle direction may pierce the swim bladder, or injure the user. The Socorex FishGuide accessory reduces such risks and facilitates immobilising fish during vaccination. Adaptable over 360°, the rotating device is easy to position for smooth, safe and stressless operation. The waterproof Abacus shot-counter constitutes an ideal addition to manual vaccination. Firmly mounted on the injector, the Abacus facilitates monitoring the number of shots delivered and therefore the number of specimens treated.
In summary, producing healthy farmed fish requires not only quality infrastructure and well-trained personnel, but also ensuring that the latest pharmaceutical technologies and state-of-the-art instrumentation and consumables are to the fore. Keeping the health and safety of humans and animals in mind, with no compromise to environmental commitments, is vital for reaching global sustainability goals.