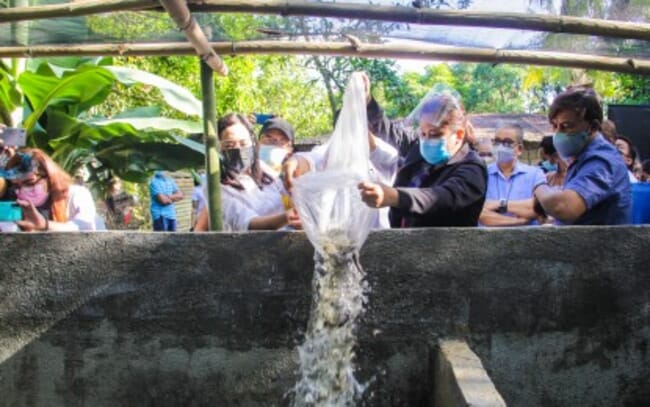 The Department of Agriculture (DA)-Bureau of Fisheries and Aquatic Resources (BFAR) is helping 60 pig farmers in Quezon City switch to aquaculture.
"This is to address the displacement of livelihood and prevent the spread of ASF considering that it apparently first broke out in these communities," DA Undersecretary for Agri-Industrialization and for Fisheries, Cheryl Natividad-Caballero told the Philippine News Agency today.
The urban aquaculture project for ASF-affected pig producers aims to provide alternative livelihood and additional income at the same time help ensure continuous local food supply in highly urbanised cities like Quezon City during this pandemic, added Natividad-Caballero.
So far 60 ASF-affected hog raisers in Barangays Bagong Silangan and Payatas have had their deserted pigpens converted into fish tanks. Each will be provided with 10,000 hito (catfish) and 9,000 tilapia fingerlings.
DA-BFAR said the tanks will be equipped with recirculating aquaculture systems (RAS) to filter out waste and provide more dissolved oxygen in the water, in order to maintain the water's good quality essential to the health and growth of the fish.
The urban aquaculture project is part of the key strategies under the "OneDA" approach initiated by DA Secretary William Dar.
It is devised to stimulate agro-fisheries productivity in the cities by converting vacant lots or structures into food production areas, such as vegetable gardens, aquaponics, and fish tanks or backyard fishponds.
Additionally, the assistance package also comes with 60 units of filtration system and commercial feeds that would last a cycle of feeding of three to four months. For one cycle, the urban aquaculture project is estimated to produce 1.58 tonnes of hito and 1.29 tonnes of tilapia.
Caballero mentioned that they are piloting the project in Quezon City but plan to implement it to other areas, especially those hard-hit by the government measures addressing the pandemic.