The award was established a decade ago in honour of the pioneering Scottish scientist and is presented to the authors of the most innovative poster at the event.
Francisco was the lead author on a paper entitled 'Generation of a brain-derived cell line from Fundus heteroclitus and its use for antiviral immunity studies'.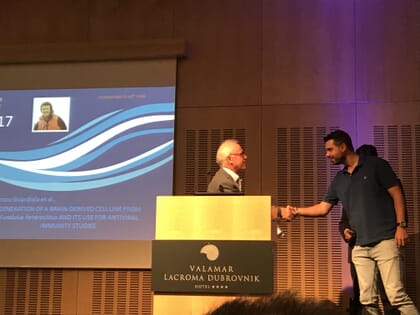 As a prize he won a mini iPad a selections of aquaculture books from Wiley-Blackwell and Springer as well as 5m Publishing's recent Sea Bass and Sea Bream: a practical approach to disease control and health management. It was a great day for the University of Murcia researcher, as he was also presented with the Best Student Poster prize shortly after.
Meanwhile the EAS Student Group Ibrahim Okumus Award went to a project featuring an international consortium of researchers from Spain, Italy and Portugal and was presented to Rui Goncalves. Finally the Best Poster Prize went to Mattieu Besson.
The prize ceremony took place in front of a large and enthusiastic audience at the Croatian city's Valamar resort, who had just been treated to an insight into some of the latest gene editing projects by Anna Wargelius of IMR in Norway.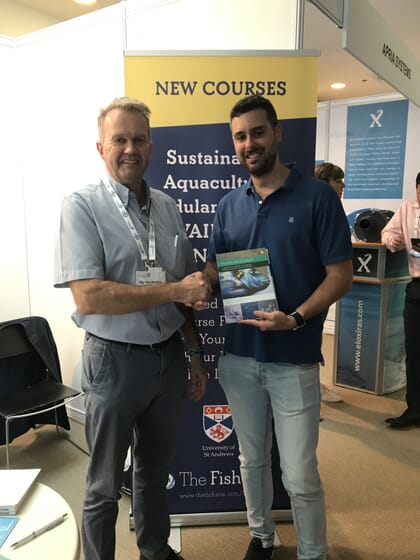 Professor Wargelius, Europe's preeminent expert in the use of CRISPR Cas9 technology on salmon, is an enthusiastic exponent of genetic manipulation and opened her talk by welcoming the fact that AquaBounty's AquaAdvantage GMO salmon was now on sale in Canada.
She then went on to describe some of the current gene editing projects going on at IMR, which include very promising results using CRISPR to produce sterile salmon, to improve fillet quality, to increase the synthesis of long chain omega-3s, and to move traits between different strains of salmon.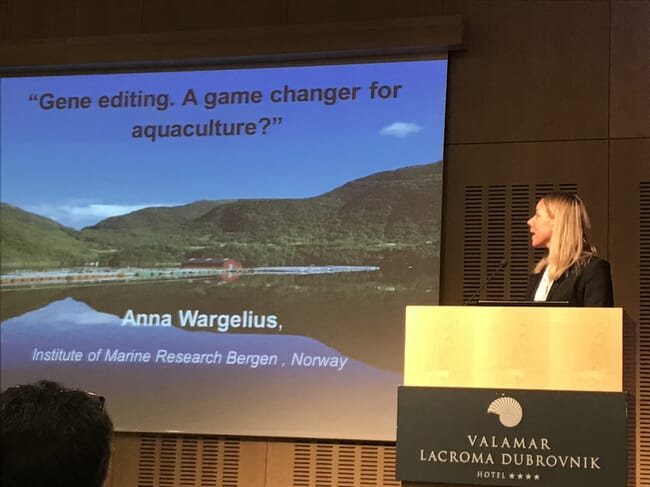 On this last point she noted that traits from wild strains of salmon could be tremendously useful in aquaculture.

"The genetic diversity of wild strain could help the farming industry enormously," she reflected.