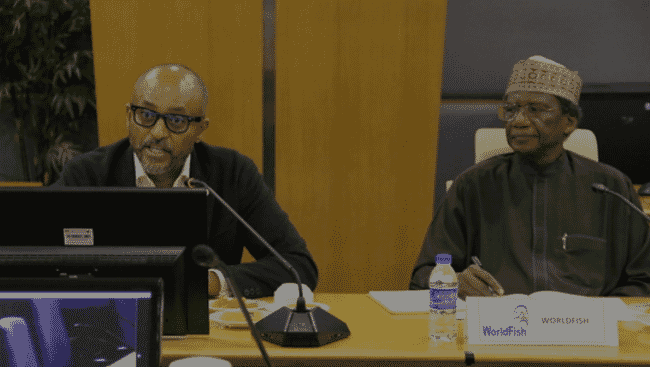 Dr Mohammed will assume the post immediately, having taken on the interim role since 4 January 2022. Prior to stepping up to the helm at WorldFish, he was the global lead for climate resilience and environmental sustainability. Hailing from Eritrea, Dr Mohammed will be WorldFish's first director general of African descent.

Announcing the appointment, WorldFish Board of Trustees chair, Professor Baba Yusuf Abubakar, said: "From a field of many qualified candidates, it became clear to the nominations committee that Dr Mohammed displayed the best qualities which WorldFish needs at present. These included an equity-first approach to science and knowledge in aquatic foods and fish breeding, a compelling vision of where our sector requires unique comparative and competitive contributions from WorldFish science and interdependent aquatic foods in the CGIAR and an inclusive approach to leadership and team development."
Dr Mohammed is a leading interdisciplinary systems thinker, researcher and policy adviser with a strong background in the economics of the ocean and fisheries. Before joining WorldFish, he was the head of blue economy at the International Institute for Environment and Development (IIED).
In response to the announcement, Dr Essam Yassin Mohammed, said: "I am truly humbled and honoured to be given this opportunity to lead WorldFish in our pursuit to transform food, land and water systems with aquatic foods by developing and delivering best-fit-for-context, world-class innovations adapted for today's fast-paced global economy and the climate crisis, delivering a triple-win for nature, climate and people."
Dr Mohammed has over two decades of international, multi-country experience in sub-Saharan Africa, South, South East and East Asia, Latin America and Europe. Many nations have sought his advice, including Bangladesh, Brazil, Costa Rica, Cambodia, Mozambique, Tanzania, Myanmar, Vietnam, Albania, Egypt and Lebanon.
Commenting on the appointment, CGIAR executive managing director, Dr Claudia Sadoff, said: "Ensuring equitable and sustainable access to food from water will be essential if we are to end hunger and advance the UN Sustainable Development Goals by 2030. Dr Mohammed is a passionate advocate for the potential for 'blue capital' to help alleviate hunger and poverty, and a champion for CGIAR's goal to provide food and nutrition security for all."