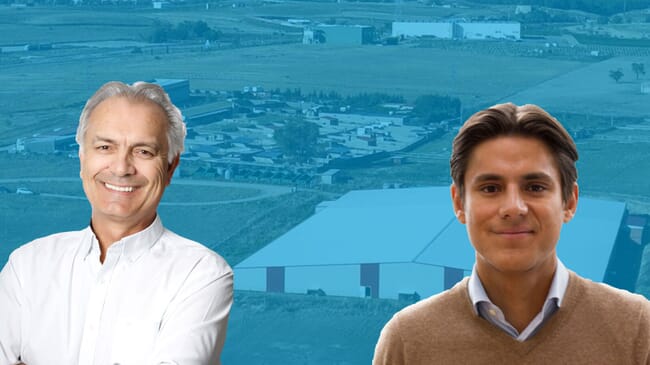 Founded by Bjørn Aspheim in 2008, Noray - which was known as Gamba Natural until 2020 - has production capacity up to 70 tonnes of vannamei shrimp a year, from a facility in Spain. Despite the prolonged battle to reach this figure, the company feels that – finally – they are on the cusp of a major breakthrough.
"I worked in the salmon farming sector in the early 90s, and in that time someone showed me how indoor shrimp farming was gaining wonderful results. I thought that it [setting up my own farm] would take about a year and cost about €1 million, but 14 years and €14 million later we're still trying," chuckles Aspheim.
"It's been about finding a system that works every time – it's been like playing Russian roulette with four bullets in the chamber. But it turns out we were right – there are now lots of shrimp farming startups emerging all across Europe. They're land-based, chemical-free and close to market – lots of people believe it's the future, but it's taken a long, long time," Aspheim muses.
One of those who agreed with Aspheim was Lars Backer, who is now CFO and COO of Noray, having previously been following the company while an investment banker with JP Morgan.
"I was advising private and early stage companies at the time and was closely following the developments with Noray and the wider aquaculture sector. I was asked to join, following positive developments in the company in 2020, and decided to do so, due to my interest in next generation food production," Backer explains.
Backer's faith in the company comes despite its turbulent first decade.
"We've had to refinance the company 20 times, sometimes 50 cents was all we had in our account," Aspheim recalls. "It used to be tough but it's now very stable – our system works well in terms of survival, growth rates and health."
"There have been huge developments in the last two years. We've brought in new management for the production unit and the hatchery – it's not easy to find the right people in Europe. People who can produce shrimp 24/7. It's a non-stop process, you can't simply close it down and go home," Aspheim observes.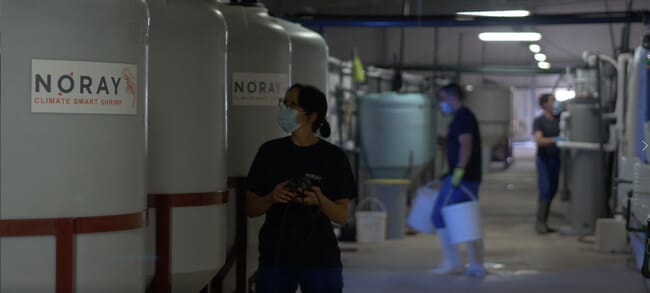 The Noray way

As Aspheim admits, there's a strong stubborn streak in the people behind Noray and also a strong element of self-belief. And, as the true pioneers of Europe's land-based shrimp farming sector, they have always done things their own way.
"When I started to look into shrimp farming in Europe, I saw that the biggest market was in Spain and the biggest market within Spain was Madrid. I'd never been there before, but thought it was a nice place when I first visited and found a site an hour and a quarter from Madrid airport," recalls Aspheim.
It might have been 400 km from the coast, as well as 700 m above sea level but, as well as its proximity to market, Aspheim saw other advantages.
"We're in the middle of nowhere, no one will bother us here, there are no angry local fishermen to encounter," he says.
Early challenges
One of the key frustrations encountered by Aspheim in the early stages of developing the business was the difficulty of obtaining a reliable supply of high-quality post-larvae (PLs) and he soon decided that, despite being a small operator, it was vital to develop his own hatchery.
"There's less quality control if you import PLs. It's also very expensive" he reflects.
As a result, they are set up to produce their own shrimp, working in partnership with "one of the big players in the market", and have managed to half the time it takes to grow the shrimp from PLs to market size – a process that now takes only 90 days, according to Aspheim.
The startup had similar issues relying on third parties for other parts of the value chain and so decided to go for vertical integration wherever possible.
"We now do the distribution, processing, everything in-house," says Aspheim.
All of Noray's operations are – remarkably – done under one 7,500 m2 roof. However, they are now looking to expand the original site, build a separate hatchery facility and somewhere new for processing their shrimp.
"This will be our expansion phase one. Now that we've established stable production and demonstrated our proof of concept, we're now looking to increase production to meet growing demand," says Backer.
"What we've built so far is probably the biggest pilot facility in the shrimp industry. We were lucky to have people who were willing to risk their investment and this enabled us to build a big one right away," adds Aspheim.
Breakthroughs
Noray had experienced moments when it was operating effectively in its early days, but consistency proved elusive until recently.
"One week we'd have no shrimp, the next week tonnes of them. It was all there but suddenly we figured out better ways to do it and we began to see greatly improved survival, growth and FCRs," says Aspheim.
Once they had the pieces of the puzzle in the right order they felt it was time to look for third-party accreditation – opting to attempt to be the first land-based shrimp producer to gain Aquaculture Stewardship Council recognition.
"Many of the large supermarkets in Europe now look for ASC-certified products, so we decided to go for it. Seventy percent of the ASC's requirements are irrelevant to EU producers [because they refer to practices that would be illegal within the EU] but we still had to show that we met these requirements. The whole thing took a couple of years," Aspheim reflects.
Despite the time-consuming nature of assessment, Noray's bid proved successful. And they are now the first and only land-based shrimp producer to gain ASC certification.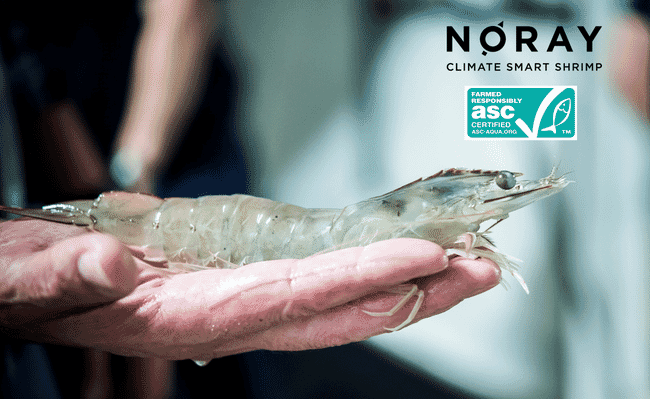 Part of the reason that no one else is yet to join them, they suspect, is due to their unique – and comparatively energy-efficient – production method. While most Western shrimp producers have opted to use energy-intensive recirculating aquaculture systems Noray has developed what they refer to as a "hybrid biofloc system".
The precise details of this are a closely guarded secret, but Aspheim and Backer do give a vague outline of a technique that has been developed over the course of a decade – namely that there's zero water exchange in the system over the 90-day grow-out phase and the water quality is maintained "by the control of the bacteria in a nitrifying way".
"It's the cheapest way to produce shrimp; the bacteria are very healthy for the shrimp; RAS is a very different technology. Our concept is unique, the whole tank is a biofilter, which is why we call it hybrid technology," notes Aspheim.
Looking ahead
Noray recently stated its ambition to produce 25,000 tonnes of shrimp a year by 2027 – a huge step-up from current levels, but one that Backer and Aspheim think is feasible now that they've fine-tuned their methods and due to the fact that their production process is modular and therefore easy to replicate, but they are not going to rush into the expansion.
"We're not going to start building to grow 20,000 tonnes tomorrow – we need to balance the financing with debt and equity. We're looking for the right type of investor – one who's interested in addressing the UN's sustainable development goals," explains Backer.

"So far we've been funded by a group of individuals and are proud to have their support and patience, and we'll be scaling up in a gradual way," Aspheim notes.
"We are still in the early phases of building our brand and building a cross-Europe presence," Backer adds.
Looking further ahead, Aspheim is convinced that, regardless of Noray's fortunes, land-based shrimp farming is here to stay.
"In 10 years' time I think that 50 – 70 percent [of the global shrimp market] will come from local producers. The production costs are likely to go down – feed prices are likely to become more competitive, as demand for shrimp feed in the EU increases – and there's a growing demand for high quality products," Aspheim concludes.