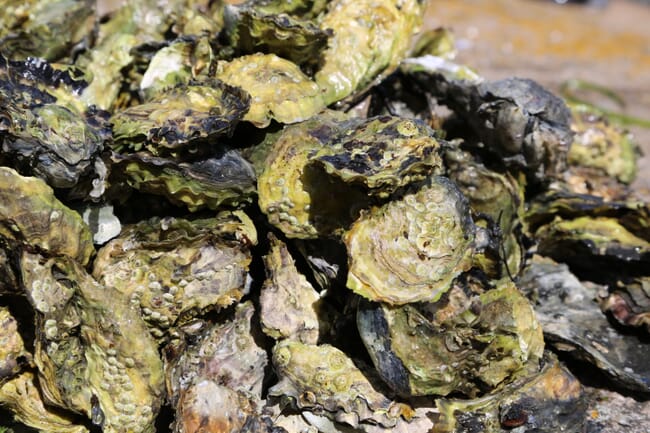 The Duchy's announcement comes quickly after the UK's Department of Environment Food and Rural Affairs (Defra) announced its own potential biosecurity measures for Pacific oysters. Stakeholders in the Cornwall Wildlife Trust claim that the risk of overpopulation was "terrifying." According to reporting in the BBC, Pacific oysters have been found in every estuary on the UK's south coast of Cornwall and Devon. The species was introduced to the UK from Canada and the US during the 1960s and 1970s as a viable aquaculture candidate for the oyster industry. During a recent parliamentary debate however, the Duchy of Cornwall opted to "phase out" Pacific oyster farms, citing their species' official classification as "non-native and invasive."
While speaking to the BBC, Matt Slater, a marine conservation officer with the Cornwall Wildlife Trust said he led a volunteer group to chip the oysters off rocks at Loe Bar Beach in Cornwall, saying that the species is detrimental to native oyster populations.

"A few years ago there were virtually none in many of the areas we survey and now we are finding thousands of oysters," Slater told the BBC. He warned that without additional control measures, there could be "deep beds" of oysters "encrusting harbours, slipways and also encroaching on this important protected estuarine habitat".
However, The Shellfish Association of Great Britain (SAGB) warns that limiting Pacific oyster farming would damage businesses. According to David Jarrad, a member of the trade group, the UK's native oyster population has been heavily impacted by, "disease, pollution and overfishing," instead of inter-species competition from the Pacific oyster.
He added: "Sadly the UK stands alone in the whole of Europe in recognising this as a problem. All other European countries support their agricultural industry and accept that the Pacific oyster is naturalised as indeed it is around the UK coast."
He called for the species to be reclassified as "naturalised."
As the trade and conservation groups explained their views on the issue, Anthony Mangnall, a Member of Parliament for Totnes said that the Duchy of Cornwall was "overreacting." During a debate, Mangnall warned that the Duchy's decision to phase out Pacific oyster aquaculture would close multiple businesses in his constituency and impact hundreds of other operations across the country.
According to Defra, the Pacific oyster is an invasive non-native species in the UK, but is an important species for the aquaculture industry and has notable potential for growth and bioremediation. When approached by the BBC, a spokesperson said that Defra was considering control measures on current farms to reduce the risk posed to native species, without undermining the aquaculture sector.
"In areas where Pacific oysters are not yet well established - and the spread of the species can still be slowed - we do not support new or expanded farms," they added.