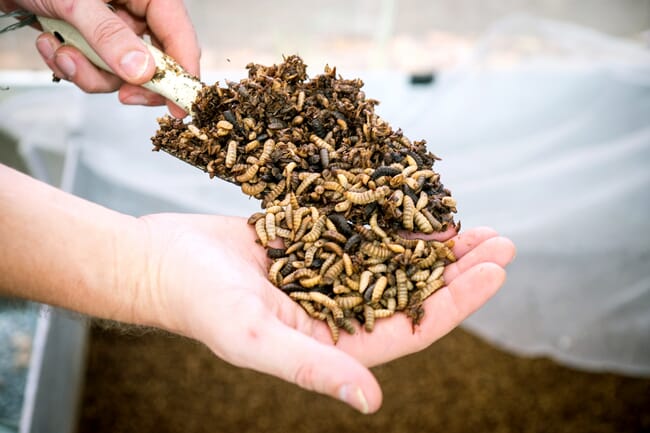 The farming of black soldier fly larvae is slowly but surely becoming increasingly popular, with the nutrient and protein rich larvae being used for a plethora of applications, such as within human nutrition and aquaculture feed industries. The global insect protein market was estimated to be worth $343 million in 2021, and so the largely untapped supply of insect larvae by-products, such as castings, could prove a valuable resource.
In an innovative move that could significantly improve the sustainability of the terrestrial plant agriculture industry, biotech company Nutrition Technologies has developed Vitalis, a natural bioactive spray derived from black soldier fly frass that has been fermented and enhanced with additional chitin and a microbial inoculant of the bacteria Bacillus halotolerans to create a plant protection product.
The bacteria, isolated from the digestive system of black soldier fly larvae, has been shown to inhibit the growth of plant pathogens by up to 96 percent, and the added chitin comes from the exoskeleton of the mature larvae, following the aim of Nutrition Technologies to 'work with nature, not against it'. This added chitin supports the growth of chitin-degrading bacteria, which are particularly effective at destroying pathogenic fungi. Using these components, Nutrition Technologies aim to enhance the plant's natural defences against pathogenic microbes, and to create healthy, disease resistant soil around the plant root zone, protecting against fungal pathogens in the soil.
Conventional disease control measures currently rely on fungicides and aggressive sanitisation such as burning the soil. Comparatively, Vitalis aims to increase beneficial microbial activity, which can lead to increased nutrient absorption through the growth of bacteria such as phosphorus solubilizing bacteria, and can protect plants from fungal infections.
"Vitalis directly addresses two of the most economically dangerous plant pathogens in the world - Ganoderma in oil palms and Fusarium oxysporum in bananas. Both of these diseases have the potential to wreak havoc on the global food supply chain if left unchecked, so the release of Vitalis is a massive step forward in securing the future supply of these two staple crops," said Nick Piggot, co-chief executive officer at Nutrition Technologies.
"Understanding how disease prevention using liquid products can effectively complement existing fertilisation programmes has helped us find a critical niche in industrial agriculture," he added.