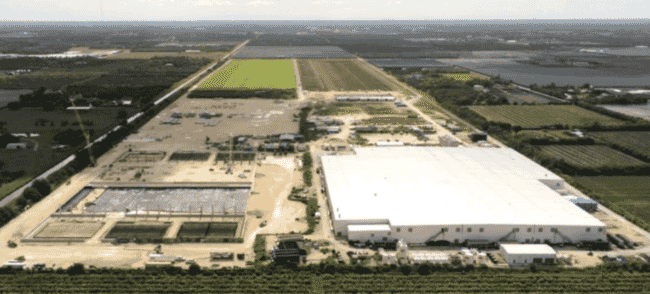 The company, which ultimately aims to produce up to 220,000 tonnes of salmon a year in Florida, was most recently in the news for the destruction of its 2,400-tonne capacity Danish facility – and all the fish present in it – in a fire. However, Karl Øystein Øyehaug believes that their flagship Florida RAS facility is now ready to demonstrate that growing market-sized salmon in such land-based conditions is financially viable.
"If we look at what's happened over the last couple of years there is no doubt that the Atlantic Sapphire, has had some challenges that we were not expecting when we started out… and we do feel that we have had more bumps in the road than what we could expect," he said in a recent webinar organised by Undercurrent News.
He noted that "construction-related issues" have meant that the company has been unable to provide the right conditions for their fish, thereby lessening harvest volumes and leading to a poor financial performance – the company lost over $55 million in 2020.

"For us, for example, the initial batches [of salmon] haven't had those conditions that are necessary to really show the true potential of land-based salmon farming," he said.
"We've had breakdowns of everything from our chiller plant equipment that was not delivered according to specs, and as a result, it's only in the last couple of months that we've had stable operating conditions throughout the farm, when we finally can give the fish the conditions they need to thrive," he explained.
However, he reflected that things are now running much more smoothly.
"We are now operating more than 12 independent systems, all stocked with fish, and we are seeing more and more stable operations… what we will be doing over the next four months until we are in full steady state production in phase one is to give the investor community KPIs on how things are going, how are growth curves looking... to make it easier for people to track the positive developments," he added.

And, according to Øyehaug, the company is now well placed to repay the faith of its investors.
"The positive is that now, all of those ramp-up issues have been fixed. Risk is considerably lower in our day-to-day production, and the batches of salmon that were introduced, from middle of 2020, those will raise the bar on what performance is going to be like. We expect that when we start harvesting those batches in the middle of next year, you will really see what the industry can aim for here," he asserted.
Economies of scale
The company is currently operating a facility with the capacity to produce 10,000 tonnes of salmon a year and is mid-way through a phase two expansion. According to the CFO, plans to produce fish on such a large scale will make sense in the long run.
"These types of projects are very capital intensive, it does require a lot of CapEx to build the facilities and the only way to make them profitable, is to take advantage of economies of scale, you will not be able to build a small RAS salmon farm, and make it work financially. That is simply not possible due to the very high fixed cost nature of this business. In order for this to succeed, and I think that Atlantic Sapphire has made this clear to many investors, in order to succeed you need certain set of attributes to the company, you need the right team. You need the right location with the right naturally given conditions, specifically, water intake and discharge. You need to have the right construction partners because this is not a small-scale, small farm somewhere in Norway that has been done 100 times before, this is large scale infrastructure that requires completely different skills. And last but not least, we've seen that, having experience is so important. We've been doing this for 10 years. And even though we've been doing this for 10 years, we still stumble upon unexpected challenges. So, in order for this to succeed, you need all of those factors, and I think that over the last year especially, investors have become more and more educated on what to look for," he argued.
Destined for failure?
Øyehaug was speaking after an overview of the RAS sector was presented by Matt Craze of Spheric Research. Craze had revealed that there are 32 salmon RAS projects currently operational and 82 that are still being planned.
According to Øyehaug, many of these are destined for failure.
"We are quite confident that many of those 100+ projects that you identified mapping in your research will never happen and, out of those that will be built, unfortunately, many of these will fail, because the reality is that farming salmon on land in RAS systems is not easy," he noted.
However, he still believes in the long-term success of Atlantic Sapphire.
"The financial story in land-based is all about producing sufficient volumes to justify the high upfront costs and we can, fortunately, see positive indicators of that biologic performance, [a] long time before the actual harvest of the fish happens," he explained.