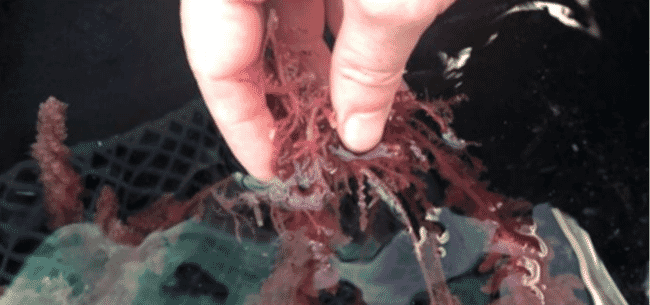 SeaStock is one of only 12 finalists from an initial field of more than 1200 to be selected to return to Switzerland next week to compete for the overall prize. The company has also been selected as one of only six finalists in the Louis Dreyfus Company Climate Resilience Prize, which recognises startups working to drive the climate resilience and decarbonisation of agriculture and food value chains.

The company's finals selection this week follows an in-person attendance during July and September where contenders met with a range of European industry heavy weights to pitch their businesses and meet with potential partners, investors and collaborators.
SeaStock managing director and co-founder, Tom Puddy, said the selection process had been incredibly rigorous and time intensive and being selected for two of the major awards was recognition of the company's mission, commercial scalability, and credentials.
In a press release issued today he said: "We are one of only a handful of companies globally to be licensed by global IP patent holder FutureFeed to supply the powerful native seaweed, Asparagopsis based methane-reducing feed ingredient commercially.
"Our company and technology is backed by ten years of research by CSIRO which has commercialised this world changing discovery and allowed us to perfect and fine tune a patented, land based cultivation and extraction technique which we are able to scale commercially and at high grade purity to meet the growing global demand for seaweed based feed ingredients and other naturally sourced, seaweed based compounds.
"The focus is continuing to increase on seaweed-based feed ingredients globally as a near-term, cost-effective method of assisting the agriculture industry to really shift the dial in a significant manner in terms of meeting increasingly stringent methane reduction targets globally to combat climate change.
"We've shown at our Fremantle-based hatchery and pilot plant that we can produce and extract commercially valuable products from seaweed grown in a controlled environment and that we can do so sustainably using renewable energy sources, cost effectively with high purity and high concentration while retaining a natural ingredient status."
Since 2016, MassChallenge Switzerland has been a leader in helping startups across Europe and beyond grow their businesses. To date 610 MassChallenge Switzerland alumni have raised more than CHF 985M (AUD $1.6B) in funding and created value for both economies and societies around the world.
SeaStock commenced operations in September 2021 in Western Australia with the aim of identifying high value natural compounds derived from native seaweeds in Western Australian waters.
The company was the first in Western Australia to be licensed by Future Feed, which holds the global IP for the use of Asparagopsis seaweed as a livestock feed ingredient that has been shown to lower methane emissions in ruminant livestock by 80 percent or more.
The company's cultivation method has the potential to be replicated globally and generate the natural bromoform feed supplement that can be used across the diary and beef industries globally.