Feed trials kick off at new RAS facility
Feed trials are now underway at the new Coppens RAS research facility, which opened in the Netherlands last month.
The Alltech Coppens Aqua Centre (ACAC), in Valkenswaard, comprises of a number of state-of-the-art recirculating aquaculture systems (RASs) designed to allow multiple simultaneous nutrition trials for a variety of species to take place in highly controlled environments.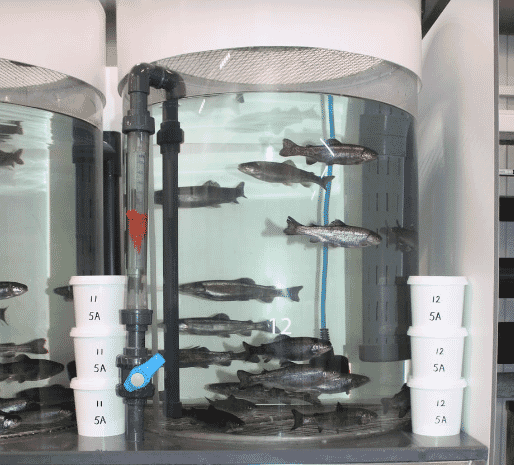 Each RAS unit has been custom designed by the AquaBioTech Group to enable Coppens to carry out feed trials in both saltwater and freshwater conditions for a variety of species such as salmon smolts, trout and catfish, at temperature ranges from 6-28°C. The RAS units include a complete monitoring and control system with digital LED lighting, as well as tank specific faeces / pellet collection in a highly efficient design, allowing for ease of use and widening of experimental limitations.
According to the 2017 Alltech Global Feed Survey, the aquaculture industry experienced a 12 percent increase in feed production in 2016, reaching 39.9 million tonnes. Coppens expects this trend to continue, and it underlines the importance of investment in aqua technologies, according to Patrick Charlton, CEO of Coppens International.
"The centre will further develop our already strong aqua research programmes and allow us to significantly increase the amount and type of aqua innovation we embark upon," Charlton said.
The €600,000 facility consists of 60 tanks in four separate systems with the possibility to pair the systems making two larger systems for increased replication purposes. The systems are designed to operate at commercial stocking densities and include several additional features for ease of husbandry practices by technicians; for example, a partial tank drainage system is incorporated into the small systems to allow for some tanks to drain and run at 50 percent capacity for ease of fish handling, whilst retaining the water in the systems to increase water utilisation and energy consumption efficiencies.
"The Alltech Coppens Aqua Centre will enable Coppens International to become a global hub of excellence for aqua research," continued Charlton. "To date, our research centre has enabled us to achieve global recognition for our recirculating aquaculture systems (RAS), and the refurbishment will allow us to continue to build upon this and to expand our work into different species, such as saltwater fish."
"We are very pleased to have completed this project. Our experience in delivering custom made RAS projects for both saltwater and freshwater has been a catalyst for the success of this project. Alltech Coppens International is a leader in nutrition in RAS environments and the operation of the Alltech Coppens Aqua Centre will enable them to become a global hub of excellence for aquaculture research," said Rob J Davies, Head of RAS projects at the AquaBioTech Group.
As part of the contract, the group - which operates over 25 RASs in its own private aquatic research facility in Malta - will provide remote technical support and troubleshooting for the ACAC through the monitoring and control system.