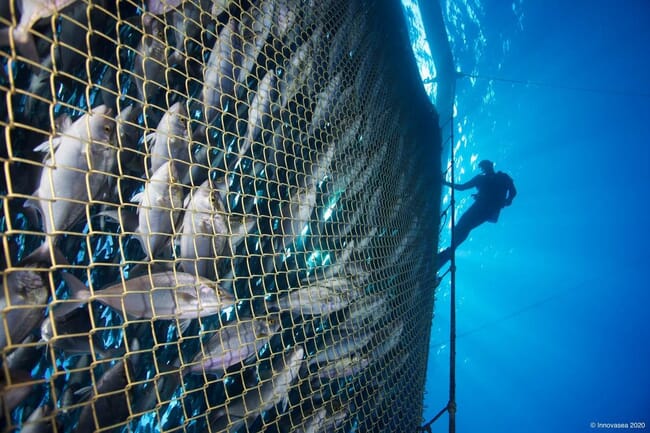 The strategy's second goal is to support "diverse and regionally-appropriate growth of the domestic aquaculture industry", which "will depend on an efficient, strategic, and science-based regulatory approach that considers and mitigates impacts on protected resources, essential fish habitat, and marine ecosystems"

Within this are two key tenets:
Marine aquaculture management and regulatory efficiency: "accelerate progress on implementing an efficient, predictable, timely, and science-based regulatory framework for marine aquaculture".
Aquaculture science: "provide science-based advice and tools to minimize potential effects of an aquaculture operation on the environment and conduct coordinated, applied scientific research in support of sustainable industry development".
The other three main goals are:

To maintain or increase sustainable US wild capture production
To foster access to domestic and global markets for the US seafood industry
To strengthen the entire US seafood sector
According to NOAA, the strategy "underscores its strong commitment to seafood sector resilience and aligns with the Biden-Harris Administration's goals for economic recovery, environmental sustainability and climate resilience. Further, the White House Conference on Hunger, Nutrition, and Health points to the need for increased seafood consumption in the United States, which this strategy aims to address".
"The strategy also responds to the unprecedented challenges facing the US seafood industry, including climate change, the coronavirus pandemic, new technologies and other ocean uses, significant labor shortages, and aging infrastructure," NOAA adds.

NOAA's vision is to ensure that:
US seafood continues to be produced sustainably
The US seafood sector contributes to the nation's climate-ready food production and to meeting critical domestic nutritional needs
US seafood production increases to support jobs, the economy, and the competitiveness of the US seafood sector
Supply chains and infrastructure are modernized with more value-added activity in the United States
Opportunities are expanded for a diverse and growing seafood workforce
Public input
NOAA says that public comments and stakeholder input were integral to finalising the strategy. They received more than 150 separate comments, about a quarter of which were from organisations, including fishing, aquaculture, and seafood associations, non-profits, NGOs, aquariums, and state agencies. In addition, five regional fishery management councils provided comment letters. Many of the comments, says NOAA, were used to strengthen and improve the strategy.