Given that the Norway-headquartered global assurance company calculated this prior to the Russian invasion of the Ukraine, the figure could be considerably higher.

"We've been looking into 2050 and have run some scenarios, we are actually re-running those scenarios now because of the Ukraine war. But, in 2050 we perceive that the feed cost – not the feed cost, but the OPEX – will rise by 300 percent," said Lisa de Jager, aquaculture manager at DNV, during last week's Blue Food Innovation Summit in London.
"[We have] 25 years, we can still do something about it. But we need to find a system, otherwise we will be out of business because the feed will be too expensive," she warned.
Rising costs were very much a feature of the two-day event and de Jager's comments were made during a session on "building transparency and traceability across the supply chain", which included multiple references to this theme.
"In 2019 there was an interesting report from MIT that suggested consumers would only be prepared to pay a 5-10 premium for sustainable products – we're way more than that now," noted Laurent Develle, executive vice president and head of corporate affairs at Regal Springs, one of the largest tilapia producers in the world.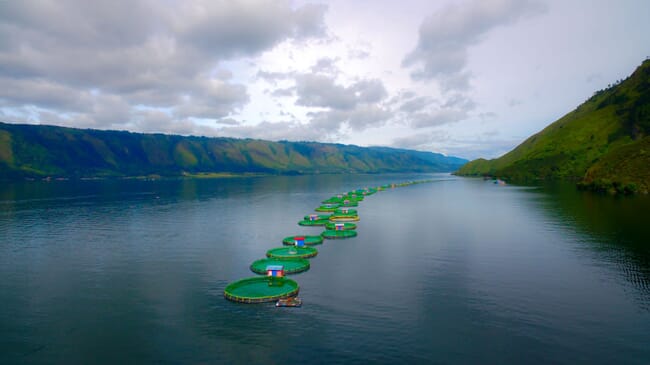 Despite his concerns over rocketing costs, and rising feed prices, he emphasised the company's drive to continue source only the most sustainable tilapia feeds. Although terrestrial ingredients may make up 90-95 percent of Regal Springs' feeds, Develle emphasised the difficulty of ensuring that the key raw materials, such as soy, are as sustainable as possible.

"All we really want to avoid is, of course, sourcing some of our soy from deforested areas in Brazil. But, knowing the other side, there's some tactics or tricks being used, coupled with a lack of governance – let's put it that way – in Brazil and elsewhere that makes things very, very difficult," noted Develle, who previously worked for one of the world's largest traders in global commodities.
"So… we need a little bit of technology to help us, maybe satellite imaging… technology is necessary, but technology without policing without implementation, would not work. So you really need also to engage at a political level, governments in Brazil and elsewhere to really police the whole system," he added.
"We love to have technology to separate the best practice producers from the other ones. And this would help us to differentiate our premium positioning to our retailers and our consumers," he added.
While salmon and shrimp were the most often mentioned species at the conference, the session's moderator, Chris Ninnes, who is CEO of ASC, noted that those present shouldn't overlook freshwaterspecies.
"We've talked at lot about salmon in the last few days, we all know about the dramatic decline in FCRs for salmon, we've talked a lot about shrimp, and fed shrimp aquaculture, but if you look at carp production globally – something like 25 million tonnes, and increasingly that is becoming fed production – it at least doubles, if not represents four times the total feed used in salmon and shrimp combined. When you look at these issues from a global perspective, we – as a concerned audience – need to think beyond what's common to us," he observed.