The debut edition of the summit, which takes place in San Francisco on 18 March, is attracting participation from international agribusinesses, livestock producers, feed companies, technology providers, entrepreneurs and investors as a chance to share innovation and experience from around the globe.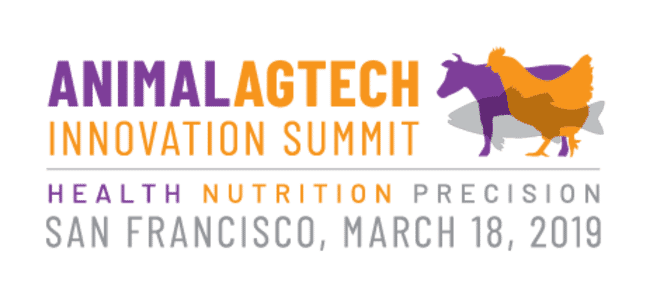 Representative of numerous aquaculture-related companies - including Cargill, Anterra Capital, Hendrix Genetics, Cermaq, Elanco, UC Davis, Calysta, Hatch, AquaByte, Aqua-Spark and Nutreco - will be presenting and taking part in panel discussions.
Globally, the food industry is under intense pressure from consumers and policymakers to ensure a safe, sustainable and healthy food supply to meet the challenging demands of a growing population.
As part of this trend, demand is booming for new technologies that improve animal health and welfare, reduce the environmental impact of livestock farming, and ensure high-quality and consistent protein products for the consumer.
Within aquaculture, as well as the production of beef, lamb and poultry, smart farming solutions are emerging that benefit both animal and human health through improved nutrition and wellbeing, disease detection and prevention, data-driven herd management and waste reduction.
The event's programme has a specific focus on:
The rise of aquaculture: transforming the industry through digitization and alternative proteins.
Precision nutrition: targeting animal microbiomes for functional health.
Smart livestock farming: empowering farmers through digital insights.
Gene editing: designing the farm animals and fish of tomorrow.
New pharmaceutical frontiers: preventing diseases through next-generation vaccines.
Investment and Finance: how corporate venture funds and VCs view the opportunities in animal AgTech.
A fast-paced agenda featuring 40 speakers will explore the latest models for technology investment, incubation and commercialisation, and showcase the most exciting start-ups from around the world, with dedicated pitches including one from ViAqua (Israel), which is developing an orally administered particle-based platform for the administration of RNA and protein to improve resistance against viral diseases that attack shrimp and other aquaculture species.
Two hundred delegates are expected at the Animal AgTech Innovation Summit takes place immediately before the World Agri-Tech Innovation Summit on March 19-20.