Fledgling aquaculture software firm Manolin beat 64 other hopefuls to scoop a prize worth NOK 300,000 (£28,000) as part of the 100 Pitches event during Oslo Innovation Week 2018.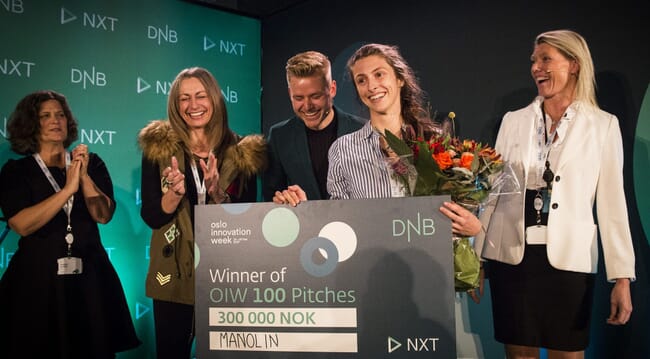 100 Pitches is organised by DNB, with 10 of the 64 companies making the semi-finals appearing at the showcase event, which aims to connect the most promising Nordic seed companies with investors, venture capital and the corporate world. The start-ups were evaluated on number of factors including whether they pitched efficiently and the dynamism and scalability of their products and whether they related to the UN's sustainability goals.
Manolin, which provides a digital fish health analytics platform, are looking to use the money to accelerate their product development.
"As a startup, the prize money can go a long way towards helping us accelerate our product development," explains co-founder Tony Chen.
Chen, who came to Norway from the US as part of the Hatch accelerator, said the event was a useful way of engaging with start-ups from other fields – although one of his fellow Hatch cohort, AlgaePro also made the final.
"We went through multiple pitch events here in Bergen and had the honour to be selected by DNB to represent the entire Bergen region as their representative for Oslo Innovation Week. We saw it as an opportunity to connect with other startups across Norway and better understand the entrepreneur ecosystem," he explains.
He hopes the event will help to fine-tune their ability to gain investment.
"The pitching process is definitely new to us, but we feel that we've gotten great feedback and advice on how to approach fundraising. We've been in touch with investors from around the world, and it's been great to see the increase in interest within aquaculture in general," he reflects.
It also shows the strength of the interest in Manolin's products, which include a dashboard to manage crucial data for farmers who are ASC-certified.
"It gives some additional validation regarding the direction we're headed and an increased understanding on the value of aquaculture in the larger start-up community. It's great to know that others are starting the look at the growing opportunity within aquaculture and its significance at a global scale," Chen concludes.