The study examines NaturalShrimp's electrochemical 'vibrio suppression technology' as a means of reducing ammonia levels in shrimp grow-out tanks, as well as evaluates its antimicrobial effect. And, according to the report, the system results in improved shrimp survivability due to its ability to eliminate potentially harmful Vibrio bacteria.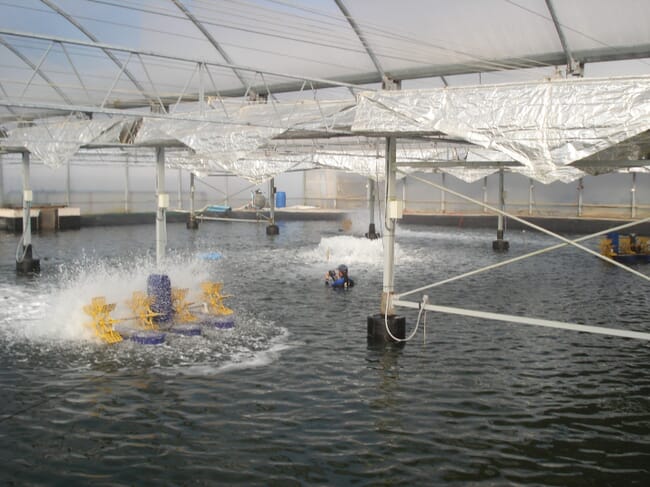 Based 150 miles from the closest body of saltwater, near the Texan town of San Antonio, NaturalShrimp has developed a design that uses neither biofloc nor outside coastal water sources. According to the company, this "improves market yield and reduces production and health risks".
In addition, the company claims that its "patented design provides a further layer of biosecurity, ensuring that pathologic bacteria growth is immediately treated in the production process."
Following four years of developing their system they have operated the system in full production mode for the last year, growing Pacific white shrimp (L. vannamei) to full maturity.
According to the company, their technology brings several critical benefits to the marketplace, including the following:
"Vibrio Suppression Technology equipment is compact and permits entire installations to be installed practically anywhere, including in urban areas."
"Instead of relying on bacteria to partially reduce nutrient levels in their wastewater, the nutrients are destroyed through an electrochemical process. These nutrients are largely generated through shrimp feces and uneaten feed."
"Utilizing the same electrochemical process, Vibrio and other pathogens have been visibly removed from the grow tanks, as demonstrated in the attached culture plate images.
"Removes the potential for biofloc acquired bacterial infections through cuts or abrasions in the workplace.
"The electrochemical process maintains the water quality throughout the growth cycle of the shrimp. It additionally buffers the water, which further reduces OPEX costs, removing the necessity to add the commonly seen additive, sodium bicarbonate."
The full study, Biosecurity Benefits of EC, can be accessed here.