America's leading seaweed farmer secures funding for expansion
Atlantic Sea Farms, the largest seaweed producer in the US, has secured a new funding round, led by Desert Bloom Food Ventures, a fund investing in, and supporting, dynamic food companies.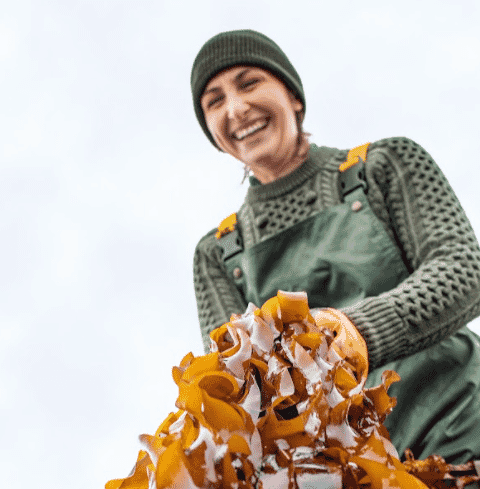 Atlantic Sea Farms is the first commercial seaweed farm in the US and now represents over 80 percent of all cultivated seaweed in the country in partnership with 34 independent partner seaweed farms along the Maine coast.

Led by economist and former US diplomat, CEO Briana Warner, the company works with a community of independent Maine lobstermen to grow kelp in the off-season from fishing, providing their partner farmers with free seeds produced in their best-in-class Maine Seaweed Cultivation Center, as well as technical assistance and training.
"Our company is laser focused on providing supplemental income opportunities for our coastal communities at a time when climate change and increased regulations are making the lobster fishery increasingly volatile. In the past two years, we have built a dynamic team of mission-driven specialists in every part of our business - which has allowed us to work with talented partner farmers from throughout Maine's lobstering community. We are building an entirely unique and regenerative supply chain and bringing all new products to market," Warner said in a press release.
The funding will help the company build out a new state-of-the-art seaweed processing and innovation facility, which also houses Atlantic Sea Farm's Maine Seaweed Cultivation Center, to process all landed kelp within hours of harvest, and produce high quality products and ingredients that are available year-round. The Atlantic Sea Farms team is currently moving from 6,000 square feet to a 27,000 square foot Biddeford, Maine.
The company is currently preparing for the 2022 kelp season, and expects to harvest well over 1 million pounds of harvested kelp, representing growth of over 3,000 percent since the company brought on new leadership in August, 2018.
Desert Bloom now occupies a board seat alongside Warner, veteran Atlantic Sea Farms board members Lisa Sebesta, a regenerative food-focused investor and consultant, and Chandler Jones of CEI Ventures.
"We are thrilled to be supporting such a dedicated, passionate and talented team," said Julia Paino, Partner at Desert Bloom Foods, who has joined ASF's board of directors. "It is unique to find a company addressing several critical areas all at once. We deeply value the positive social, nutritional and environmental impact woven into the DNA of Atlantic Sea Farms. This is a company that can fundamentally improve both human and planetary health."
Atlantic Sea Farms has also welcomed new board member and close advisor, Jason Jones. Jones was founding president of Vital Farms, Inc, whose purpose is to bring ethically produced food to the table.
"Briana and the Atlantic Sea Farms team have pioneered a truly elegant farming model that creates so much benefit for consumers, farmers, and our planet," Jones stated. "We all want to support systems that diversify our food options and tread lightly on our ecosystem. I am proud to be a part of such a progressive upgrade to the way we engage with natural resources, support producers, and feed ourselves."

As Atlantic Sea Farms and its partner farmers are finding innovative ways to economically adapt to the effects of climate change, their method of regeneratively farming line-grown kelp is also helping to protect the environment. As of the spring 2021 harvest, the company has removed approximately 150,000 pounds of carbon from Maine's ocean in just three short growing seasons.