This morning's plenary session of Aqua InDepth featured discussions on the sustainability and profitability of aquaculture.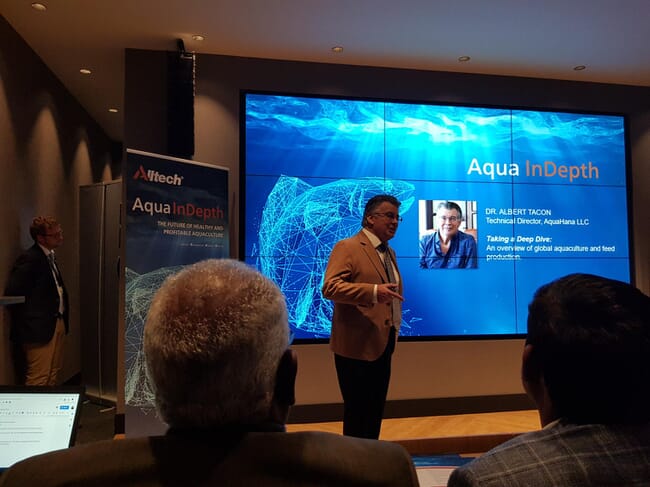 More than 200 delegates from 42 different countries heard Mark Lyons, President and CEO of Alltech, highlight the company's vision of creating a "Planet of Plenty" as it moves into the future. The strategy will use sustainable aquaculture to help feed the world's emerging middle class while also preserving the environment.
Delegates also heard from key industry and financial figures like Albert Tacon from AquaHana, Gorjan Nikolik from Rabobank and Phillip Lyons from Alltech discuss future trends and emerging technologies from the aquaculture industry.
The morning session also saw the unveiling of the winner of Alltech Coppens Inventor Programme. The programme is based on crowd-sourcing ideas that could improve all areas of the aquaculture industry – from the hatchery to marketing. Tropic Ribarstvo won the main prize for their peracetic acid dispenser for trout farms.
The afternoon of lectures will focus on innovations in the shrimp and finfish industries and feature in-depth discussions on RAS production, biofloc systems and how to harness the genetic potential of aquacultured species.
Tomorrow, delegates will visit the Alltech Coppens Aquacentre and feed mill outside Eindhoven to see Alltech's approach to applied research in action.
Follow #AquaInDepth to hear more about the event.