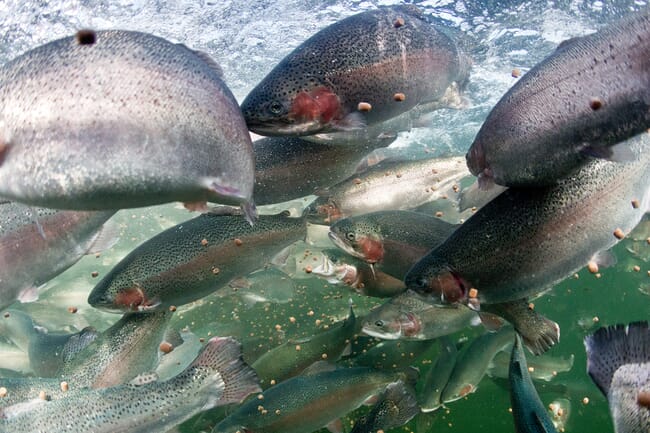 Aqua nutrition mainstay Alltech and Finnish circular economy company Finnforel are joining forces to acquire the Raisioaqua fish feed production facility from Finnish company Raisio. The acquisition will complete Finnforel's sustainable circular economy fish farming chain, while enhancing aquaculture producers' access to Alltech's nutritional technologies.
"Feed developed in accordance with the principles of a sustainable circular economy represents the last link in the chain," said Jussi Mekkonen, CEO of Finnforel Oy. "We have another new aquaculture facility that will be completed in spring 2023, after which we will be able to produce the eggs used in fish farming. After this, the entire fish-farming chain will be ready to be exported to the world."
Finnforel's production chain is based on recirculating aquaculture, which has been used globally in for several decades. This method consumes 99 percent less water than traditional methods and is one of the most environmentally friendly ways to produce fish.
According to a press release announcing the partnership, Finnforel's approach is unique because it combines a recirculating aquaculture system with an efficient and vertically integrated fish farming chain.
"At the heart of Finnforel's strategy are so-called gigafactories specialised in sustainable aquaculture. In these, the entire production chain is in our own hands, from the parent fish and the eggs they produce to the consumer products," says Pekka Viljakainen, chairman of the board of Finnforel Oy.
Alltech's expertise moves to Finland
"Aquaculture continues to be one of the world's fastest growing sources of protein, according to Alltech's annual Agri-Food Outlook, and is one of the key focus areas for our business," said Dr Mark Lyons, president and CEO of Alltech. "Together, with Finnforel, we will be enhancing the quality and availability of nutrition for sustainable aquaculture systems. Aqua producers will benefit from the strength of Alltech's scientific research and commercial expertise globally, including a dedicated aqua nutrition research centre, Alltech Coppens Aqua Centre in the Netherlands, which specialises in nutrition for recirculating aquaculture systems (RAS)."

Alltech's key strategy in its aquaculture segment involves searching for partnerships with companies like Finnforel to develop smarter and more sustainable approaches to aquaculture. As part of the company's "working together for a planet of plenty" initiative, these aqua partnerships will lead to improved fish nutrition and decreased environmental impacts. Alltech currently boasts over 40 years of animal nutrition research and a broad portfolio of specialty aquafeed ingredients for both fish and shrimp in its Alltech Coppens segment.
"Finnforel and Alltech Coppens have been working together for several years on sustainable aquaculture practices," said Ronald Faber, CEO of Alltech Coppens. "This joint acquisition reflects the ambition of both companies, our shared values and the strength of our partnership."
"Already now it is already possible to produce the new ecological raw materials for fish feed, which are at the core of the bio and circular economy, from Finnforel's side streams, either directly or indirectly. In the future, we will also be able to provide a platform for large-scale feed testing, which will speed up the transfer of research results to practical applications," says Tommi Mäkinen, Chief Technology Officer at Finnforel.
Sustainable RAS regardless of climate
Finnforel's aim is to export Finnish aquaculture expertise to the world in the coming years. Finnforel's sustainable circular economy aquaculture chain is also suitable for countries where there is a shortage of water or where fish cannot be farmed using other methods. According to the press release, the gigafactory itself can be taken to where the consumers are, eliminating the need to transport fish from one country to another.