Speaking to The Fish Site at Aqua Nor, Peter Bergstrom, international business manager for ADM Animal Nutrition says it's just a matter of developing the market for the omega-3 rich product.
"The plant is already built," he reflects, "and has an existing capacity of 60,000 tonnes a year."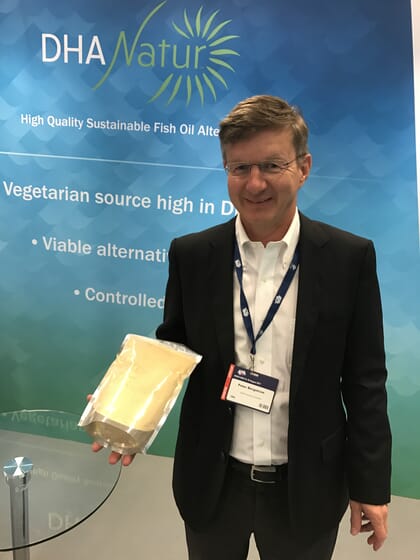 The production facility in question is in Clinton, Iowa and the product, called DHA Natur, is made via the heterotrophic fermentation of algae that is rich in docosahexaenoic acid (DHA), an omega-3 fatty acid that has considerable human health benefits. The firm has recently managed to substantially increase the content of DHA in the product.
"We've been increasing the DHA content of our algal meal from an average of 17 percent to 24 percent, and we foresee this rising further, to at least 28 percent," he explains.
Bergstrom believes that their product should hold great appeal to the aquaculture industry, especially in those markets, such as Scotland, which seek to give their salmon a unique selling point.
"Scotland is a prime market for us," Bergstom explains, "as the producers there seek to differentiate their salmon from, for example, those farmed in Norway, which typically have a lower omega-3 content."
"However," he adds, "we've had interest from a range of countries – including Canada, Chile, New Zealand and Australia – and we're looking to achieve global coverage."
While salmon with high levels of DHA typically requires diets rich in fish meal and fish oil, customers using algal-related feeds can achieve this without relying on the vagaries of forage fish fisheries.
"It helps with sustainability and with FIFO [fish in, fish out ratio]," he points out.
A number of other feed ingredient producers are currently dabbling in DHA and, although TerraVia - whose partnership with Bunge produces AlgaPrime DHA - recently filed for bankruptcy, they have reassured their customers that they "will continue to provide customers with AlgaPrime DHA, a traceable and sustainable source of omega-3s".