AKVA launches new salmon pen concept to combat sea lice
AKVA group has partnered with Northern Lights Salmon and Sørrollnesfisk to pilot an innovative net pen concept that gives salmon access to water from below the lice belt.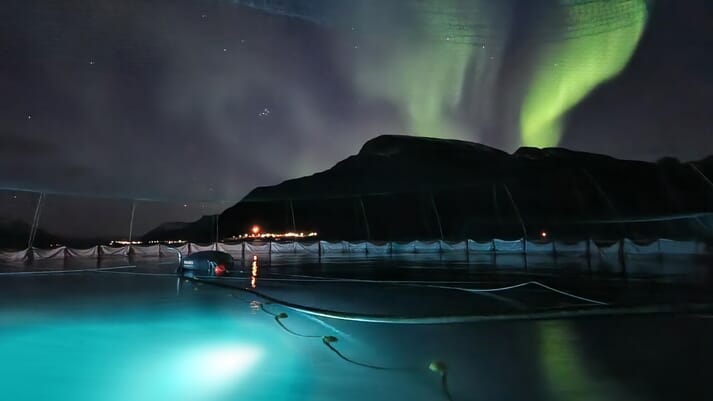 "We have adopted a special net from AKVA group Egersund Net on the pens. With a spaghetti net with a custom-made lice skirt, where the skirt is attached both at the top and bottom of the net, we can go down to a full 15 meters with a lice skirt without experiencing too much deformation," says Christian Balteskard, project manager for Northern Lights Salmon and Sørrollnesfisk.
According to a news release from AKVA, the new design allows lice skirts to be lowered to 15 metres to block lice from entering salmon pens, while pumps bring up fresh, oxygen-rich seawater from the depths.
Repurposing existing infrastructure
"It is important to look for solutions that are close at hand, and to utilise existing infrastructure for sustainable results. We have looked at how we can make 'simple' changes to adapt and optimise the conditions for the fish. In OptiCage, we have assembled the most optimal solution," says Balteskard.
In the pilot project – with is supported by Innovation Norway's Environmental Technology Scheme – salmon producers and members of AKVA group are building on their experience and expertise to optimise standard net pen aquaculture equipment.

"The project started in October 2021 and was completed in March 2022. This is an exciting product that means a lot to the concept of deep farming. OptiCage is helping to combat the biggest challenge the fishing industry faces, namely salmon lice. When fresh water is constantly pumped in, this gives the salmon better fish health and reduces mortality," says senior sales manager for net products, Geir Kåre Tønnessen, in AKVA group Egersund Net.
Deeper conditions
OptiCage will be used in six 160-meter pens from NOFI at the Ystevika site in Sør-Troms, Norway. There are already salmon in the first four and the startup has been very successful.
The goal of OptiCage is to use existing equipment to create a concept against salmon lice that can be used at many of today's food fish locations. In the design phase, much of the focus has been on finding practical solutions to ensure simple assembly and safe operation. In addition to protecting against salmon lice, the salmon must have good growth and living conditions throughout the cage.
98-minute seawater change
Framo has used 50 years of pumping expertise from shipping and offshore to help produce sustainable salmon. Together with fish farmers, Framo has worked to optimise flow conditions in net pens. The water improver Framo AquaStream retrieves fresh seawater at the right temperature from deep below the lice belt. Within 98 minutes, Framo AquaStream has replaced all the water inside the skirt in the pens.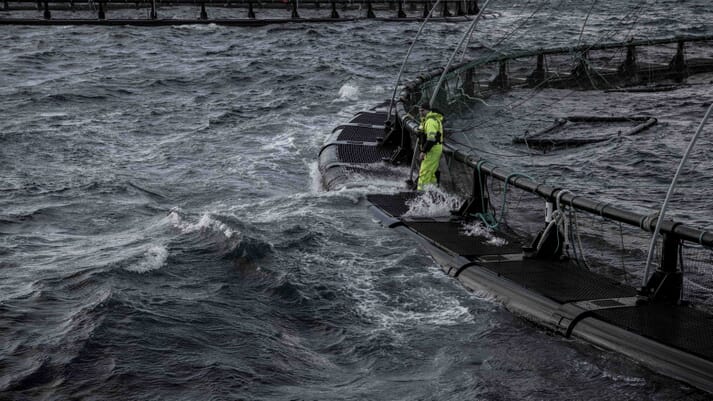 "We have adapted our Framo AquaStream system to verify the technology together with the form-fitting skirt. After successful installation and commissioning, the facility is now in operation with great success," says sales manager Terje Ljones at Framo Innovation.
This ensures that the fish constantly get oxygen-rich water.
"The pumps create currents in the pen which help to recreate the natural conditions the fish experience out in the sea. The pumps can be run up and down in capacity, and the amount of water moved can thus be adapted to the biomass that is in the pen at any given time," says Ljones.