The Norwegian multinational AKVA group, which provides aquaculture technology and services to the salmon industry created a programme in 2018 that includes women in their productive processes and welding workshops.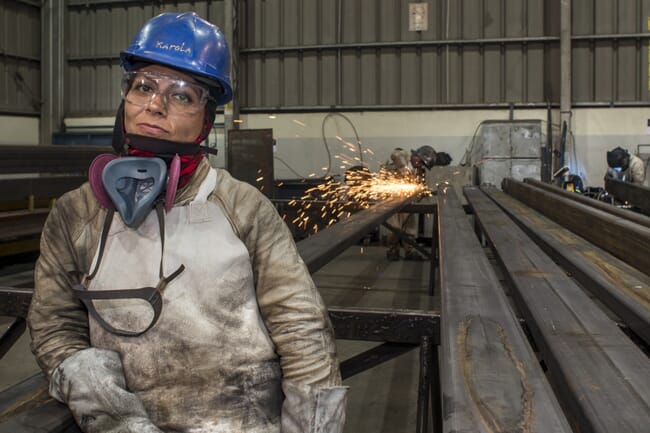 The purpose of the programme is to promote the employment of local women in the workplace through a commitment to gender equality.
"We want to see more empowered women working in the salmon industry. For a year we have been developing inclusion and training projects for women in the welding area, to create excellent products, with the best welders from both genders," comments Andrew Campbell, regional president of AKVA group for America, UK, and Australasia.
There are now 23 women in the welding workshop of the company. They were previously trained in the AKVA academy which initially offered men-only courses, then mixed classes, and finally, the first women-only course.
"This is a call for women to accomplish everything they set their minds on, and we are willing to accompany them in this process. Sustainability is also about people, collaboration among local people and the local communities", Campbell emphasizes.
"Could I do it?" wondered Jeanette Salazar, a former food technician and secretary who is now a pioneer of the nocturnal female welders in AKVA group Chile.
"I never imagined working in something like this. I had to prove to myself that I could do it. The world is changing. And this is a major turn, very important and positive for me. It was hard in the beginning because it was an area full of men and tough work, and today I really enjoy it. I feel integrated and capable of performing in any area", she comments.
In welding, the women specialize in raw material, structure, and accessories, receiving training over 6 months, to produce pens and walkways of high quality, for the local and export markets. There are over 350 people working in Chile, including 46 women in different areas. At the beginning of the program, there was a concern that it would not work, but today it has been successful.
"We are going to change what is considered normal. In AKVA group we recognize the female contribution and celebrate their participation", concludes Campbell.
AKVA group has a multinational presence in Chile, Norway, Denmark, Scotland, Iceland, Canada, Australia, Turkey, and Spain. Their products include pontoons, pens, recirculation systems, feeding systems, feeding chambers, submarine lights, environmental sensors, feeding assistants with artificial intelligence, production and process control software.