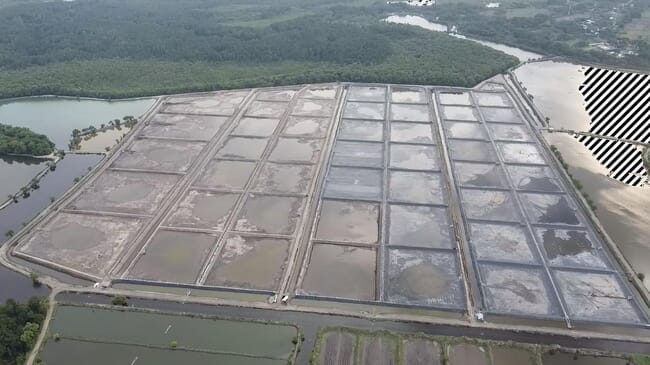 After operating for almost two decades in open, earthen ponds, Mayasal (which rebranded as Acuamaya in 2006) took a giant leap forward 18 years ago and established its first intensive production of Pacific white shrimp, using 6.5 hectares of plastic-lined ponds.
The project was inspired by what, at the time, was state-of-the-art technology on the other side of the world, in Asia. In contrast to typical Central American stocking rates of 20 to 30 PLs per square metre at the time, they were stocked at 100 per square metre, and 40 hp per hectare of aeration was installed. The first year's yields averaged over 23 tonnes per hectare and – once the company was comfortable with the performance of this proof-of-concept facility – the idea of extending an Asian-style technology model in Guatemala began to emerge. Mayasal's vision, however, was not limited to its own ponds but included the entire country. Because in conjunction with this intensive production model, a small-grower-based economic model also began to take shape.
A system for smallholders too
Getting the ball rolling, however, was difficult. Virtually all of the potential early adopters of small-scale intensive shrimp production were resource limited and had to utilise family properties. These would-be shrimp farmers had little or no access to capital, and banks were reluctant to make loans for an unproven business model. But eventually, Guatemala's first small-scale family shrimp farm began operating, with private financing, in 2005. As was the case in Mayasal's intensive trials, production of L. vannamei in comparatively small, plastic-lined ponds proved extremely successful and the grower was able to repay his loan ahead of schedule. This led to the subsequent financing of five other small operations through a public-private partnership in 2006, involving commercial banks, government guarantees and technical support (which Mayasal agreed to provide). All of these operations were also successful, paying off their loans well before they were due.
As a result, local banks were quick to recognise that this approach to shrimp production could be quite profitable, and over the past decade the small-scale industry segment has continued to thrive and expand. There are currently over 150 producers utilising this technology along the Guatemalan coast. Most use brackish or saline well water, and range in size from 0.5 hectares to 20 hectares. Some farms have two production cycles per year, while others stock and harvest as many as four times. Stocking rates typically range from 250 to 500 PL per square metre, although reports of up to 600 have circulated in recent years.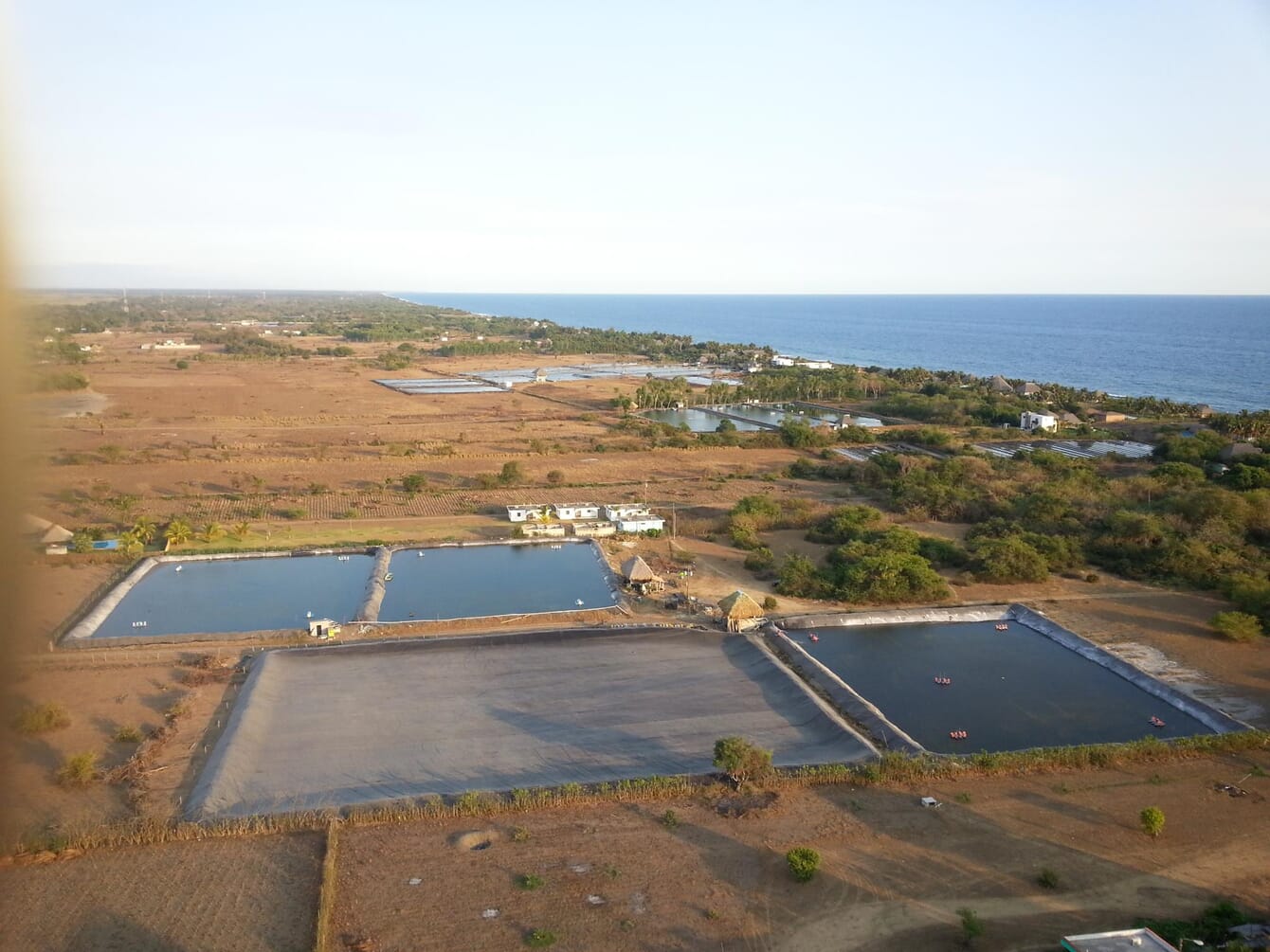 Total annual harvests for small-scale producers have grown to some 49 million pounds (22,226 tonnes), most of which is marketed domestically and regionally. This growth has been fuelled by reliable access to both feed and seed. The feed company ARECA is considered the principal supplier for small producers within the country and, while some PLs are imported from neighbouring countries, most have been supplied by Acuamaya, thanks to repeated expansions of their hatchery facility in Monterrico. These expansions represent a long-term commitment to the independent growers and the economic activity they generate for the country, and have resulted in significant economies of scale for all parties.
Acuamaya's history reflects an integrated vision of production, processing and marketing, and has been shaped by many of the same factors as the growth of the independent producer sector. In particular, expansion in production volume has required repeated advances in technology and management to allow for more intensive husbandry. Unlike the situation in some neighboring Central American countries, there are very few estuarine sites suitable for shrimp production in Guatemala, so the company realised early on that expanded production would depend on more intensive stocking rates and higher turnover in their comparatively upland ponds.
The evolution of a flagship firm
Mayasal was founded in 1983 by Gabriel Biguria. Biguria, a native of Guatemala, had earned a BSc in chemical engineering from Case Western in 1963 and masters and PhD degrees in the same discipline from Lehigh University in 1966 and 1968, respectively, and he had several business interests besides shrimp farming at the time. He was joined in 1986 by Alexander deBeausset, who brought with him a wealth of experience in state-of-the-art shrimp farming technology. deBeausset had graduated from the University of Michigan with degrees in biology and economics, with additional studies in oceanography at Woods Hole. But most importantly he arrived directly from a five-year stint farming marine shrimp in Ecuador. The company's first farm, also called Mayasal, was constructed in 1983 on a site that had been designated for salt production near La Ginebra in Santa Rosa Department. The first harvests and exports followed shortly thereafter, during the following year. Originally 55 hectares of salt flats, the Mayasal farm has grown to encompass some 300 hectares today, including set-aside areas for wildlife. It was awarded ASC certification in 2020.
In 1990, the company opened a new processing plant in Guatemala City. This location was chosen to take advantage of access to labour, utilities, transportation and support services necessary to compete in a global export market. By the following year, exports to Europe had begun. The plant has since expanded and modernised several times, and today the facility has a processing, packing and freezing capacity of 55 tonnes per day, with ASC CoC, HACCP and European Market certifications.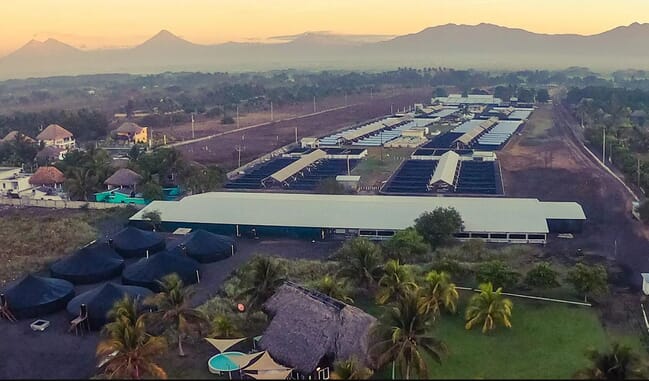 In 1998, in an effort to improve economic and environmental sustainability, the company established its La Candelaria hatchery in Monterrico. After nine expansions and upgrades over the years La Candelaria is BAP certified and has a current production capacity of over 3 billion PLs annually. The company has developed a unique, proprietary variety of nauplii and PLs, marketed under the Maya Larva brand. Much of the pre-maturation and maturation facilities are now closed systems, with virtually 100 percent water re-use. While increased in-house demand for seed has driven this expansion to some extent, much of the success of the hatchery can be attributed to demand from independent Guatemalan growers, as well as several larger farms throughout the region.
In 2002, the arrival of white spot syndrome virus (WSSV) brought a new reality, and the profitable growing season in Guatemala was reduced from year-round to only 8 or 9 months of suitably warm temperatures. This stark impact resulted in the realisation that the Mayasal farm would have to adjust by intensifying stocking rates and yields. This was when the decision was first taken to evaluate the Asian model of high-density, plastic lined ponds.
In 2006 the company name was changed to Acuamaya and by 2013 two more intensive grow-out farms had been established – Saquija in Aldea Rama Blanca, and La Danta in Iztapa, both in Escuintla Department. These farms have 50 hectares and 25 hectares of intensive ponds, respectively. Shortly thereafter, exports began to Taiwan, a market that would prove to be very valuable for the company in the coming years, and which is coincidentally Alexander deBeausset's birthplace. Both of these additional farms attained ASC certifications in 2020, along with Mayasal.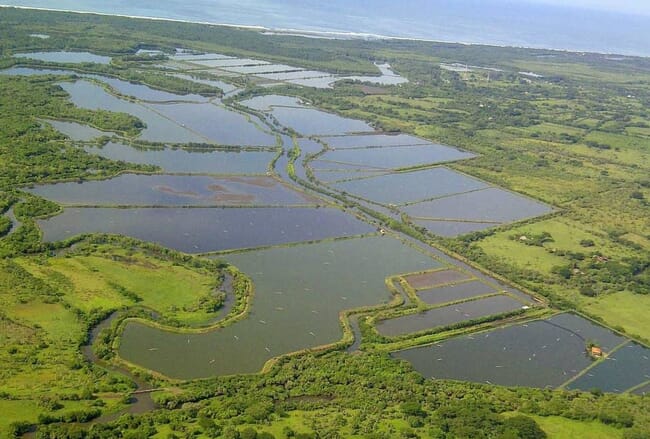 Acuamaya's integrated structure has allowed for more marketing flexibility, as production volumes have grown, in both hatchery and farming operations. While independent growers have captured the domestic market in Guatemala, the company's processing and marketing capabilities have allowed it to compete successfully in global markets. At this point, however, Acuamaya is currently striving to maintain and increase economic sustainability, both in-house and for the country's independent producers. Over the past year, impacts from the Covid-19 pandemic and variable feed costs have necessitated some adjustments in both production practices and marketing, all with the goal of maintaining or enhancing profitability. One area of focus has been an increased reliance on natural components of the shrimp's diet through greater use of bacterial food webs, especially within lined ponds. Although a shift to lower protein feeds and increased aeration have been part of this strategy, other factors have also been adjusted.
The company's most recent giant leap (and arguably the greatest in its entire history) incorporates a "practice what you preach" philosophy of increasing harvest volumes through more intensive production methods. A total of 48 lined ponds have recently been constructed at the Mayasal facility, on a site that once held traditional, semi-intensive earthen ponds. These new ponds are three metres deep, with Asian-style central clean-out areas to concentrate and remove solids as needed, and outfitted with substantial aeration capacity (projected to often exceed 70 hp per hectare). As a result, the facility has been designed so that electricity can be purchased from the grid but also generated on-site when required. Some ponds have already been stocked and are well on the way to being harvested, while others are in the final stages of being lined with plastic and outfitted with aeration and feeders.
The flexibility in production volumes and harvest schedules resulting from the Mayasal conversion should allow for more market opportunities in European and Asian countries that already represent important customers for Acuamaya's Tikal and Crystal Ponds brands. As has often been the case over the past 38 years, the need to sustainably improve efficiencies and yields with limited land resources continues to drive both Acuamaya's growth and that of the independent small-scale shrimp producers throughout Guatemala.