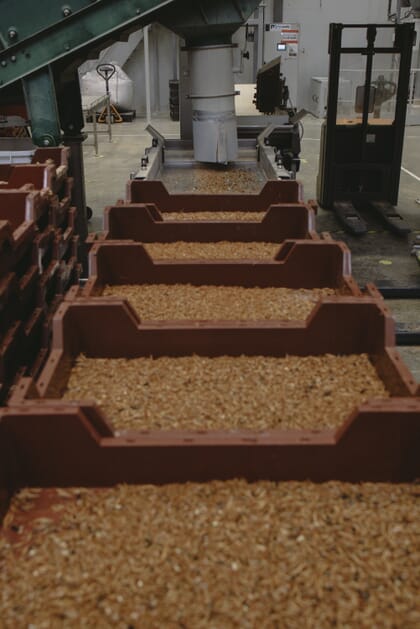 The lesser mealworm (Alphitobius diaperinus) becomes the fourth insect to receive a positive assessment by the EFSA, although final approval will now have to be confirmed by the European Commission, which requires endorsement by the EU Member States authorities before the product can go more widely on sale across the whole continent.

Ÿnsect, whose 260-strong team has filed around 350 patents in new technology designed to revolutionise the cultivation of mealworms, transforming them into proteins for domestic animals, fish and livestock, plants and human beings have welcomed the decision.
Ÿnsect Netherlands (formerly Protifarm) submitted the application to EFSA with a view to expanding its activities in Europe, in line with the EU's sustainability goals, and has the infrastructure in place to expand production and distribution immediately once the European Commission's green light is given.
While insect approval for human consumption is a relatively new concept, it is one that is already taking off in developing markets. Ÿnsect's other protein, molitor mealworms, were the first insect authorised by EFSA in January 2021, shortly before insect protein was then approved in feed for pigs and poultry.
In a survey commissioned by Ÿnsect and conducted by OnePoll in April 2022, over half of UK respondents (51 percent) revealed a willingness to consume insects once the environmental and health benefits had been explained. Moreover, 89 percent of the 2,149 UK adults surveyed who had already eaten insects or insect protein said they liked what they ate or would eat insects again.
Ÿnsect Human Nutrition and Health already sells ingredients using the lesser mealworm (branded AdalbaPro) that can be found in a variety of products across Europe, including Zirp in more than 800 Bila stores Austria, cereal bars and Issac shakes, and gourmet burgers made from beetles found in several Danish restaurants. The company is now on track to accelerate production to meet the increasing demand across EU markets.
Ÿnsect points to recent research from Maastricht University which suggests that insect protein is as beneficial as the 'gold standard' milk protein; both have the same performance on digestion, absorption and on the ability to stimulate muscle production.
In contrast, plant-based proteins often show an incomplete amino acid profile with low levels of essential amino acids. Purchase intent among health-conscious consumers in Western Europe is currently at 60 percent, supported by the fact that insect protein is a more natural, less processed alternative to the current offering on the market.
"The recent assessment by EFSA that lesser mealworms are safe for human consumption is a significant step forward for the company's expansion," commented Antoine Hubert, CEO, and co-founder of Ÿnsect, in a press release.
"Mealworm protein offers the best of both worlds, as nutritionally beneficial as animal protein, but with a much lower environmental impact. Indeed the scientific community is increasingly rallying around the idea, with a 2022 report by the University of Helsinki suggesting that a diet incorporating large amounts of insect protein offers the optimum solution to reduce environmental impact by over 80 percent while offering high nutritional benefits to the consumer."
As well as offering a highly nutritious alternative to plant proteins, Ÿnsect argues that insect protein production is also extremely sustainable.
"Mealworm protein is the only one in the world available on the market able to combine not only performance and health but also naturalness and sustainability. Compared to traditional livestock, Ÿnsect uses 98 percent less land while significantly reducing the carbon and biodiversity footprints of protein production. This will open the world up to new food product development," said Shankar Krishnamoorthy, EVP and chief development officer at Ÿnsect.
"Additionally, you only need one or two kilos of feed to produce 1kg of insect protein, as opposed to nine kilos for traditional beef. Insect protein is not only more sustainable but will open the world up to a new way of food product development that is efficient, nutritious and able to positively impact the food chain at multiple points," he added.