A new report, released this week by the Dutch-headquartered firm, argues that for Agrosuper – which is now the leading producer in Chile and the second largest salmon producer in the world – to prioritise sustainability "could reshape the salmon market globally".

The loan was provided with technical support and advice from WWF, to finance part of Agrosuper's recent acquisitions in the Chilean salmon industry. The loan – the first of its kind in Chile – is a seven-year agreement with several green conditions, such as a commitment to reduce antibiotic use, increase the number of Aquaculture Stewardship Council (ASC) certifications and implement an aquaculture improvement programme.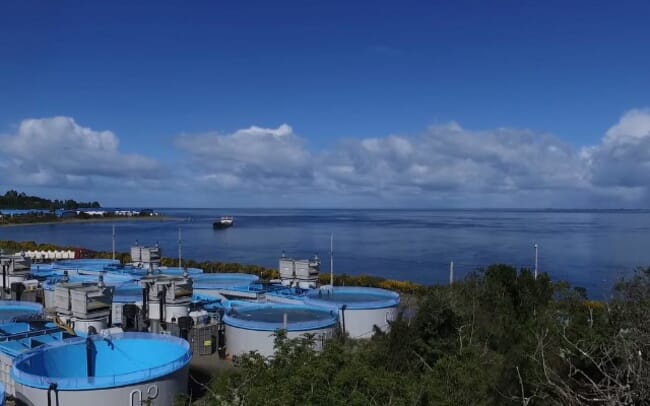 "This agreement is a declaration between Rabobank and Agrosuper to work together prioritizing sustainability in the agri-food industry," says Luis Felipe Fuenzalida, Agrosuper's director of admin and financing.
Agrosuper is preparing for ASC certification for all of its newly acquired salmon operations. To date, 31 of their salmon production centres are ASC certified. The company currently holds 7.2 percent of the global salmon market and is aiming for 100 percent ASC certification.
"Agrosuper is committed to the future sustainability of our aquaculture business. What we have achieved and what we are working on is important to us, but also improves the quality and reputation for Chile's farmed salmon and the global seafood market," affirms Rafael Prieto, head of corporate sustainability and affairs at Agrosuper.
"By including environmental and social conditions in the loan structure we are supporting the client in the journey to produce in a more sustainable way," says Brenda de Swart, head of sustainability at RaboFinance Chile. "Agrosuper's commitment contributes to Rabobank's objective to support the sustainable production of food for 9 billion people by the year 2050."
The certification will offer a more transparent view of how a sustainable farm performs throughout the entire chain. Among its assessments, ASC looks at a farm's potential impact on biodiversity and nearby ecosystems. For example, feed must also be sourced from sustainable fishing practices with no endangered or vulnerable species.
As a leading conservation organisation, WWF prioritised the incorporation of environmental and social criteria in the financial sector's risk assessment for salmon farming. WWF Chile also promotes best practices related to issues like antibiotic use and relationships with neighbouring communities.
"The results obtained in this work are encouraging, and we can already see concrete signals," says Ricardo Bosshard, Director of WWF Chile. "For example, the criteria established by RaboFinance in its loan to Agrosuper includes some of WWF's social policy guidelines, as well as indicators we have developed for the fulfilment of ASC certification requirements, and information about how we monitor the effects of this certification."
Consumer trends
The decision to commit to ASC certification is aided by growing evidence that salmon sales would benefit from a change in marketing strategy – and the report "suggests shifting salmon away from its 'luxury' status and repositioning it as a healthy and sustainable protein… Salmon, which offers a great source of lean protein, has lunged forward for sustainability reasons, such as efficient feed conversion ratios, lower environmental impact, and fewer perceived animal welfare issues."
"The way to show the market that you produce sustainable salmon is by obtaining certification," explains de Swart, who argues that ASC certification is key for reaching supermarket shelves in markets such as the EU.
"The ASC certification focuses on issues such as the environmental impact of farms, social aspects, and biodiversity. It is renowned for its chain of custody which ensures traceability," explains RaboResearch seafood analyst Gorjan Nikolik. "ASC tracks the product all the way to the retail shop to guarantee the story of each fish on that shelf."