Of the 2,287 BAP-certified facilities, 1,534 are farms, 370 are processing plants, 45 are re-processing plants, 220 are hatcheries and 118 are feed mills. Additionally, there are 245 farms that were previously BAP-certified but are currently in fallow. The 1,500-plus farms represent more than 1.5 million tonnes of production annually.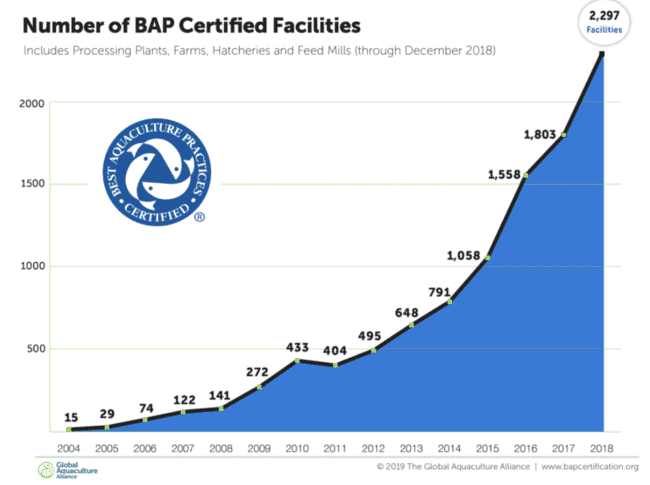 Demonstrating the industry's long-term commitment to responsible aquaculture, the BAP programme has more than tripled in size in the past four years, growing from about 700 BAP-certified facilities by the end of 2014 to 1,500-plus facilities by the end of 2016 to 1,778 facilities by the end of 2017.
As far as geographical reach, the programme is closed out 2018 with certified facilities in 33 countries on six continents, representing 29 species – abalone, barramundi, bream, carp, catfish, char, clams, cobia, crab, crawfish, grouper, milkfish, mussels, oysters, pangasius, pomfret, pompano, red drum, salmon, scallops, seabass, seriola, shrimp, snapper, striped bass, sturgeon, tilapia, trout and turbot.
Additionally, 195 facilities are capable of offering four-star BAP product, meaning that the product originated from a BAP-certified processing plant, farm, hatchery and feed mill. It's the highest designation in the BAP programme.
"The BAP programme took the needs of the marketplace for confidence in food safety, environmental impact, social responsibility and animal welfare and applied them to each stage of the aquaculture value chain. This end-to-end approach, with a broad assessment of risks, is unique but is also backed by the extensive membership and advocacy support of GAA [the Global Aquaculture Alliance]. More and more partners are seeing the value of this programme compared to stand-alone certifications, and we look forward to continuing to help grow the market for responsibly sourced seafood," said Andrew Mallison, executive director of the Global Aquaculture Alliance, which administers the BAP program.
There were multiple firsts for the BAP program last year, including the world's first BAP-certified recirculating aquaculture system and seriola farm, the first company to offer four-star BAP Mediterranean sea bass and sea bream, the first company to offer four-star BAP king salmon, the first Scottish company to attain BAP certification (for Atlantic salmon), the first pet food product to carry to BAP label, the first company to offer four-star BAP oysters, the first BAP-certified mussel farm in Europe, and the first BAP products (tilapia and pangasius) to be promoted in the Japanese market.