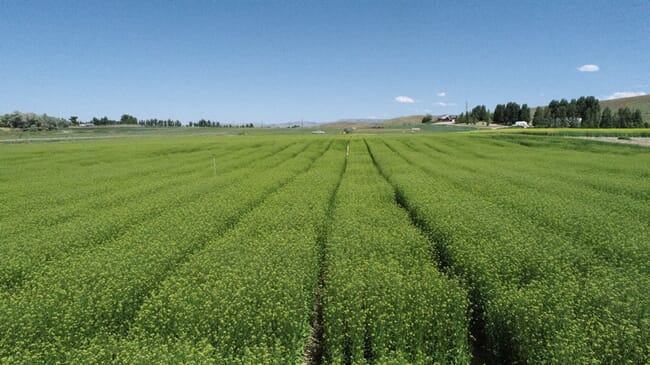 After a decade of research, according to BioMar, the technology is "now advancing toward market availability and has the potential to become another important, high-quality supplement to the scarce supply of marine long-chain fatty acids".

This new Omega-3 Camelina product contains EPA and DHA levels comparable to many of the marine oil sources utilised today making it ideally designed for the needs of the aquaculture industry.
The strain has been developed by researchers at Rothamsted Research, while BioMar has been actively involved with the development since its inception in 2013, conducting many of the trials in which salmon were fed diets containing the Camelina oils.
"A partnership with BioMar has the potential to combine the strengths of both companies for the accelerated development of the Omega-3 Camelina product. We look forward to working closely with BioMar to develop a collaborative program to bring this new source of high-quality EPA and EPA+DHA omega-3 oils to the market to strive to meet the aquaculture industry's growth demand and sustainability goals," said Dr Oliver Peoples, president and CEO of Yield10 Bioscience, in a press release.
Regulatory hurdles
Over the next year, Yield10 expects to scale-up the acreage of the GM Camelina to supply BioMar with oil for feed formulation and testing, while also working towards securing regulatory approval for commercial production of Omega-3 Camelina oil and meal in the targeted production geographies.
Yield10 and BioMar believe that the Omega-3 Camelina technology will play an important role in the future omega-3 market, enabling access to key nutrients from sustainable sources and paving the way for future growth within the aquaculture industry.
"We believe that the Yield10 Omega-3 Camelina technology represents a potentially excellent solution for producing crop omega-3 oils at commercial scale. Reliable and scalable sources of EPA and DHA are critical for aquafeeds to ensure the sustainable development of the aquaculture industry. We look forward to working together with the Yield10 team to make this product a commercial success," stated Carlos Diaz, CEO of BioMar Group.