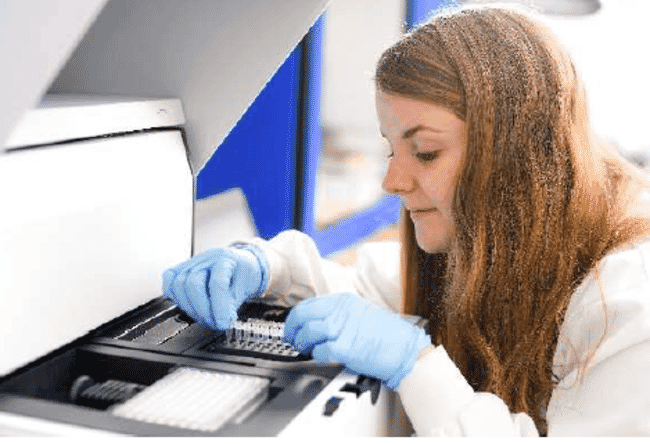 Growing from a small office at the Scottish Oceans Institute to filling a large, custom-built, state-of-the-art laboratory, Xelect was founded by then director of the Scottish Oceans Institute, Prof Ian Johnston, and Dr Tom Ashton – his PhD student. The initial idea was to focus on discovering genetic markers to use in breeding programmes. However, in 2017, with additional funding from St Andrews-based investment group Eos Advisory, the business pivoted in response to customer demand for comprehensive services for broodstock management and genetic improvement.

Xelect's goal is to allow producers of all sizes to operate a world-class genetic selection programme. The company has grown rapidly, establishing a world-class team of geneticists, biologists, computer scientists and aquaculture specialists. For our customers, this deep expertise is fronted by a highly experienced breeding programme manager, who acts as a virtual member of their team, attending key meetings and even providing hands-on support to farmers.
"Understanding of the role of genetics in aquaculture may have started later than in terrestrial farming, but we're catching up fast. We now have a range of services suitable for everyone – whether it's a ground-breaking advanced genomic selection programme, a highly cost-effective family selection programme or just short-term genetics consultancy," said Prof Johnston in a press release.

It hasn't always been plain sailing. Just as the company decided to invest in further expansion the global Covid-19 pandemic hit. COO Chris Wallard commented "Whilst some of our main customers are here in Scotland, we're essentially a global business, running breeding programmes in 11 countries worldwide. After a global ban on travel, we were able to adapt rapidly and realised that we were could establish breeding programmes for customers on the other side of the world entirely remotely. In fact, over the last five years our customer base has tripled in size."
Xelect manages programmes for 13 different species and a diverse and highly international portfolio of customers. Alongside major programmes for established aquaculture species – such as salmon, trout, bass, bream and shrimp – Xelect has also developed a reputation for expertise working with emergent aquaculture species, such as pangasius, kingfish and barramundi. Last month, Xelect was recognised by the UK Government in the inaugural Made in the UK, Sold to the World Awards, which celebrate outstanding examples of UK small businesses exporting around the world.
Xelect was one of three agriculture, food and drink companies awarded 'highly commended' status by the UK government, alongside Fever Tree Drinks and Intelligent Growth Solutions.
At the heart of the business is the company's sophisticated software, Optimate, which uses evolutionary algorithms to run hundreds of thousands of mating combinations to find the best possible outcome. Optimate can be tailored to each customer's requirements, including for group spawning species. The efficient and fast-running OptiMate code also allows mate selections to be made on a daily basis as animals become mature over the breeding period.
Last year, global terrestrial animal genetics company Genus plc also became a shareholder, and the partnership brings collaboration on animal breeding and genomic technologies with their world-class R&D team based in the United States.