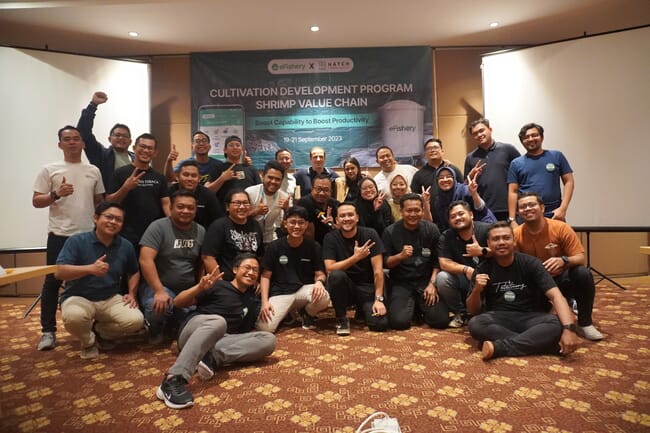 The shrimp farming sector is a vital contributor to the nation's economy, but is plagued with a range of challenges - from unpredictable weather conditions to the lack of adherence to standard operating procedures by shrimp farmers.
The primary objective of the workshop was to showcase different farming methodologies and highlight best practices in order to foster the adoption of sound farming practices and facilitate the effective dissemination of knowledge to farmers from the eFishery team. Topics covered included efficient feeding practices, water quality management, disease prevention measures, and innovative farming techniques that can lead to increased shrimp production.
Whilst the workshop primarily focused on semi-intensive and intensive farming methods, it also delved into traditional farming and the latest trends in super intensive production systems.
Additionally, the workshop also aimed to develop practical knowledge for farmers to cope with unpredictable challenges, such as heavy rain and disease outbreaks, which can cause stress to shrimp and economic losses.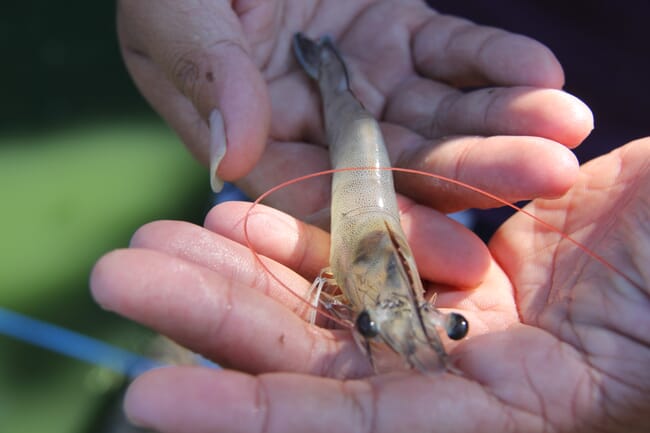 eFishery is one of the most prominent aquatech companies in Indonesia and the workshop participants consisted of the startup's upper management personnel, sales and technical teams, facilitating the transfer of valuable knowledge to downstream teams and to the farmers themselves.
The workshop, which was held in Bogor, featured input from Goncalo Santos, head of projects at HIS, bringing experience in shrimp farming, from leading global technical teams. He was supported by Sakinah Lisa, a native Indonesian who's responsible for project communications at HIS. The workshop leveraged the extensive experience that Hatch Innovation services has in the shrimp sector and incorporated specially crafted material drawn up by HIS, utilising focus group discussions for each topic to encourage dialogues among the participants.
"We anticipate the opportunity to collaborate and work together in the future. This initiative promises to benefit not only individual companies, teams, or farmers but also the broader aquaculture industry and the nation as a whole," Lisa explained.
Sangga Sulistyo Hartono, data and technical capability manager at eFishery added: "Cultivation techniques in the shrimp business ecosystem require a deep understanding, and we have gained invaluable knowledge from the Hatch Innovation Services team. This knowledge includes pond management, water quality management, disease control and harvesting. We were particularly impressed with the emphasis on data management in cultivation, which is of paramount importance. Engaging in discussions and examining case studies that address real-world problems has been incredibly beneficial. It allows us to think strategically and find innovative solutions to assist farmers in the field."
"Key suppliers and stakeholders to the shrimp industry have an instrumental role to support shrimp farmers and better equip them with knowledge and latest developments in farming best practices. The eFishery team is taking bold steps to support shrimp farmers in Indonesia at different levels of the value chain, and showed tremendous engagement and commitment to their mission during the workshop," concluded Santos.