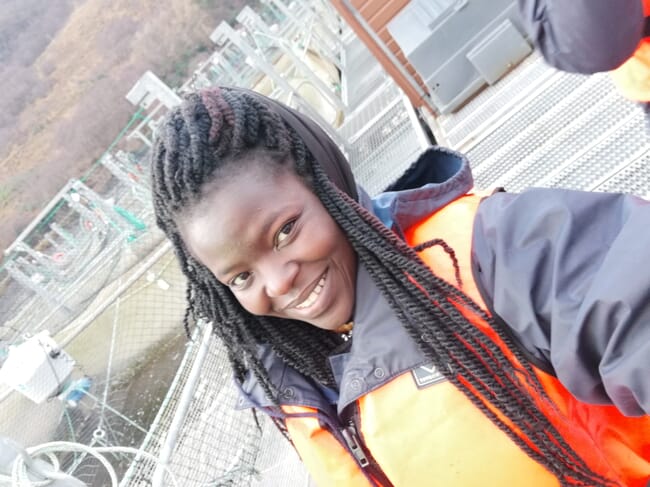 Can you briefly describe your aquaculture career?
My aquaculture journey started during my undergraduate degree at Egerton University when I took an interest in the new BSc applied aquatic science course. There was a lot of scepticism from friends and family about my career choice since they did not understand what the course was about and how anyone could make a career out of it. However, I enjoyed the course and saw the opportunities available in terms of food production and the need to feed the world.
During my time at Egerton University, I co-founded and served as the treasurer of the Egerton Aqua-Fisheries Youth Group (EAYG). The group trained fish farmers in Nakuru, Kenya on good practice in aquaculture, as well as farm and financial record keeping. We also applied for – and received – multiple funds from the Kenyan Government to run the activities of the youth group. In my third year, I interned at the Ministry of Agriculture Livestock and Fisheries, where I worked closely with the fishery directors, fisheries officers and other administrative assistants to offer extension services to fish farmers in Nakuru County. I attended conferences, exhibitions and aided in the promotion of fish marketing and value addition by training farmers on the preparation techniques for fish sausages, fishcakes and fish samosa from the African catfish. I also led a training initiative on water quality analysis, feeding and harvesting during one of our field visits to 150 fish farmers.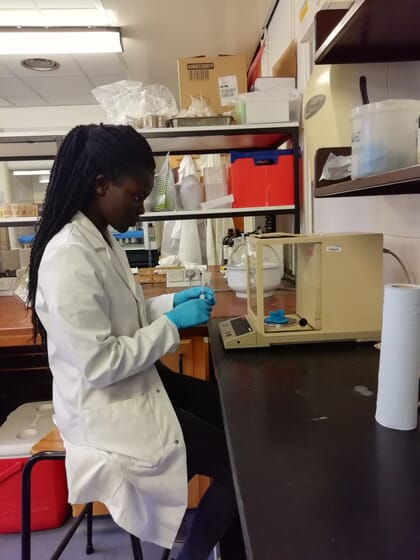 After completing my undergraduate degree, I won a scholarship – fully-funded by the Commonwealth Commission and the University of Stirling – to pursue a MSc in sustainable aquaculture at the University of Stirling. Upon graduation, I came back to Kenya very ambitious and ready to establish a fish farm that would ensure sustainable food production, employment creation and poverty alleviation. However, I learned very fast that things were not as easy as I thought. I faced multiple challenges, which brought me back to the drawing board. I then applied for countless jobs but I could not find anything, especially in the wake of the Covid-19 pandemic lockdown. As a frustrated, young, ambitious graduate feeling defeated in the job market, I started looking for ways to lower the cost of production for young entrepreneurs looking to establish a fish farm.
My quest led me to Ressect – a startup in Nakuru specialised in farming black soldier fly as an alternative source of protein in animal feed formulation, and became a co-founder. At Ressect, I oversee the production cycle of the facility – including hatchery management, rearing unit and post-processing. The startup was recently shortlisted for the Food Systems Game Changers Lab (FSGCL) as one of the enterprises and initiatives that have the potential to transform the world's food systems. I also founded Samaky Hub, to offer aquaculture consultancy services to fish farmers.

Samaky Hub currently has an online presence where I connect with clients and other stakeholders in the aquaculture sector. Through Samaky Hub and Ressect, I have conducted several local and international training programmes and presentations, including a presentation on alternative proteins in aquafeed formulation, a panel discussion at the UN foods systems dialogue, as well as written articles like the Sustainable Blue Economy Conference with Pakawa media, an online magazine, where I served as the co-founder and a writer.
What inspired you to pursue a career in aquaculture?
As I was undertaking my undergraduate degree, I took very interesting units in aquatic resources and management, fish biology and more. I enjoyed taking the courses and built an interest in aquaculture. Originally coming from Lake Victoria region, I had eaten fresh tasty fish from the lake and living in the city I realised that the market was full of substandard fish. There was also limited supply of fish in the market and a limited number of fish outlets compared to other protein sellers like beef or poultry.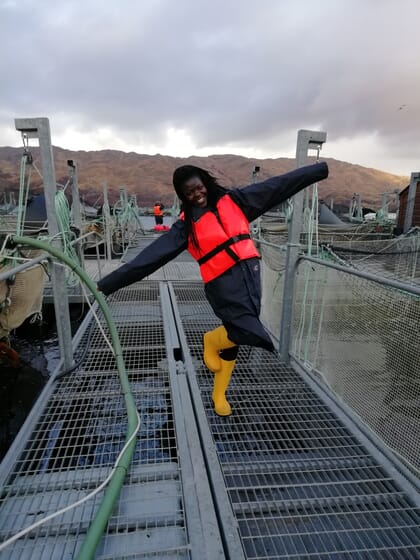 This fuelled my desire to venture into fish farming to provide nutritious and tasty fish, especially to the Kenyan population where there are issues of undernutrition and low fish consumption compared to the global average despite having plenty of natural resources and favourable conditions for aquaculture. I also undertook a course in environmental impact assessment (EIA) which taught me to take care of the environment, so I decided to combine the two and establish a social business that serves the people and the environment as much as it makes profit.
What's the role of Samaky Hub and what have been the biggest challenges of setting up your own aquaculture businesses?
Samaky Hub was created out of the need to meet the fish demand and nutrition needs of the Kenyan population. We currently offer consultancy services on better fish production methods, good feeding practice, quality feeds and training to small-scale fish farmers, to enable them minimise production costs and increase profit. In the long-run we aim to establish a fish processing and value addition plant in East Africa, integrated with black soldier fly and crop production – including soybean, maize and indigenous vegetables. The business model focuses on a circular economy that will enable a sustainable high quality and nutritious organic food production system, where waste from one system is used as input in another system, thus conserving the environment, minimising greenhouse gas (GHG) emissions and providing high quality nutritious products free of chemicals.

The major challenges have been the limited access to capital and lack of support to establish the farm on the ground. That's why we offer consultancy and training services – in order to raise capital for the growth of the company. There is also very limited information on aquaculture, especially the contribution of women and youth in aquaculture in Kenya and Africa in general. Therefore, we aim to become a one-stop shop for information on African aquaculture hence the tagline, "Everything Fishy".
Describe a typical day in your current role
My day begins at 5:00 AM (except for weekends) with reading about the aquaculture industry and other relevant news. I then publish relevant posts on both my LinkedIn and the companies' pages before having breakfast and heading out to the Ressect facility. We source and obtain organic waste and bring it back to the facility for processing. After processing the waste, I feed the insect larvae and incubate the pupae that will emerge into adults, harvest eggs from adult female flies, hatch the eggs while leaving some to continue the cycle, and harvest and dry the mature larvae for the market.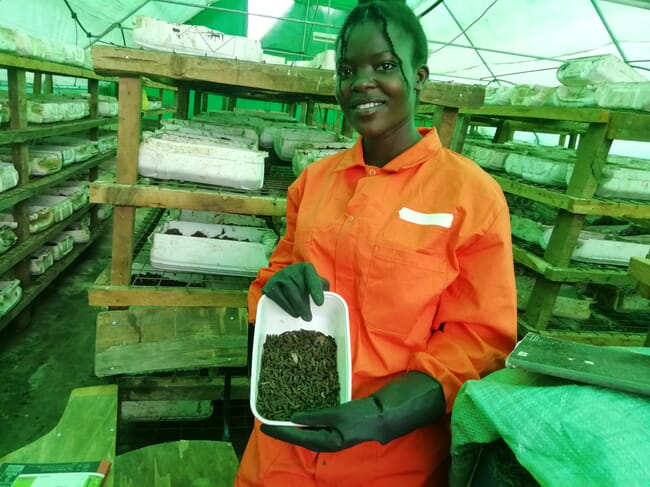 In the evenings I attend meetings with my colleagues at the African Food Fellowship, where we are currently developing a framework to influence Kenyan aquaculture policies to be sustainable and inclusive, especially for women and youth in aquaculture. Other days, I also have meetings with my colleagues at the Food Systems Game Changers Lab, where we are working on strategies to establish a centre of excellence for upcycling food waste and material. I then proceed to consultation meetings with my colleague at Samaky Hub and reach out to potential clients. My day usually ends at 10:00 pm, when I meditate before going to bed.
Are there any individuals or organisations in aquaculture who you've found particularly inspirational?
I admire Victory Farms, which has managed to emerge among the top tilapia producers in East Africa, providing significant volumes of protein and empowering the community along the lake region. I like what they have accomplished so far and I am looking to follow in their footsteps.
I also admire the work of Ruth Lewo, an aquaculture specialist currently working with ABDP Kenya, and an aquaculture fellow at the African Food Fellowship. She has been on the frontline of advocating for women's inclusion in aquaculture. She has fought against "Jaboya" – the tradition by which fishermen only sell their catch to female traders in return for sex – by empowering women to be self-sufficient in getting fish to trade from fishermen. She is currently working to empower young women through aquaculture, with the aim of stopping gender-based violence.

Have you encountered (or heard of) any gender-related challenges as a woman in aquaculture?
Yes, there are several gender-related challenges in aquaculture of which my colleagues and I at the African Food fellowship are seeking to address. In most Kenyan communities, women do not own land, which is an essential resource to start even a small backyard fish farm. Thus, being a woman and a youth with little to no financial capacity to establish a fish farm is a major constraint to most women entrepreneurs, especially in the aquaculture industry.
In addition, policy agenda has often given priority to the production sphere, where men generally dominate, and has largely neglected processing and marketing activities, where women often play a key role. The invisibility of women's roles in official aquaculture statistics, coupled with the negative impacts of genderblind policies, leave women facing discrimination and marginalisation within the sector, as most data collection systems fail to capture their actual contributions to employment, production and consumption in aquaculture. These gender-based constraints mean that women's voices and their vast contributions to the sector are underacknowledged and largely unrecognised.

What advice would you give to women looking to start a career or a company in the sector?
I want to encourage women to form associations where they can support each other, educate themselves on the aquaculture technical skills, learn about available support for women in aquaculture and make use of the available support system as we work for a more inclusive system. They should attend training programmes, seminars and networking events, visit government offices and register with them for support and access to important information, ask for extension services from the government and – above all – never give up!
What would be your dream role in aquaculture, and do you think it's realistic to achieve?
My dream is to establish the biggest integrated aquaculture facility – including a fish farm, primary processing unit and a value-adding unit – in East Africa and be a role model for all the women and youth looking to venture into the industry. Additionally, I want to establish an aquaculture training centre and prove that aquaculture is a viable and profitable business venture when practised sustainably and that it can lower the levels of undernutrition, unemployment and raise a family's living standards, especially for women who are the sole bread-winners of their households.
My vision is to provide fish products that meet the needs of the Kenyan population and tap into the export market, while creating opportunities for other women in the industry. I believe that the goal can be achieved through collaboration, resilience, putting myself out there, reaching out to like-minded individuals and by educating myself and connecting with other women who have been successful in the sector.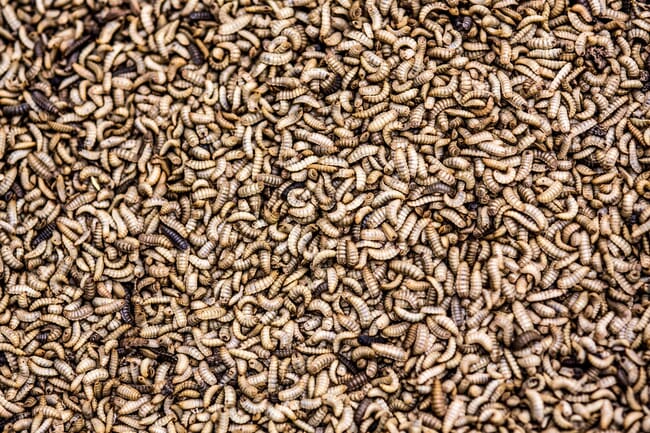 What are the key hurdles that aquaculture in sub-Saharan Africa need to overcome before it can realise its true potential?
There are several challenges in the aquaculture industry, but I will mention a few that I believe should be addressed soon:
The dependency syndrome, whereby the majority of fish farmers depend on government support/NGO initiatives. Most projects have been shown to collapse after the end of an initiative or a government-funded project. There should be different strategies in place to ensure that fish farmers are "taught how to fish rather than being given the fish".
Lack of technical skills to farm fish sustainably and profitably, as most fish farmers – especially in Kenya – still practice subsistence fish farming with limited knowledge of farm management aspects, fish biology and financial record keeping. Most fish farmers do not have the time, training or experience to look after fish.
Lack of/poor government policies for aquaculture inclusion and support, especially for women who lack access to capital and face difficulty accessing affordable loans for aquaculture projects.
Poor quality/lack of seed, feed and quality broodstock.
Growing competition from foreign imports.