Briefly describe your aquaculture career
I consider myself an entrepreneur. I worked mostly in the pharmaceutical field but my husband suggested that I invest my time and effort in something that was just mine, where I could be my own boss in the years to come. Serendipitously, I found a passion in trout farming.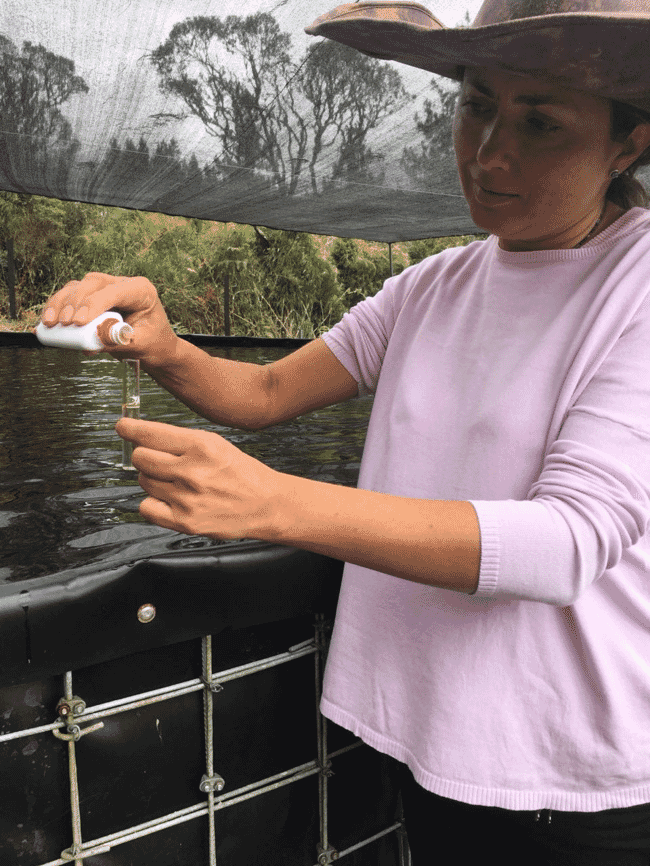 I find the world of aquaculture fascinating, and why not? It's a great industry. We started our company by learning from and accompanying neighbouring farmers. I was tasked with the challenge of creating a company that, one day, would be self-sustained. I have been working passionately for the past two years, and not a day goes by when I don't learn something that I can use to improve and develop our small company. In a few months from now, we will be producing 3.5 tonnes of trout a month. For now, our farm has three recirculating aquaculture systems (RAS) with nine water tanks and six contain fish.
I am actually a registered nurse and certified as a personal and business coach, but now I'm doing something I never thought I would be doing. It's challenging, crazy and daring! My husband and I found that the crystalline waters originating in our area were perfect for cultivating trout, a fish that is traditionally grown and eaten in our region, and things went from there.
What inspired you to start in aquaculture?
Once I decided to grow trout, I did some further research, which enlightened me to the opportunities that the aquaculture industry has. Colombia has all the geographical conditions and water resources needed to develop this business. The government of Colombia is also supporting the aquaculture sector with credit facilities and some tax benefits. Our house is not far from Bogotá, where people traditionally farm trout. This has inspired me to see other kinds of production and I've got to know this wonderful world through the curiosity it generates in me. I also have a certification in Fundamentals in Bio-integrated Recirculation Systems from the Nueva Granada Military University.
You're a registered nurse and coach, but are now running a trout farm. How was it making the transition between two very different fields?
The transition has been huge in that I've had to adapt to an entirely new business. I guess I've also had to change my way of thinking when it comes to business as I'm now in a completely different field but it's been a positive transition. I can focus more and more on a profession that I really enjoy and dedicate my time to that.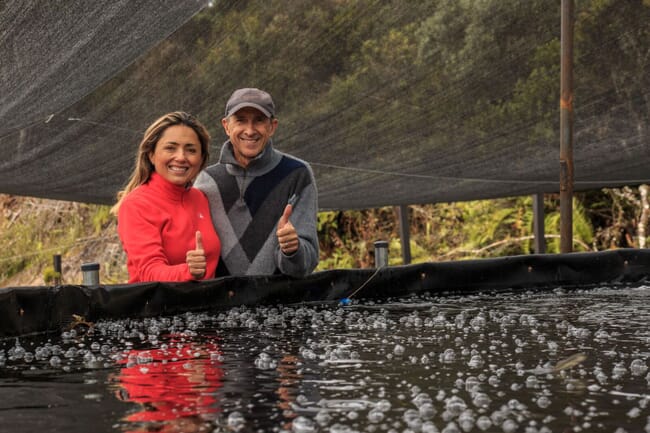 Describe a typical day in your current role
As general manager, I am in charge of personnel selection, obtaining licenses, looking for the best alevins to rear, choosing the right feed for the trout and overseeing the entire rearing process until the trout have reached market size, can be taken out of our tanks and on to the local village. I also deliver to gourmet restaurants in Bogotá. Early in the morning, I spend time on the phone getting details on the weather and water conditions from the farm, to ensure that we have the appropriate parameters in place for the fish. I also enjoy reading about aquaculture and do this during the day as well. I would like to improve my own training and share my knowledge with people in our region who, for years, have developed trout culture in a very traditional way. I hope that the knowledge I gain can help their products become more profitable.
How does a day in the life of a trout farmer vary from a day in the corporate pharmaceutical industry?
They've very different. For one thing, I've had to learn from working in offices indoors to working outdoors in the field! That's been another experience all together, and I've also had to adapt to new standards of communication and relationship management. Looking for regulatory approvals and knowing the market to generate commercial strategies in trout farming...this is something different and it keeps me busy, but I enjoy it a lot. I would also say that my corporate experience has helped me to work with a more entrepreneurial focus.
What's the most interesting experience you've had working in aquaculture to date?
Knowing that we can improve production in aquaculture and find new alternatives to feed fish in a more organic way. This is fascinating, and makes me want to strengthen and improve my knowledge in the subject. I know friends who have developed very successful companies and managed to impact the lives of their collaborators in a very positive way. This is inspiring. I, too, would like to leave a legacy in the area that I am contributing towards. In my corporate life, I found men and women with impeccable careers and from them I learned a lot. They, too, were an inspiration..

How important are sustainability concerns to you and how do you address them in your work?
Sustainability is one of our core values. We respect water, its power and its value. We also want to ensure that our company works with the environment and manages waste in a responsible way. We take care to integrate the local people, since they are the ones who have taken us to where we are now. We are actually in the process of implementing best practices in aquaculture so we can obtain a certification as soon as possible.
What innovation do you think has the most potential to change aquaculture?
In the area of production, I believe bigger and more effective production methods, alternative fish feeds, and the prevention and control of disease all have potential. Going forward, we will need bigger and more effective forms of these.
Are there any individuals or organisations in aquaculture who you've found particularly inspirational?
Since I started my new career, I have been actively following the Global Aquaculture Alliance, as well as other national and international pages, to keep up to date with the latest developments. I attended GOAL 2018 this year in Guayaquil and many things were extremely inspiring and motivating such as the level of the speakers and the agenda. I am very grateful to GAA.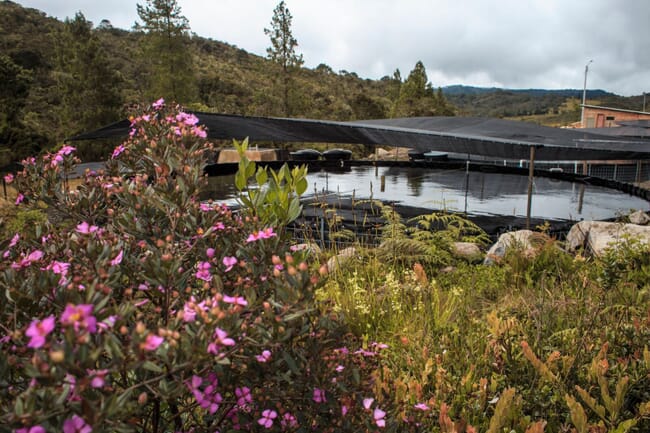 Have you faced any particular challenges as a woman in aquaculture?
Yes. Coming from a corporate culture in the pharmaceutical industry to the aquaculture industry has been hard, as there is a huge gap between the two. People look at me and they are sometimes distrustful. They also don't even understand the term aquaculture, so I have a lot of work ahead to promote myself, and aquaculture as a responsible, healthy way of obtaining fish as a food source.
What advice would you give to women looking to start a career in the aquaculture sector?
Go for it and don't stop. Aquaculture is an industry with magnificent possibilities for commercial and professional growth. It also needs more talent!
What would be your dream role in aquaculture and do you think it's realistic to achieve?
I would like to be an entrepreneurship coach and accompany women who want to start their career in aquaculture, help them to achieve their goals. My other dream is to become a leader in Colombia's aquaculture for the rest of the world. I want to grow in the business, and I am also going to apply for the Hatch Blue Business Accelerator Program to learn from those who know the most about aquaculture.
What has been the aquaculture industry's greatest accomplishment in recent years?
From the perspective of my country, I see how Colombia is encouraging more people to enter this sector, especially in the field of tilapia cultivation. In trout there are many possibilities as well. The Ministry of Agriculture and the National Authority of Aquaculture and Fisheries (Autoridad Nacional de Acuicultura y Pesca or AUNAP) of Colombia have drawn up a national plan for the development of sustainable aquaculture, which is very encouraging.
It's been a year since Trout Managers SAS was established. How do you see the company evolving in the years to come?
The company was established in December 2017, and now I have a vision for it as a model of sustainable entrepreneurship that can generate an income and support local communities through employment and training. I'm confident that things will evolve. I hope to be exporting my products by 2020, and to know even more about managing trout culture, to offer different products in different market segments and increase trout consumption.