Women in aquaculture: Linn Therese Skår Hosteland
Linn Therese Skår Hosteland grew up helping her family produce salmon, cod and halibut on a farm in western Norway. Despite wanting to escape the sector at 15, she has no regrets at returning in 2014 – first as a journalist, most recently as communications officer for the Norwegian coastal shipowners' trade organisation Kystrederiene.
What are your earliest memories of growing up on a fish farm?
My dad applied for his first fish farming licence when he was 16, when my mother was pregnant with me. He started off farming salmon, then established his own company and switched to halibut for a while, before moving into cod following the spike in the price of wild-caught cod, but the cod company went bankrupt in 2011. My family always liked to try the new stuff, and it didn't always go well. We've all learned a lot over the years.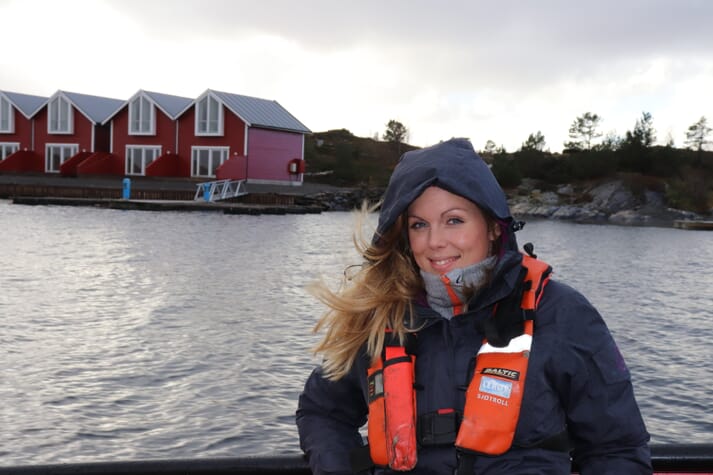 My earliest memories from the farm are me and my brother walking around in life jackets on the site and swimming in the cages when the site was being fallowed. I also remember my little brother loving to eat fish feed. I never had the taste for it.
I also remember fishing on the site. My parents were working the whole time, so we had to entertain ourselves and we could catch wolfish, cod – all sorts of species that loved spending time around the farm.
What jobs did you take part in on the farm when you were growing up?
On a normal day you started working at between 7 and 8am. You got back home around 4pm, had dinner, went back out again at 5 or 6pm then got home again at 9 or 10pm – so it was a lot of work. And because it was a family company, everyone had to put in an effort: my mum worked there, my uncle worked there, my brother worked there – we did everything from handling dead fish, to feeding, cleaning the nets, grading fish, vaccinating. I didn't slaughter fish, though – that was always done in the slaughterhouse after they'd been collected by the wellboats.
What were the worst jobs on the farm?
The worst job was mixing the acid with the dead fish, you end up with this mass that smells horribly and we used to make jokes about "making soup". Some people almost vomited from the smell.
Why did you decide to leave fish farming behind?
When you grow up with fish, all is about fish and your parents work in fish all the time, you eventually need something else in your life, so I left to study media and communications and journalism.
And why did you decide to return to the sector?
When you've been away for a while you return with a fresh perspective and it made me appreciate how fish farming is so important all along the coast of Norway. And I realised that I actually love this industry.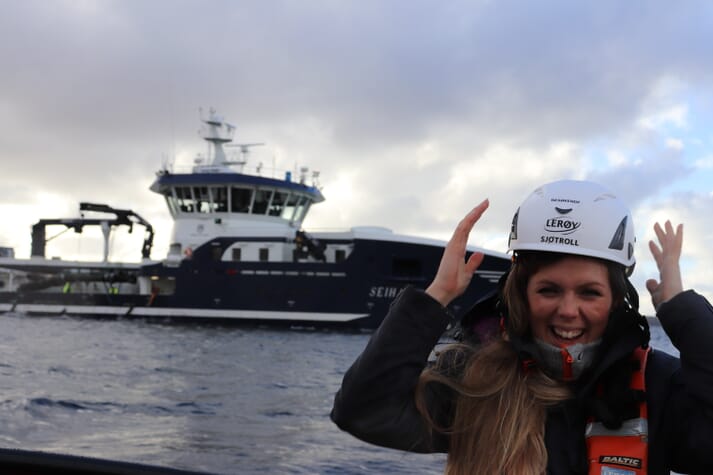 How has the industry evolved since you first started?
Life for most people in the sector now is very different from working on a family-run farm, when everyone was working all the time and constantly tired. Also technology has evolved, making it easier, in a practical way, to farm today than it was back then – we'd used steel cages rather than circular plastic ones, and the cages and nets were much smaller than they are today. We'd also hand feed the fish initially; then we moved on to semi-automatic feed blowers; now you have silos and feed barges. The volumes we were producing were much lower too.
Some things, however, have changed less than people might expect. Back then – in the early '90s – we actually used wrasse as cleaner fish in the cages, because we knew they had an appetite for sea lice. However, we didn't know how to utilise them as effectively as we do today and we stopped because they were damaging the fish, sometimes even taking out their eyes.
Another interesting thing was that we actually had cameras in our cages at the time. I remember when I came back to the industry in 2014 everyone was really proud that they were filming what was happening in the cages – in my experience we'd been doing it forever.
But you shied away from actually producing fish?
I think I've produced enough fish – tonnes of fish, hundreds and thousands of fish, different kinds of fish – over the years. I like spending a day, or a week, at the farm but I've had my share of doing it day-in, day-out.
What are the most memorable experiences you've had in aquaculture over the years?
We had loads of problems with German trespassers fishing for cod in our cages by night when no one was at the farm. Fishing in the nets can lead to escapes. We couldn't risk that, so we got at Rottweiler with the purpose of looking after the fish and scare the intruders away when we weren't there. His name was Napoleon. I don't know how many nights he spent on the farm, but it wasn't many. He was such a nice dog, and we loved him so much, so we let him spend the nights at home in the house instead. He did of course go to work at the farm as a part of our family and looked after both humans and fish every day.
I also remember when we hired Scottish companies to come over to vaccinate the fish. They were working 12-hour shifts, listening to techno music and I remember thinking that they were completely insane. The fish, the setting, the music – it was very surreal.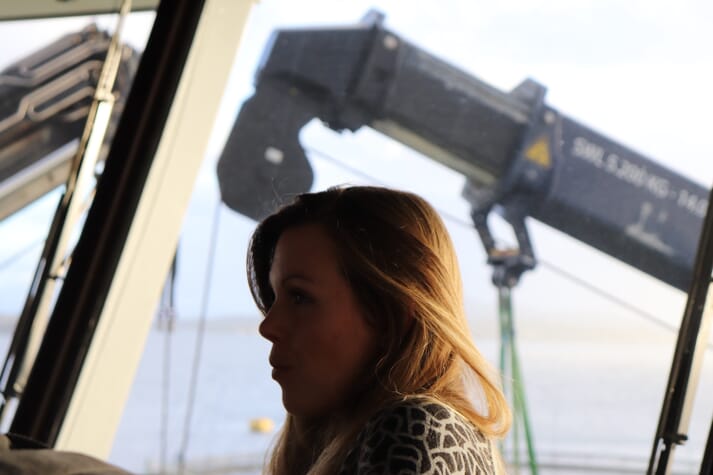 What did five years writing about the industry teach you?
Writing for https://www.kyst.no/ and Norsk Fiskeoppdrett gave me a unique insight into the Norwegian salmon farming industry. As a journalist I've met so many people in different roles it has given me the impression that there are so many different ideas out there on how to reduce fish handling and make the industry more sustainable. But because of the regulations here today it can be really hard to implement them.
Who's the most inspirational figure you've encountered in the sector?
My dad. He never gives up and he doesn't go for the easy option. He's always prepared to innovate and is still in the sector, currently farming wrasse for Marine Harvest.
What advice would you give to women looking to start a career in aquaculture?
That you really have to want to do it. Producing fish is hard work, even though the technology has developed, and normally in Norway you're on site for 12 days straight followed by nine days off. The trend I see is that while younger women can do this, when they have kids they tend to go elsewhere. In slaughterhouses and hatcheries, it's easier to combine a day-to-day job and a family.
Marketing, fish health and science are also big and exciting parts of the industry with lots of possibilities. If you have a heart for the industry, as a woman you can succeed big time.
What would be your dream role in aquaculture and do you think it's realistic to achieve?
I think that keeping the industry alive is what I want to do, so what I'm doing today – keeping the aquaculture fleet aligned to regulations – is an important part of it.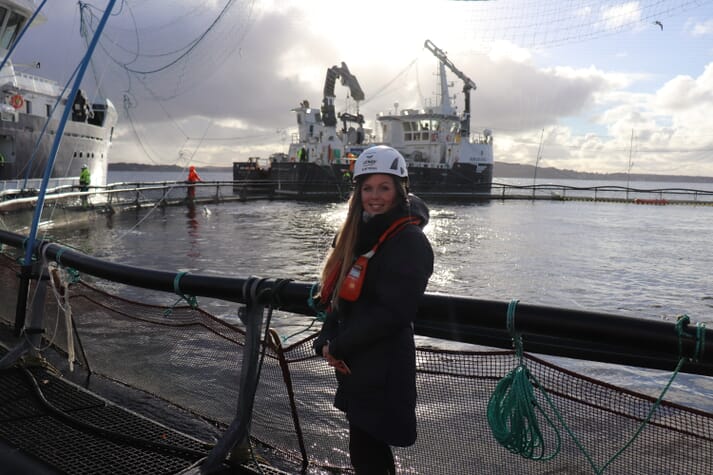 What does your current role involve?
In my current job, for Kystrederiene, I'm working with framing conditions for the industry, governmental communication, politics, environmental issues, marketing and industry operations, mostly in aqua shipping. From an aquaculture perspective this includes the wellboat association and all vessels operating on the fish farms themselves. We're looking to standardise procedures on boats, educate the crews and formulate political guidelines, and I'm also involved in communications and marketing – it's a wide remit.
How does dealing with politicians and bureaucrats on a daily basis compare to interacting with farmers?
I'm still quite new to the role and it's so different, so I have to be very humble, very careful and watch my steps – I'm representing 120 companies and their interests. It's good to work with the politicians and see how they regulate the industry, but I also think it's really important to be close to the industry, so that you can help the companies to thrive.
Do you think politicians in Norway should be doing more to support the sector?
I think it's hard to get politicians to support anything. What they really do, in Norway at least, is to regulate all the industry activity in all areas and they need to make it work together. It's more about formulating regulations that improve how the industry works.
Can you think of any particular ways to improve fish farming?
I don't know the best way of doing it, but we need to reduce the amount of handling the fish experience – that would be my first priority. One way of doing this could be to change the sea lice limits that we have in Norway [the average must be kept down to less than 0.5 adult females per fish] because to achieve this requires the fish to be regularly handled.
The second thing I'd focus on would be to change the regulations in a way that allowed the smaller fish farming companies to keep operating – too many of the smaller companies in recent years have been bought out by the larger ones because of the restrictive nature of, and expense of adhering to, the current regulations.
What are the most exciting developments in aqua shipping?
Many of our members are taking part in developing technology for fish handling that doesn't stress the fish. Good fish health is the main focus in the industry. Also, systems and routines to reduce the risk of infection from sea lice, viruses and bacteria are crucial for both boats and farmers.
We, and our members, are also working to reduce pollution – both in new boats and in existing ones that are being redeveloped. The new farming systems, like Ocean Farm, that are arising in the wake of the development licence initiative may also mean the boats need to adapt in the future too.