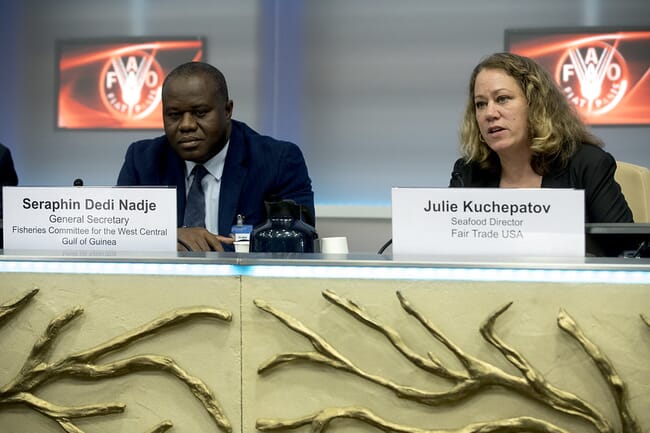 What drew you to pursue a career in seafood?

I came about a career in sustainable seafood in a very untraditional way. I'm not a diver, nor a marine biologist, but my entire career has been focused on promoting the environmental sustainability and social responsibility in fisheries and seafood production.
I started learning the Russian language in high school in the US – it was around the time when Gorbachev, then Chairman of the Soviet Union, instituted his policy of Glasnost, a policy of openness and transparency. I earned my bachelor's degree in Russian and French and tried everything I could to get to Russia after graduation. Eventually, I was hired to be part of a team running one of the most amazing wild Atlantic salmon fly-fishing lodges, on the Ponoi River, on the Kola Peninsula in the Russian Arctic.
Wild Atlantic salmon are very special fish, as they spawn multiple times over the course of several years, so we instituted a monitoring programme to better understand their unique lifecycle in collaboration with McGill University and the regional Russian fisheries institute. During my 13 years there, I learned a lot about fisheries, fish biology and conservation, and this knowledge became the foundation upon which I built my career.
What does a typical day in your current role consist of?

The great thing about being an entrepreneur is that my day is never the same. Typically, I do the same thing everyone does – check emails, call people for various reasons, and attend zoom meetings and webinars. I write a lot – grant proposals, articles, newsletters, social media posts – so the majority of my day is dedicated to writing and reading. It's important to me to keep up with the latest research and news in our sector. I also have two children, so I'm a full-time mother as well.
Can you tell us a little about SAGE?
After 13 years on the Ponoi River, I returned to the States, earned my master's degree in communications and really tried to escape the fish business. However, the pull is strong, as we all know! I started to work at the Wild Salmon Center, engaging Russian commercial salmon companies in sustainability initiatives. Initially, we worked towards getting fisheries into Marine Stewardship Council (MSC) certification, and when Fishery Improvement Projects (FIPs) became a thing, we worked on those as well. We transitioned the Sustainable Fisheries programme out of the Wild Salmon Center and founded Ocean Outcomes (O2) in order to expand our scope, both geographically and in terms of species. Eventually, I realised that I wanted to be more involved in ensuring social responsibility in fisheries, as well as environmental sustainability, and was fortunate enough to land a position at Fair Trade USA, as the director of the seafood programme, for four years, which ended in May 2020. One of my greatest achievements at Fair Trade was the decision to create an aquaculture programme to complement the existing capture fisheries programme, making it a true seafood programme. Aquaculture is so important, and I am proud that we launched the aquaculture programme during my tenure and it's still going strong to this day.
SAGE, which stands for Seafood and Gender Equality, was born out of necessity. A necessity for me to build my own path and continue to provide value to an industry that has given me so much and a desire to use my skills to support the fantastic existing efforts around building gender equality and women's empowerment in global seafood production, a much-neglected area of our attention. SAGE's mission is to uplift, amplify, and integrate diverse women's voices in global seafood production and the seafood community. We achieve our mission through education, advocacy and communication.
How has the initiative been received so far?
I cannot overstate how positively SAGE has been received. I have received countless emails, calls, and messages from people working in all facets of seafood wishing me well, asking how to help, and telling me their own stories, some of them quite harrowing. This support has definitely uplifted me and let me know that all my days, and sometimes nights, alone at my kitchen table planning for SAGE have not been in vain. I'm truly touched by all the support I've received from everyone.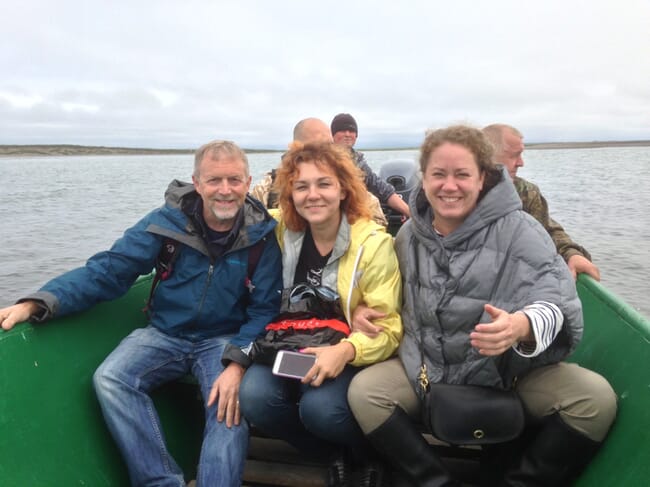 Have you encountered any gender-related challenges in the seafood sector?
Yes, of course. Many women experience gender-related challenges in this male-dominated industry. I've worked on the ground in countries where machismo is a cultural norm. The organization Women in Marine Science recently reported that 50 percent of women in science report sexual harassment and gender-based violence, and harassment of all forms in the field is unfortunately common.
Are there any individuals or organisations in seafood that you've found particularly inspirational?
Jennifer Bushman and I have worked together a lot. She is an incredible advocate for aquaculture and sustainable seafood. Her knowledge and passion are contagious. I'm extremely impressed with Katie Maximick from Grieg Seafood and her advocacy for herself and her colleagues working in the BC farming industry, as a response to the extreme cyber-bullying the women have endured online.
Crystal Johnson and Tanja Hoel from Hatch, the global catalyst for aquaculture and alternative seafood innovation, have been extremely supportive of SAGE and I hope someday to collaborate with them. Meryl Williams, chair of the First Executive Committee of GenderAquaFish, and Marie Christine Monfort of International Organization of Women in the Seafood Industry, are the pioneers of gender equality in global seafood production and a wealth of information. They have been so welcoming and generous with their time and advice.
Finally, the great team at the Asian Seafood Improvement Collaborative (ASIC) and their locally-led process for developing their social and gender standards for fisheries and aquaculture. I think their collaborative approach is fantastic and hope to see similar efforts arise in the future. (Full disclosure, I'm on the ASIC Social Standards Steering Committee).
What advice would you give to women who are considering joining the seafood sector?
I would say, "we need you!" This is an incredible industry and there is a lot of growth and innovation happening right now, especially in the aquaculture sector. It's exciting. I would encourage them to keep going and keep their eyes out for opportunities for growth, as there are a lot of them. I know there are a lot of dedicated and passionate people trying to spur the evolution of the sector to be more equal, diverse, and inclusive and, someday, I know it will happen. Finally, the perks are amazing – seafood, travel, ocean, beaches and great experiences with great people.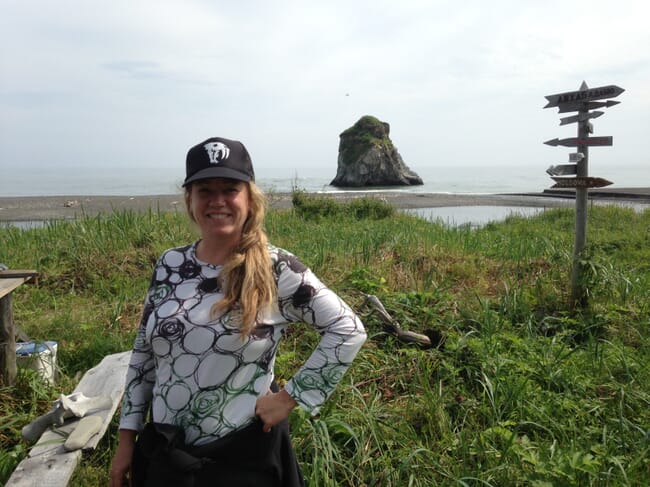 What's the most unusual experience you've had in the sector?
My time in Russia was full of incredible experiences – I could write a book about it! One particular experience comes to mind. I worked with a fisherman on Sakhalin Island in the Russian Far East, who told me this story. An adjacent fishery called him to urgently come over and help them. IUU (illegal, unreported, unregulated, fishing), also known simply as poaching, is a very common practice in a lot of fisheries and this fishery was no exception. The previous year, a group of poachers came and put a net in the river. They pulled out all the salmon from the net and stripped the roe-carrying females of all their roe. Roe is a high-value product and much easier to transport from remote locations. They decided to "destroy" the evidence and dug a huge hole, dumped the fish, and left them to rot. A year later, the fish in the hole were gone and a tractor driver ran right over the hole and fell in, tractor and all. Thankfully he was ok.
If you could solve one issue in the aquaculture sector what would it be?
This is a great question, but also difficult to answer because, as in any system, you can't just fix one problem as they are all interconnected. Statistics from FAO show that 70 percent of people involved in aquaculture production are women. This is significantly more than the number of women you find actively participating in fisheries (not including pre- and post-harvest activities, where women are most active). I urge the sector to think about women and include them in decision-making processes every time there is a discussion to site a farm, implement a project, or conduct research. Women are generally left out of decision-making. By including women, we acknowledge and can incorporate their vast experience, knowledge and skills to effectively address the particular challenges they face because they are women.
What would you like to be doing in 10 years' time?
I think this is the most difficult question to answer, honestly, but I appreciate it because it invites me to think about the extended future, which has been difficult to do during our lengthy lockdown due to the global pandemic. In 10 years, I hope to finally own my own home. I would like to attain SAGE's goal – by 2030, gender equality is achieved in at least 75 percent of global seafood production and the seafood industry – and put SAGE out of business. Aspirational? Yes! Attainable? Also, yes!