Briefly describe your aquaculture career
I was introduced to aquaculture in 2009 while in graduate school at the University of Victoria on Vancouver Island. My doctoral research focused on the immunological response of salmon to sea lice infections, and so aside from the lab work I had lots of opportunity to collaborate with salmon farming companies and meet lots of people involved in the industry. It was all very interesting and exciting.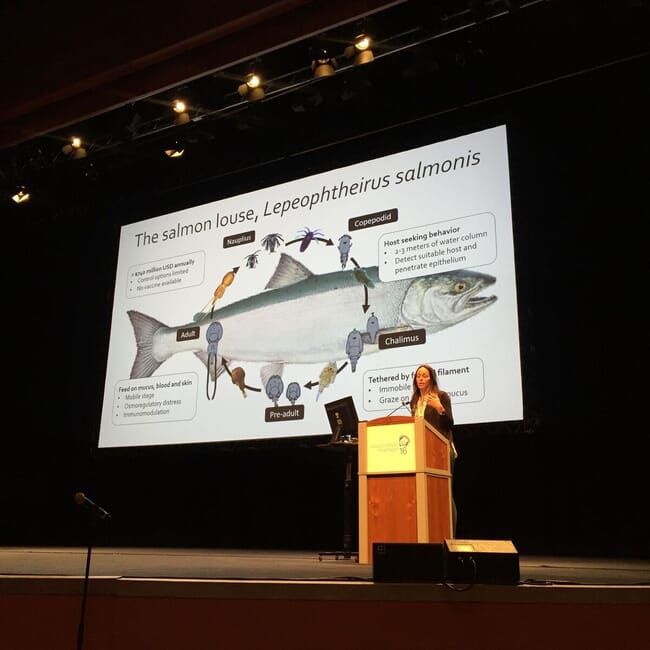 After completing my PhD, I was recruited for a post-doctoral position at the Atlantic Veterinary College, University of Prince Edward Island (AVC) where I continued studying aquatic-animal health, including resistance to sea lice. After two-and-a-half years there, I took a position as a research scientist at AquaBounty, a biotechnology company focused on developing innovative solutions to increase aquaculture productivity. However, maintaining a connection with academia is very important for me, so I still collaborate extensively with my old lab, and am currently applying for adjunct status at the AVC.
What inspired you to start in aquaculture?
That's a long story! All my life I was planning to go to medical school but during a summer research position, I became hooked on salmon farming. British Columbia has been, and still is, a contentious environment when it comes to farming salmon in the sea. As a result, there is a huge demand for research to answer the many questions that have arisen over the years.
The effect of salmon lice on wild salmon and the potential for negative interactions between farmed and wild salmon piqued my interest. Going to UVic to investigate this problem was the best decision I ever made. Mind you, winning a prestigious CA$100,000 Alexander Graham Bell Graduate Scholarship from the Natural Sciences and Engineering Research Council of Canada (NSERC) helped too.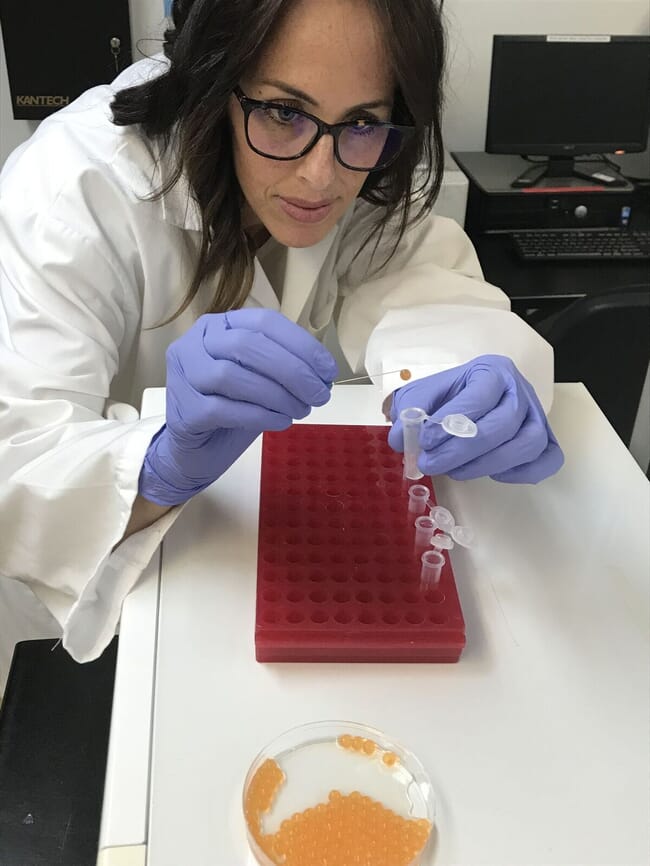 I quickly realised how desperately the aquaculture industry needed more science to drive sustainable progress, and I was excited to be a part of it. I was immediately entrenched in the industry and one thing became extremely clear: there was a massive amount of misinformation about (and misrepresentation of) the aquaculture industry in BC, largely circulated by environmental NGOs. I found it astounding. The more I learned about salmon farming, the more I realised how important this industry was, and felt it was my duty as a researcher in the field to educate the public on the truths of aquaculture.
What do you think is the most effective way to raise public awareness of aquaculture?
I think the number one thing that the industry needs to do on this front is gain the public's trust. The industry can publish pretty infographics and factsheets about sustainability and innovations, but until the public actually trusts the sources of this information, then what is being said will largely be reaching deaf ears. There is already a pretty good start with this in Canada, although I feel there is still a long way to go. Public acceptance and approval will improve as the industry continues to gain the trust of people.
Describe a typical day in your current role
Being a research scientist at a biotech company like AquaBounty is very different from my last position as a post-doc researcher in academia. There are pros and cons of working in industry, but I am really excited to have joined this company.
Bioengineering holds limitless potential for improving aquaculture and with AquaBounty I have the opportunity to develop new and exciting innovations using this powerful technology. I'm more of a hands-on scientist, but a lot of times I'm writing funding proposals, study reports, or manuscripts for publication. However, whenever possible, I'm in the lab doing the fun stuff – science!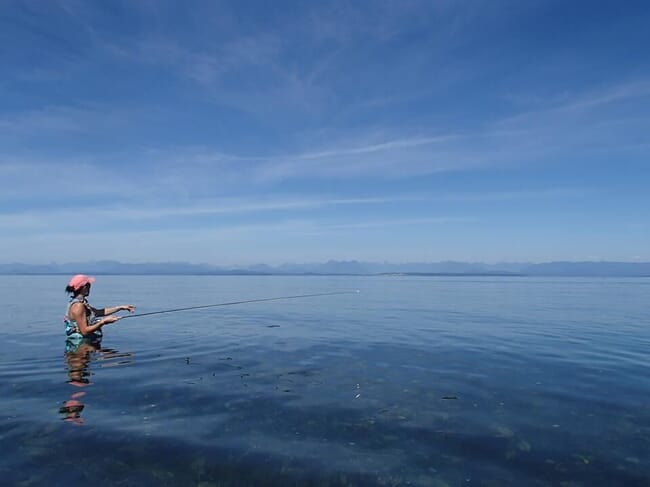 What's the most interesting experience you've had working in aquaculture to date?
There are quite a few that stand out, but this particular experience is a bit different. In addition to research, I also used to be the Canadian correspondent for Fish Farming Expert, a UK-based aquaculture publication.
For anyone who has followed the BC salmon farming scene for any length of time, it's obvious that there is a group of activists with a mission (and substantial funding) to shut down the salmon farming industry. In one of their attempts to smear the industry, they teamed up with the eco-activist Sea Shepherd society and sailed along the coast of Vancouver Island, trying to prove that salmon farmers were stocking their pens with diseased fish. This publicity stunt showed little concern for the safety of both farmers and their fish. The activists would go from farm to farm, sticking underwater cameras in the pens without any form of biosecurity.
It was egregious behaviour, yet nobody was doing anything to protect the farmers. I couldn't allow that to happen without saying something – so I wrote a few articles telling the truth about what they were doing. That summer I was told that my articles were extremely appreciated by the industry's employees – it made them feel like they had a voice when they were handcuffed to silence. That was a pretty good feeling!
How important are sustainability concerns to you and how do you address them in your work?
I'm passionate about aquaculture. I strongly believe that it is the only way forward to increase global food production and food security. But more important to me, as a lover of the marine aquatic ecosystem, is the protection and preservation of the ocean environment. What is abundantly clear is that wild fish stocks cannot sustain the world's appetite for seafood. The only way for us to continue to eat fish is to farm it, and the impetus is on us to do so in the most sustainable way possible. This has to be driven by science-based decision-making and innovation – there's no other way.
My research is centred around this tenet – improving sustainability in aquaculture. For example, I now work at a company that has bioengineered a salmon to grow to market size in half the time of a conventional farmed salmon. It does so using less feed, with a better feed conversion, and is farmed on land. The global demand for farmed fish is huge, and we need to have as many tools as possible in our tool-belt to satisfy this demand. This particular tool will enable, for the first time, large-scale land-based Atlantic salmon aquaculture to be economically feasible and affordable for the consumer in the most sustainable way. This is just one example, but it is so exciting.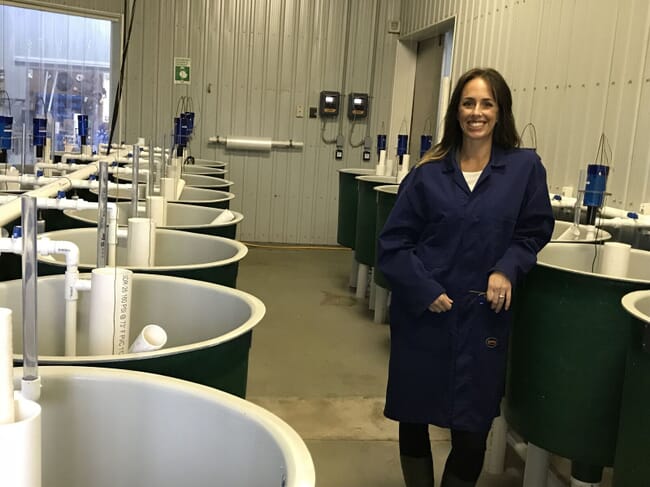 What innovation do you think has the most potential to change aquaculture?
There is no doubt in my mind that biotechnology has the power to revolutionise how we grow food on this planet. Regarding aquaculture, the potential is infinite. Just as aquaculture has been poorly represented to the public, the new tools of bioengineering have been equally misrepresented. In fact, these new tools are what we will need most as we try to deal with an increasingly unpredictable climate and to feed a growing global population, projected to reach almost 10 billion by mid-century.
Many problems associated with contemporary salmon farming could be mitigated or completely reversed using bioengineering technologies. Escapees breeding with wild populations? We can use gene editing to sterilise fish with 100 percent efficacy. Problem solved. Pathogens like ISA [infectious salmon anaemia] or sea lice spreading to farms, causing tremendous losses? We can use molecular genetics to determine resistance factors and then use gene editing to give farmed stocks extra defence against the disease. Problem solved. The list is endless, and the potential limitless. We need to educate the public about the benefits of bioengineering, just as we have been doing about benefits of aquaculture technologies. The polarised climate surrounding bioengineering will slowly ebb as people learn there is nothing to be afraid of. In time, I think, the public will embrace it, especially when they see the benefits.
Are there any individuals or organisations in aquaculture who you've found particularly inspirational?
During my PhD research in BC, I was very lucky to work with several individuals from salmon farming companies. This is by no way meant to be a plug for the industry, but I think it is important to recognise excellence in the sector, and for me, they were extremely open to collaboration and willing to help me whenever I needed it. Researching sea lice can be challenging because you need a source of lice year-round and sampling from wild stocks could only occur in the autumn when the wild fish were migrating back along the coast. So, at the drop of a hat, I was able to join the crews on harvest boats to collect lice for my studies. I often left empty-handed, but they made a real effort to get some lice for me. Sometimes farm employees would help me dig through the collection nets or help me pick lice off the fish. I grew very fond of the First Nation harvest boat crews and the farm employees who always greeted me with a smile. We are lucky in BC to have such great cooperation with the farming companies – I know this isn't the same everywhere, and I think that they should be commended for their exceptional dedication to improving their industry. Collaborating with researchers is just one way, but nonetheless, I cannot say enough about them.
Have you faced any particular challenges as a woman in aquaculture?
I've more experience with challenges in the science sector, and there is no denying that young female scientists are treated differently than young male scientists. I have known this ever since I started graduate school. It was obvious to me that young men would receive a bit more respect than young women at conferences or meetings, and there are many more men holding high scientific positions than women.
I've had several experiences with older men in science where I was not given very much respect, despite my expertise in what we were discussing. I find it is pretty common to experience "mansplaining" in my line of work, and it is a challenge to maintain a cool head, as it is very patronising. Fortunately, I do feel that this has diminished over the last few years, and there are more and more women studying aquatic animal health and involved in aquaculture research, which is so fantastic to see.
What would be your dream role in aquaculture and do you think it's realistic to achieve?
My dream job would be to straddle the academic and industry sectors and work with local research labs to continue developing innovative solutions. On Prince Edward Island, we are pretty lucky to have many different research and biotechnology facilities. Already there are world-leading labs heavily invested in helping solve problems affecting the industry, such as diseases and nutrition optimisation. With my current role, I have the potential to apply exciting developments from research studies in the lab to real-world applications in the field.
What outstanding challenge would you most like to solve?
Public perception. There are many challenges facing the salmon farming industry, but an important one is changing public perceptions. I think the onus is on us, the people working in the industry, to share our passion for what we do with the wider community so that they can understand what we do and why.