Briefly describe your aquaculture career
I studied veterinary medicine at university, leaving in 2003 for a job with Aquatec Aquacultura Ltda, Brazil's largest shrimp hatchery. I also took a master's degree in shrimp diseases caused by intracellular bacteria (NHPB). In 2008, I moved to Australia and worked in research institutes such as JCU, DEEDI-DPI in Queensland and the Australian Institute of Marine Science (AIMS). At JCU, I was a demonstrator in veterinary parasitology and a research assistant in aquaculture genetics. I also became fascinated by barramundi (Asian sea bass) and the challenges faced in farming them, so at the end of 2013 I started a PhD in developing new tools for the early detection of ciliate parasites in farmed barramundi in tropical Australia.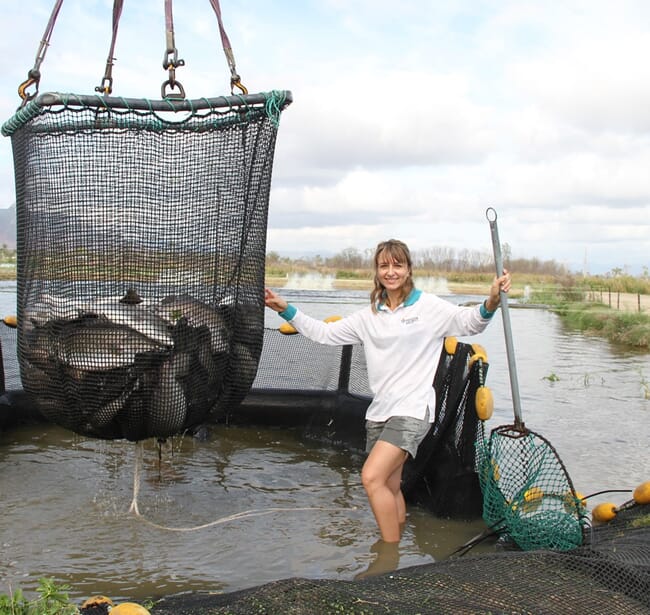 This work led me to develop an assay to detect and quantify parasites involving a hand-held device attached to a mobile phone using eDNA methodology. I also started working with The Fish Vet and learned more about Australia's aquaculture industries. Now I've finished my PhD and am interning at The Yield.
What inspired you to start in aquaculture?
When I started working at Aquatec I had no experience and very limited knowledge of aquaculture but learned a lot in my first few months and fell in love with the industry. I became a veterinarian responsible for the health of Aquatec animals, and realised that not many veterinarians had experience in aquaculture. I saw an opportunity to work in an industry that was, and still is, growing rapidly and constantly being challenged by disease.
What's the most interesting experience you've had working in aquaculture to date?
The import of SPF shrimp from Hawaii to Brazil. In 2007, Aquatec's owners opened Brazil's first SPF shrimp laboratory, called Genearch Aquacultura Ltda. I was the veterinarian responsible for the entire importation process. I established biosecurity protocols and procedures for importation, complied documentation attesting that the animals were free from pathogens, monitored health and mortalities, conducted diagnostic tests, monitored water quality, reported to the Brazilian Agriculture Department on biosecurity strategies to comply with international standards… It was a remarkable experience.
What's the most unusual experience you've had in aquaculture?
Working on artificial insemination, in particular with the Pacific whiteleg shrimp, at Aquatec. Not many people in this industry have this opportunity as it's quite a specialised technique and requires training by someone with outstanding experience.
What new technical or product innovation do you think has the most potential to change aquaculture?
The introduction of insect meal as a potential source of protein. Feed is one of aquaculture's biggest expenses, and unfortunately still relies on wild fish catches. Insect meal can tackle two serious problems - food waste and unsustainable fishing for feed production. Most insects in insect meal, such as black soldier fly, feed on food waste. They can help degrade that waste and become an important source of protein. This is the future of the aquaculture feed industry and it will change the industry for the better.
Another area that could completely change aquaculture is environmental sensing technology using data analytics for predictions. Most diseases in aquaculture are triggered by changes in environmental conditions, such as temperature, salinity and oxygen. Predicting environmental changes and the risk of disease through data analytics will change how we manage aquaculture farms and help the industry move forward sustainably.
Describe your work in detecting parasites through eDNA methodology.
Diagnosing pathogens in aquaculture facilities relies on traditional techniques such as histopathology, PCR or microbiology, which can only be performed in well-equipped laboratories that are far from farms and hatcheries. Farms tend to be in remote areas and when results come back, it is often too late. The idea behind my work was to detect and quantify parasites in the water before animals become infected, as our research had demonstrated that increased parasite eDNA levels were found to be highly correlated with the occurrence of later fish mortality.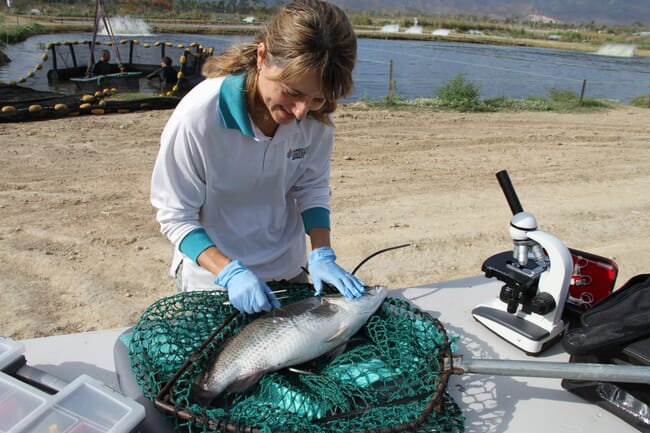 There is a real need for new, simpler, portable devices that can quickly detect and quantify pathogens on site to help the aquaculture industry move forward. Recently, I completed a project funded by the Australian Department of Agriculture and Water Resources and the Fisheries Research Development Corporationto develop an assay for the detection of Cryptocaryon irritans (marine white spot) in water from fish farms using a handheld qPCR machine coupled with a mobile phone from Biomeme. The results were amazing, and I believe there is great potential for further development and commercialisation.
Are there any individuals or organisations in aquaculture you've found particularly inspirational?
Ana Carolina de Barros Guerrelhas is the founder and managing director of Aquatec and Genearch Aquacultura Ltda. She's been an amazing inspiration. She's a strong, determined leader who has played an important role in developing and advancing shrimp aquaculture in Brazil. I worked closely with her and am really grateful for the opportunity. Her passion for this industry is one reason I decided to continue working in aquaculture.
Have you faced any particular challenges as a woman in aquaculture?
I've been lucky in that I haven't been directly affected by anything specifically related to gender inequality during my career. But sometimes it's clear that being a female in a male-dominated industry is not always well accepted, especially in leadership positions.
How are women addressing inequalities in aquaculture in your region, and have you seen the opportunities improve in recent years?
A lot more women work in aquaculture now compared to 10 years ago. But their positions are not in leadership, but rather in the technical and administration side. There is still a long way to go before gender inequality in aquaculture will no longer be an issue. The increasing participation and empowerment of women in science needs to be recognised. Doing so will lead to important gains in areas such as social welfare and economic output. Women also need to be involved in all aspects of science, including leadership and research.
What advice would you give to women looking to start a career in the aquaculture sector?
Aquaculture is an amazing industry with many opportunities to build a career. There is so much to learn. It's also transforming quickly and constantly. If you love challenges and want to make a difference in global food-security issues, prepare yourself, study hard and join us!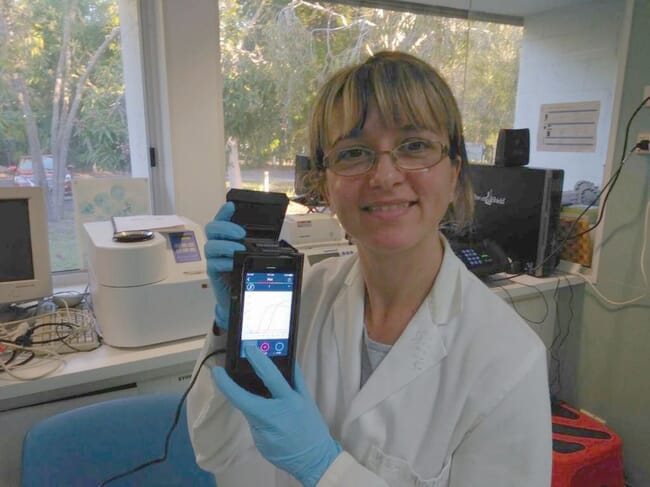 What would be your dream role in aquaculture and do you think it's realistic to achieve?
It would be a leadership position in aquatic animal health or biosecurity, either in academia or in an industry R&D position. I'd like to look back and know that I inspired people to pursue a career in aquaculture and made a positive difference towards easing the global food-security crisis. I believe these are achievable and that's what I have been working and studying for.
What has been the aquaculture industry's greatest accomplishment in recent years?
The fact that aquaculture has overtaken beef production, and that globally people are eating more fish. That's a big gain for aquaculture.
What outstanding challenge would you most like to solve?
It has to be disease outbreaks. My entire career has had a strong focus on aquatic-animal health management, partly because of my background as a vet but also because disease in aquaculture is a huge issue that limits the continued growth of this industry. I want to continue to be working with companies that are developing projects to address disease problems and moving aquaculture forward.
To find out more about Dr Gomes and her work, contact her directly at giana.bastosgomes@my.jcu.edu.au