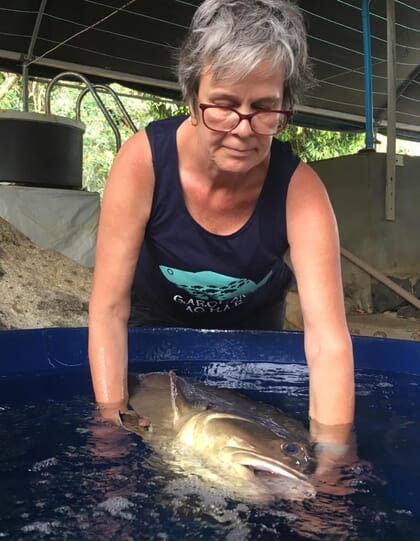 Can you briefly describe your aquaculture career?
I'm a veterinarian with a master's degree in physiology. I started dealing with fish in 2003 and, soon after, my husband and I decided to build a hatchery. In 2010 we participated in a marine fish training course at SEAFDEC, Philippines, which greatly improved our experience.
What drew you to aquaculture in the first place?
We consider aquaculture a powerful tool for protecting nature in many ways, as well as improving incomes in fishing communities. Moreover, producing food delights me.
Can you give a brief overview of Redemar?
Redemar was founded in 2006 with its own capital, with the aim of offering marine fish fry to the market – at a time that there were no commercial marine fish hatcheries in Brazil. Our focus has always been on groupers, but it took a decade to fine-tune their production. After we closed the cycle, in 2016, many opportunities have opened up. In addition to being a valued fish and a great candidate for production in RAS and brackish ponds, dusky grouper is an endangered species and many companies became interested in restocking programmes.
Why did you choose to breed grouper and cobia and what are the major challenges in producing them?

Our focus has always been on the production of groupers. However, it was necessary to balance the company's cash and cobia fingerling production techniques were already well known. Considering that grouper larvae are only approximately 1.1 mm after hatching and their mouth openings are among the smallest known, one of the main challenges was to develop live food that was small enough, nutritionally adequate and has a movement required to interest the larva as prey.
How has the production taken off since you launched your hatchery?
I would say that the production of marine fish in Brazil is finally starting to take off. We are now looking for capitalised partners to expand grouper production and grow-out.
What work-related achievement are you most proud of?
Knowing that perhaps the survival of a species depends on your work is both a great responsibility and a source of great pride.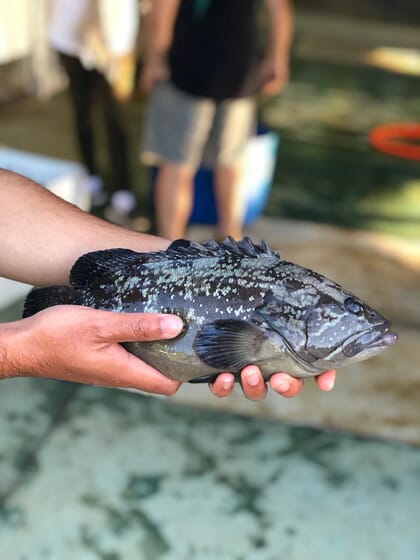 What does a typical day in your current role consist of?
I often say that our work is not at all glamorous: siphoning tanks, feeding animals, washing filters, etc is the day to day. And it starts very early, at least 1 hour before daylight. They are animals with cannibalistic behaviour. When day breaks the food has to be inside the tank, otherwise they will eat their cohorts.
Have you encountered any gender-related challenges in the sector?
Never. Aquaculture is not a male space or a single profession. It is a multidisciplinary space that requires a lot of dedication and observation. We women are very good at this.
Are there any individuals or organisations in aquaculture that you've found particularly inspirational?
Yes. I really enjoy the ASC/WWF certification work and am very grateful to several partner institutions in Brazil, including Grupo Boticario Foundation which sponsors incredible nature preservation initiatives. Boticario sponsorship allowed us to develop a methodology for restocking groupers.
What advice would you give to women who are thinking of joining the aquaculture sector?
Aquaculture needs many specialties and so there are great opportunities. Find within your personality that specialty in which you can differentiate yourself and be very good. Study and work hard. You will be recognised.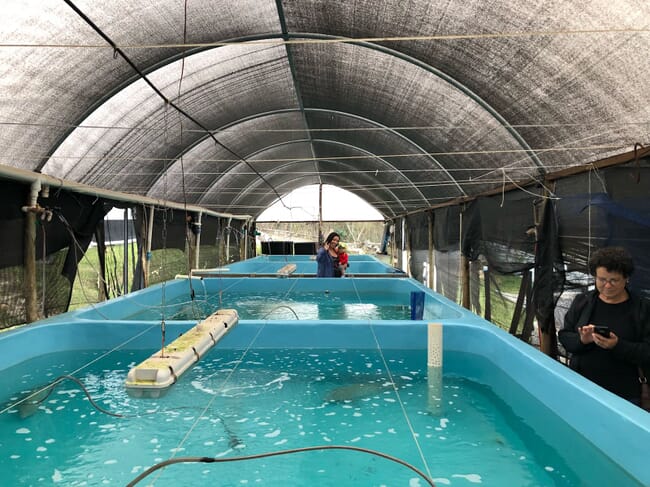 What would you like to be doing in 10 years' time?

I would like to succeed in the breeding and larviculture of goliath grouper and then start restocking programmes for this species too. I think that with the destruction of mangrove environments and the acidification/warming of the oceans, this species, which is already critically threatened, could disappear from nature. Maintaining a bank of cryopreserved genetic material is in our plans.
How do you think Brazil's aquaculture sector can meet its true potential?
Brazil has a large production of freshwater fish, based on the cultivation of tilapia and native fish. The country produced more than 800,000 tonnes of tilapia in 2020, consolidating itself as the fourth largest producer of tilapia in the world.
Brazil also has a robust shrimp industry that accounts for 0.5 percent of all shrimp produced in the world. This figure may seem small, but it equates to about 100,000 tonnes, which are produced mainly in the northeast region, the poorest in the country, so the employment and income it gives the region is considerable.
Regarding offshore marine fish farming, Brazil has huge potential, with 8,000 km of coastline, without storms and with a tropical climate. However, it took a long time to establish legal frameworks for offshore production and the investment required to establish offshore farms is high by Brazilian standards. However, large foreign companies like Forever Oceans are now investing in Brazil (producing Seriola rivoliana) and I believe they will be very successful.
Finally, we believe in grouper aquaculture as a means for Brazil to reach its true potential. The species is suitable for production in marine net pens, in recirculation systems (RAS) and also adapts perfectly to shrimp ponds – of which there are currently more than 25,000 hectares-worth, making the activity profitable and scalable.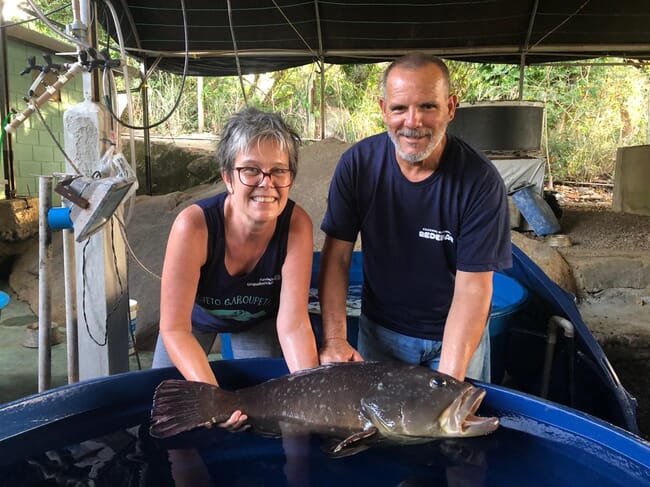 Further information
Hatch, which owns The Fish Site, is running an innovation studio for female company founders and entrepreneurs who are looking into aquaculture or alternative seafood. Taking place every Monday in November, with a finale on Tuesday 30 November, it aims to help women in the aquaculture sector to scale their businesses or validate their technology.
Successful applicants will be introduced to a global industry network with female mentors to support them to successfully grow their business, through coaching, mentorship, business model and value proposition development, building a minimum viable product, product testing, generating initial traction, legal advice, customer discovery, marketing and fundraising.
More information on the The Hatch Women Innovation Studio can be found here.