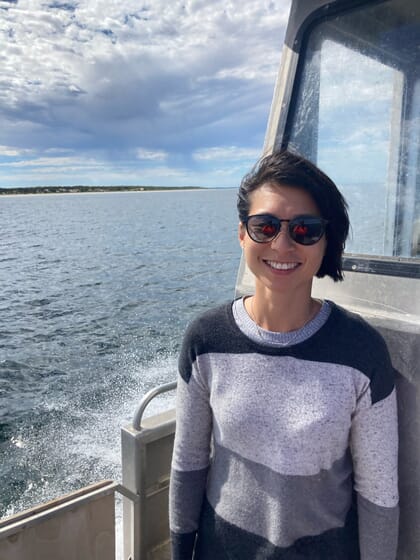 Can you briefly describe your career in aquaculture?
I studied veterinary science at the University of Sydney, because I was drawn to disease dynamics in animal populations. After graduation, I was fortunate enough to obtain an associate position in a small consultancy firm, where I worked with a large number of species. Then I worked as an in-house veterinarian at a commercial salmon farm, which was great since salmon are at the forefront of aquatic medicine. I provided technical advice for an investment firm before I started my own consultancy company in 2019, called Nautilus Collaboration. While it can be stressful to run my own business, the variety of work is amazing. I work with startups, family fish farms, companies trying to bring their product to market, and large organisations like World Bank.
What drew you to aquaculture in the first place?
I have always loved fish. When I was little, I loved breeding ornamental fish. I had 40 fighting fish, all individually named. I strictly followed the recommendations for water exchange, which resulted in me carrying buckets of water through the house, driving my mother mad. So, when I learned during my studies that I could go into aquaculture, I knew I wanted to be an aquatic veterinarian.
What do you like about working in aquaculture?
Definitely the people. Most people in aquaculture have the same goal to feed the world sustainably, and in an animal-friendly way – whether focusing on local communities or production for first world countries. I enjoy developing health teams, to make sure there is always someone on the farm to respond to emergencies. I also like to integrate myself in the processes and work closely with operators.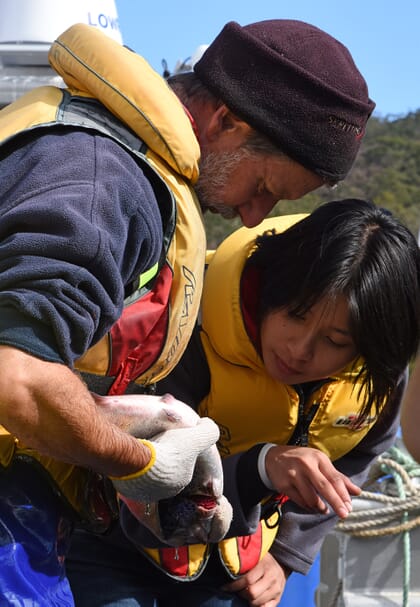 What does a typical day in your current role consist of?
It could be anything from going out to site, desk-based work, working with production teams, or strategising with management teams. I have to switch hats all the time during the day.
What species have you been working with besides salmon and what is your favourite?
I have worked with barramundi, abalone, prawns, trout, kingfish, tuna and some native Australian fish species. My favourite is kingfish because they are so powerful. When you feed them it seems the water is boiling, as if a volcano is about to erupt.
What work-related achievement are you most proud of?
In my role as a mentor, I see the people I teach develop and make progress, which makes me proud. I also feel proud when I put together a good team to tackle a problem.
What challenges have you encountered working in the sector?
I guess this applies to all sectors. When I was first starting, the biggest challenge was being ok with not knowing the answer to all questions. Acknowledging that it is all right to not know everything and openly express this to others has helped me grow as a person. I learned that vulnerability goes hand in hand with good leadership.
Have you encountered (or heard of) any gender-related challenges in the sector?
Oh yes, when I was first starting in the industry, there was a stigma towards girls going on boats. There were posters of half-naked women everywhere. Fortunately, this has now changed. Over the last 15 years, gender equality has improved and gender-discrimination decreased.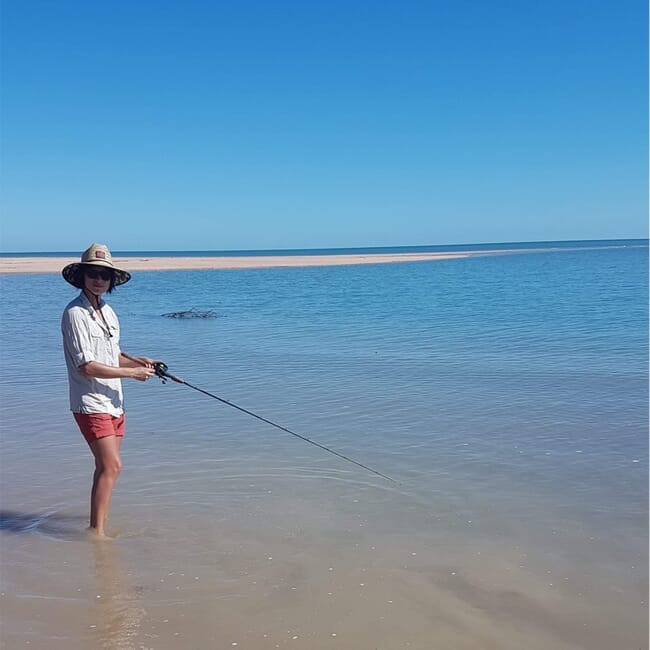 Are there any individuals or organisations in aquaculture that you've found particularly inspirational?

There are a number of women who I have had the pleasure of working with, that lead with strength and sincerity in the aquaculture industry – including Depha Miedecke from Petuna, Linda Sams from Cermaq and my business partner, Belinda Yaxley.
If you could solve one issue in aquaculture, what would it be?
I would like to make health management systems accessible to all sizes and types of farmers. We are currently working on some solutions to make this happen. We're not going to change the world in a day, but we are taking small steps all the time.
What advice would you give to women who are considering joining the aquaculture sector?
Get into it, get your hands wet and make sure your job is enjoyable so you wake up every day with a good feeling. If this changes, it's time to try something different.
What would you like to be doing in 10 years' time?
I would like to be working in my consultancy company still and use my knowledge to work in developing nations.
How do you see the future of aquaculture?
I see a bright future, both for land-based and marine aquaculture. Everyone is making steps towards better practices. However, to increase the speed of progress, we should invest more in startups that can fill the gaps to reach our sustainability goals. We also need to improve awareness, since fish farming is not a well-known sector. Information provided is not always correct; we haven't found a united voice in international aquaculture. We should put the message out that aquaculture is a sustainable way of producing food.